GET Stock

Quotes


Jio MAMI Film Festival 2017: Mukkabaaz to Loving Vincent; Films to Look Forward to
Here's the list of films that can't be missed this year at MAMI Film festival:
Here's the list of films that can't be missed this year at MAMI Film festival:
19th Jio MAMI Film festival has begun on a starry note after MAMI Movie Mela brought together some of the finest talents of the industry to talk about their craft, experience and much more. From the cast of Golmaal Again decoding the mantra of their success to Alia Bhatt and Ranbir Kapoor talking about stardom and failures, Movie Mela turned out to be a perfect platform for young and aspiring artists looking forward to gaining as much as they could from the prominent faces.
Now the film festival is all set to start from October 12 with several competitive and non-completive entries. From production houses like Phantom to new-bees behind the camera, every entrant in the festival has been a veteran in the film festival at one time or the other. The gates have opened for movie-lovers to soak in the nuances of brilliant narratives and filmmaking from all parts of the world.
The festival will showcase 220 films from 49 countries in 51 languages. Some of these languages, though Indian, are unheard of in the realm of cinema. Rare regional languages like Ladakhi, Chokri, Brij and Konkani will be in the offing at the festival this year. Films from the remotest corners of Africa and in African languages, namely Kikuyu, Bembe, Nyanja, Tonga, Xhosa, Samoan, and Lingala, will be the highlight this year.
Here's the list of films that can't be missed this year at MAMI Film festival:
Mukkabaaz
Anurag Kashyap is back as a director with a film that speaks about a sport and a societal problem at the same time. Hindi sports drama Mukkabaaz will open the festival. It is about a lower-caste boxer struggling to make his mark in the boxing world. Vineet Kumar Singh plays the lead role in this film produced by Aanand L Rai. Mukkebaaz was also screened at the Toronto International Film Festival (TIFF) 2017.
Ajji
Ajji (Granny) by Devashish Makhija is a twist on the fairytale of the Red Riding Hood. An old tailor must take revenge for a brutal rape. It becomes a crime that must be silenced except Ajji has her idea of justice. Violence, power, and justice seem to be the themes at play and Ajji is a dark and interesting film to look out for.
Zoo
After an engaging Haramkhor, Shlok Sharma is back with a dark and experimental film Zoo. Two teenage rappers in Dharavi- a coffee shop waiter who sells drugs on the sly and a teenager who hasn't left her apartment for two years- the film shows the reality of drug abusers. Entirely shot on iPhones, Zoo promises to be a layered story of conflicts around the intertwined worlds of Mumbai.
Village Rockstars
Village Rockstars by director Rima Das premiered at the Toronto Film Festival and revolves around a 10- year-old Dhunu living in a remote village in Assam. The poverty and morality of the world around her does not curtail Dhunu's spirit or her dreams. Dhunu and the gang of local boys, her friends decide to form a rock band. Even while disillusionment is always knocking on their doors, Dhunu refuses to give up. She dreams of owning an electric guitar and making music. Shot with non-actors and limited resources, this film brings forth the modes of independent filmmaking.
A Very Old Man With Enormous Wings
A film by Prateek Vat, A Very Old Man With Enormous Wings is about former Mr . niverse Manohar Aich. From a world of international bodybuilding in the 1950s, Aich is one of India's legendary bodybuilders and a man of age. The film takes us to a man who is 101 years old and carries a struggle between his fit body and the fragile mind.
The Hungary
An adaptation of William Shakespeare's Titus Andronicus set in contemporary New Delhi, The Hungry, is a contemporary retelling of Shakespearian tragedy Titus Andronicus. The film is set in the extravagant surroundings of an Indian wedding whilst exploring the role of the patriarch and corruption in Indian politics and big business. It is written and directed by Bornila Chatterjee , co-written and produced by Tanaji Dasgupta and Kurban Kassam.
The Song of The Scorpions
Directed by Anup Singh, The Song of Scorpions stars Irrfan Khan and Iranian actress Golshifteh Farahani as a tribal woman learning the ancient art of healing. The film had its world premiere at the 70th Locarno Film Festival. The story of film is based around a transgressive relationship between Khan and Farahani, who plays a local woman. Since the film is set in a provincial town in Rajasthan, the story will explore their bond and its repercussions in the social milieu. The peculiarity of the film is what drew Khan to take up the role, in the first place.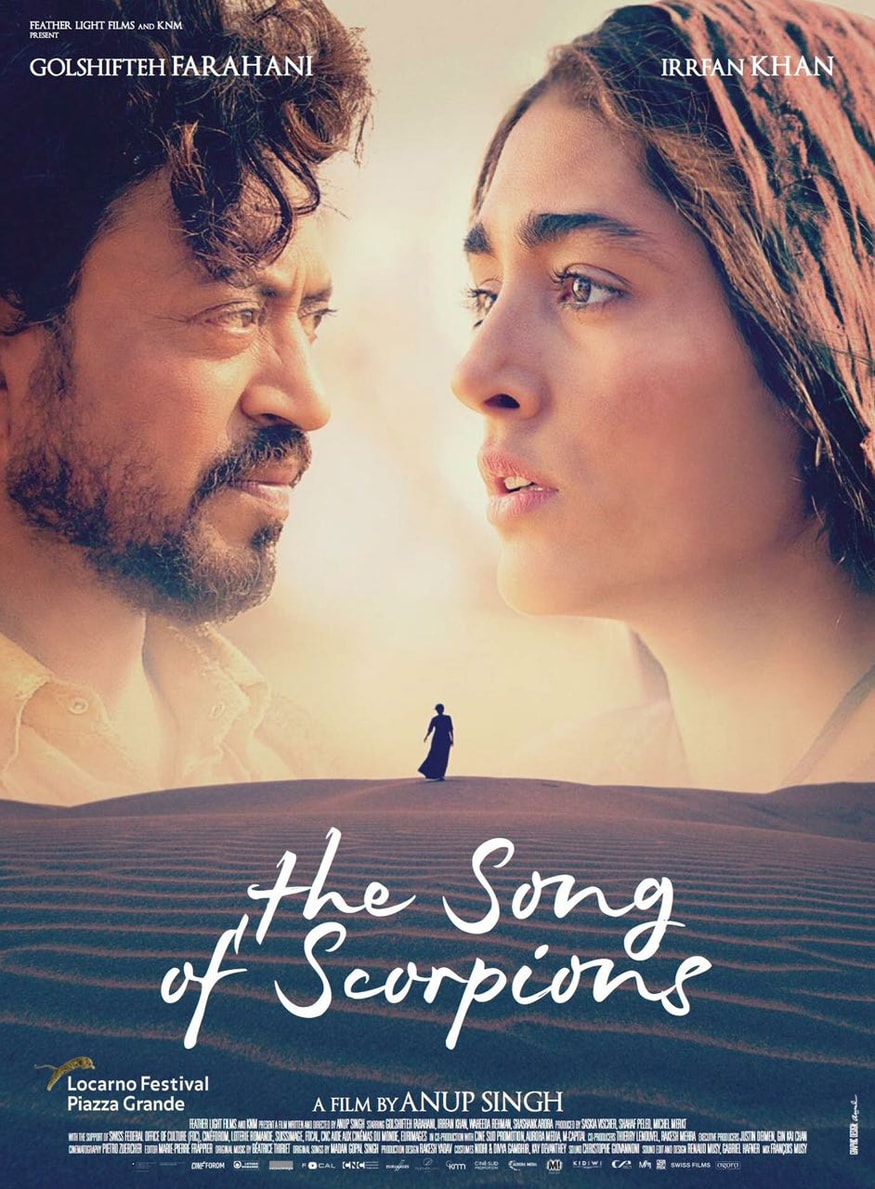 Loving Vincent
Loving Vincent is a 2017 biographical animated drama film about the life of painter Vincent van Gogh. It is the first fully painted animated film. It is written and directed by Dorota Kobiela and Hugh Welchman, and is being produced by Hugh Welchman and Sean Bobbitt of BreakThru Films and Ivan Mactaggart of Trademark Films. Each of the film's 65,000 frames is an oil painting on canvas, using the same technique as Van Gogh, has been created by a team of 115 painters. The film premiered at the 2017 Annecy International Animated Film Festival.
Mother!
Mother! is an American psychological horror film, written and directed by Darren Aronofsky and starring Jennifer Lawrence, Javier Bardem, Ed Harris, and Michelle Pfeiffer. The plot follows a young woman, whose tranquil life with her husband at their country home is disrupted by the arrival of a mysterious couple. Mother! was selected to compete for the Golden Lion at the 74th Venice International Film Festival.
Also Watch

Beatles Drummer Ringo Starr Knighted For Services To Music
Read full article