Joaquin Phoenix Explores 50 Shades Of Black In Dark New Hitman Role
The ultraviolent, pulpy, vigilante thriller is a disorientating journey into the collapsing psyche of Joe (Joaquin Phoenix), a tightly-coiled war veteran who makes a living finding girls who have been kidnapped by sex traffickers.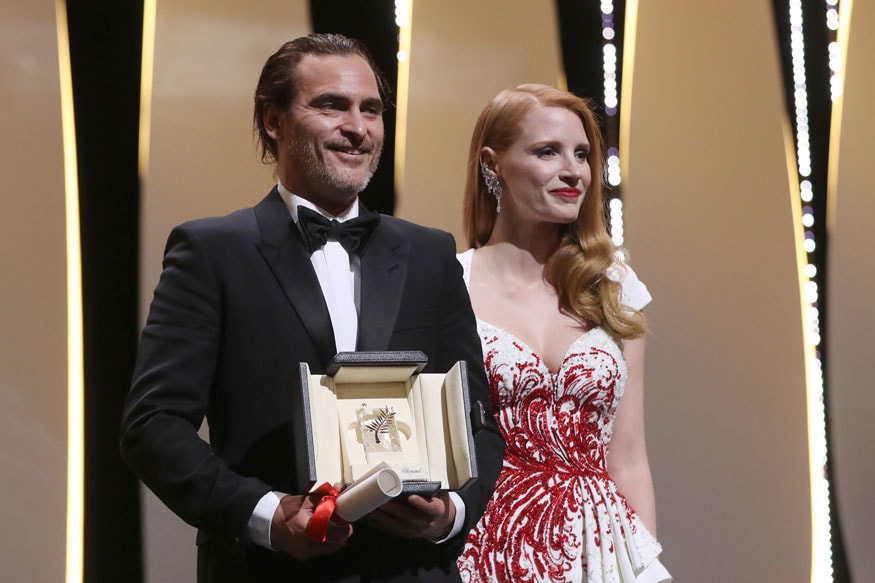 Actor Joaquin Phoenix with his Best Actor award for his role in the film You Were Never Really Here, with jury member and presenter Jessica Chastain poses for photographers during the awards ceremony at the 70th international film festival, Cannes, southern France, Sunday, May 28, 2017. (Image: AP)
Lynne Ramsay's high school massacre movie We Need to Talk About Kevin was a shocking portrait of a mother's deteriorating mind in the wake her son's unimaginable atrocity. Seven years later the sporadic but acclaimed Scottish filmmaker returns with You Were Never Really Here, a study of post-traumatic stress disorder that is every bit as visceral.
The ultraviolent, pulpy, vigilante thriller is a disorientating journey into the collapsing psyche of Joe (Joaquin Phoenix), a tightly-coiled war veteran who makes a living finding girls who have been kidnapped by sex traffickers.
Based on a 2013 novella by Jonathan Ames and financed in part by Amazon, the movie boasts an award-winning performance by Phoenix (Gladiator, The Master) as a man broken by years of brutal violence, his PTSD sparking suicidal urges as darkness descends.
The hammer-wielding hitman's next mission sends him in search of Nina (Ekaterina Samsonov), the 13-year-old daughter of a New York state senator, who is being held by a Manhattan-based pedophile ring. He ends up being co-opted into a political conspiracy that forces him to confront his own demons -- an abusive father and atrocities he witnessed as a soldier -- as he suffocates himself with plastic bags to shut out the memories of his childhood and the Iraq war.
The iconoclastic Ramsay, who grew up in Glasgow, rushed a rough version of her magnum opus into competition -- it didn't even have end credits at that point -- at last year's Cannes film festival.
The movie earned a seven-minute standing ovation, a best actor prize for three-time Oscar nominee Phoenix and best screenplay for Ramsay, who made her name with the much-admired Ratcatcher (1999) and Morvern Callar (2002)
Britain's Daily Telegraph noted approvingly that the noir thriller was the "best kind of feel-bad movie" at Cannes, handing Ramsay a five-star review for her "bleak psychological artistry."
"The immensity of Ramsay's film lies in the scalpel surgery of her image-making, distilling and triple-distilling the stuff she shot to make every second count," said Tim Robey of the Daily Telegraph.
"Ramsay has made something extraordinary," said Jessica Kiang of entertainment website The Playlist, "a film that's both cruel and compassionate, composed of quick, stabbing slivers of insight about how childhood terror can be twisted up with adult compulsion."
Radiohead guitarist Jonny Greenwood, a recent Oscar nominee for Phantom Thread and the composer on Ramsay's last film, delivers a mournful yet pulsating score that some critics have said is among his best.
Ramsay, who studied photography in Edinburgh before going to Britain's National Film and Television School, describes the 29-day summer shoot in New York as "the most exciting creative experience I think I've ever had."
"It's quite a short novella. It was a real page-turner, it had a feeling of one of those movies from the 1940s or 50s," the 48-year-old said in an interview at the Athens International Film Festival in September. "There's something about it, but really it was the character I loved -- the hitman that lives with his mother, the post-traumatic stress. He's been through this cycle of violence and every day he thinks about suicide."
She admitted taking "a lot of liberties" with the source material to translate it into a taught, cut-to-the-bone 85-minute movie, but said she and Phoenix worked hard together to come up with the big screen Joe.
Phoenix, 43, bulked up for the role of Joe, a middle-aged former US Marine who is out of shape but still has his killer instincts. "We very much wanted to stay away from the kind of typical physical body that you find with these kind of characters... We wanted him to be big as possible, (have) this kind of armor," Phoenix said at Cannes.
The actor has said in interviews that Ramsay gave him a recording of fireworks mixed with gunshots to suggest what was going on in Joe's addled mind. Although Phoenix denied he had any hand in writing You Were Never Really Here, Ramsay has said he did improvise lines and scenes.
He told reporters at Cannes that, despite his character killing and maiming with a hammer, he wanted to explore the "impotence of masculinity". "We wanted to get away from that idea of the male hero," he said, adding, "I think what's maybe interesting about this film... is that really, the girl is ultimately the one that saves herself."
Read full article