Jumanji Movie Review: Dwayne Johnson Action-Adventure is The Best Ride Out of 2017
Jumanji: Welcome to the Jungle, starring Dwayne Johnson and Jack Black, is the perfect family entertainer to bid adieu to 2017 with.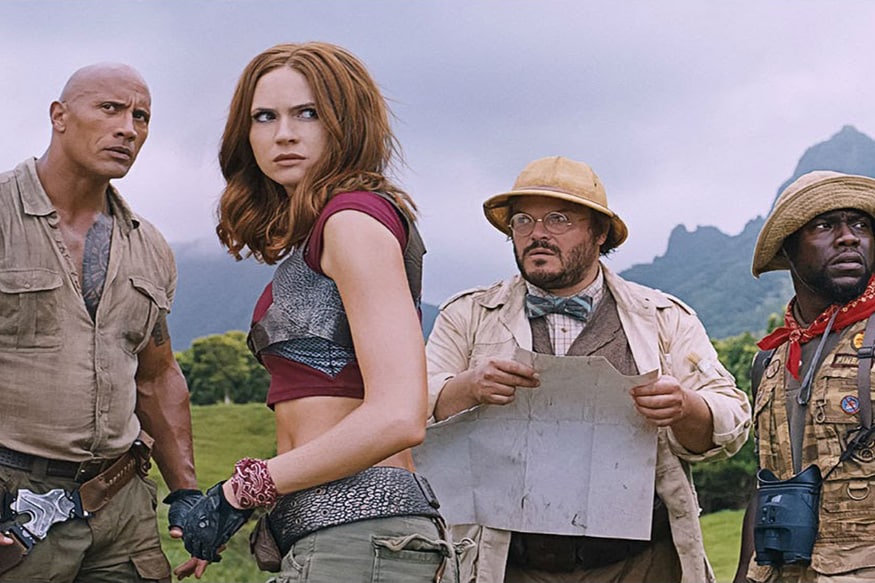 A still from 'Jumanji: Welcome to The Jungle' (Image courtesy: YouTube)
Cast: Dwayne Johnson, Jack Black, Kevin Hart, Karen Gillan, Nick Jonas
Director: Jack Kasdan
2017's been quite the year, and a bad one for many. And in an instance of art imitating life, most of the films released this year have been a Geostorm of box-office disappointments. But finally, at the shag end of a very gray period, Jumanji: Welcome to The Jungle flashes out like a bright beam of sunlight.
While there's always a challenge in remaking a classic film starring a late beloved actor, director Jack Kasdan perseveres and delivers. Despite the same evocative name, this reboot of the 1996 Robin Williams-starrer carves out its own niche, while still respectful towards the original. This is most noticeable in that instead of Jumanji's original board-game format being updated for 2017 as a mobile app or VR headset, it remains a very old-school cartridge video game, with plugs and everything. The main cast of kids who play it are literally gathered around a dusty TV box-set when it begins.
Who are these four kids? There's geeky and delicate gamer Spencer (who never travels without his EpiPen and hand-sanitizing liquid), his erstwhile best friend and present sports jock 'Fridge', the selfie-obsessed Instagram princess Bethany, and the studious and militantly antisocial Martha who doesn't see the point of physical exercise. All four wind up in detention together where the school principal advises them to take the time to figure out "who you are and more importantly, who you want to be." In order to aid this deep self-reflection he -- naturally -- assigns them to clean out a storage space, where they stumble upon the aforementioned video-game. after some cajoling, Spencer convinces his school-mates to play the game, each choosing the avatar that most appeals to them. Little do they know.
Upon being sucked into the game and the lush jungles of Jumanji which hold both wonders and certain death, Spencer is transformed into the chiseled Dr Smolder Bravestone (Dwayne Johnson) who has no weaknesses and whose strengths include peak physical fitness and skills and 'smoldering intensity', while Fridge loses about two feet of his height and becomes a short weapon-carrying valet and zoologist with the misleading name of Franklin "Moose" Finbar (Kevin Hart). Apart from a loss of height, weight and fitness levels, Finbar's weaknesses include strength (that particular bit of wordplay and Hart's dealing with it elicits way more laughter than one would expect) and cake, the latter causing him to literally explode if he eats any.
The reserved, sports-hating Martha meanwhile finds herself transformed into Ruby Roundhouse (Karen Gillan) whose mastery over the martial arts is equaled only by her 'dance fighting' skills and the inappropriateness of her avatar's jungle outfit which comprises low boots, hot pants and a very brief halter top. Most unfortunate perhaps is Bethany, whose choice of "curvy genius Dr Shelly Oberon" transforms her into Jack Black, complete with boy bits. Naturally, there's a quest which the four characters have to complete in order to go home. A fifth character, pilot Jefferson "Seaplane" McDonough, joins them in the middle of their adventures so audiences will have the additional treat (for lack of a better word) of Nick Jonas popping out of nowhere.
Full credit goes to Johnson, Hart, Gillan and Black for completely dissimulating their own distinct selves into the mind and characters of four very different high-school kids. The adult actors manage to layer the video game avatars' personalities with the quirks and mannerisms of the teenage students who've chosen them. Black is especially convincing in channeling the walk and talk of a self-absorbed high-school princess into the body of a "fat old guy" (Bethany/Shelly's words, not mine). Worth mentioning is Bethany/Shelly's fascination with his male appendage, which is a running joke through most of the film, and how the filmmakers and actors manage to take a potentially disturbing subject (an extremely hormonal teenage girl stuck in a middle-aged man's body) and spin it into pure comedy gold. A scene in which Spencer/Smolder and Fridge/Finbar teach Bethany/Shelly how to answer the (small) call of nature with her new tool, and which could have failed really badly in a post #MeToo world, is rendered hilarious instead of crass because of Black's treatment of it and the chemistry shared between the co-stars.
Indeed, the film -- entirely self-aware that it's based on a ridiculous premise -- refuses to take itself seriously and uses every opportunity to laugh at its own expense. Spencer/Smolder's gradual assumption of the leader's role, complete with inspirational quotes and decisions, is slyly torpedoed with asides in which the sensitive teen-turned- man o muscle begs himself not to cry or embarrass himself, while the woke nature of Martha/Ruby's frequent complaints about the scantiness of her attire (a la Lara Croft from Tomb Raider) is cheerfully relegated to the side as the camera lingers lovingly on her taut (and bare) arms, abs and legs. Much has been said about Jack Black and his little friend.
But perhaps the best thing about this reboot is its timing, which seemingly couldn't have been scripted better. With the plot revolving around four teenagers on the threshold of adulthood suddenly thrust into a whole new world (not a Disney reference) as entirely new people, questions of self-identity and growing up immediately come to the fore. And while the makers certainly milk the trope, they don't pander to it. If a diffident and phobic Spencer learns you don't have to be built like The Rock to be brave (whether it's tackling jaguars in a video game-come-to-life or asking out a girl in the real world), a narcissistic Bethany realizes (after her transformation into an "over-weight middle-aged man" and the loss of her phone) that other people have problems too and also that if you put away your phone, your "other senses" get heightened; and it somehow isn't preachy. It just reminds you that no matter what the circumstances, who you are and who you want be be are choices that are yours alone.
As a tumultuous 2017 draws to a close and we each enter a brand new year, I'd say that's a damn good question.
Rating: 4/5
Get the best of News18 delivered to your inbox - subscribe to News18 Daybreak. Follow News18.com on Twitter, Instagram, Facebook, Telegram, TikTok and on YouTube, and stay in the know with what's happening in the world around you – in real time.
Read full article