GET Stock

Quotes

Rajasthan
Poll in 1 seat deferred
Justice League New Clip Introduces Steppenwolf: Things You Need to Know About DC Universe's Supervillain
In the film, Steppenwolf leads an army of Parademons to Earth to hunt down three motherboxes for Darkseid.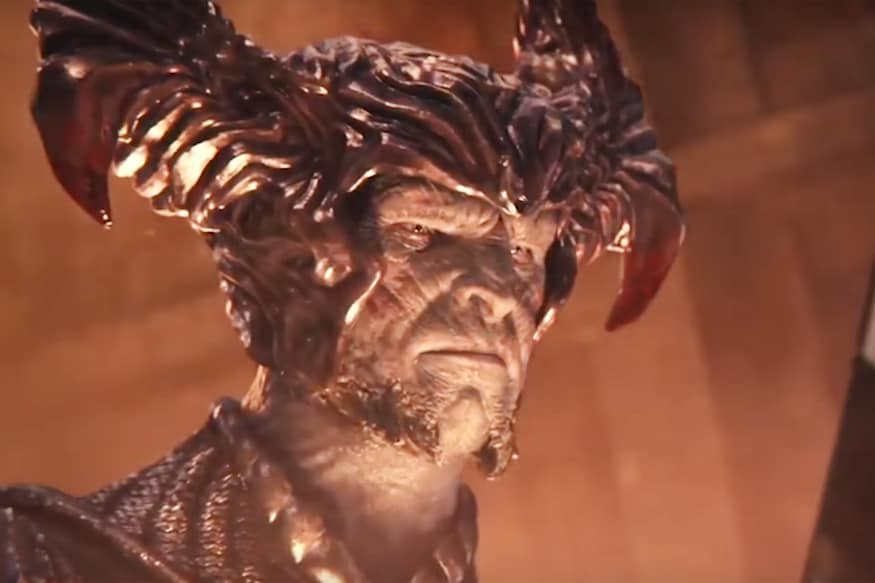 Image: A still from Justice League Clip.
Justice League fans are in for a thrilling treat as the makers have released the clip from the film that gives a good look at the villain of the film Steppenwolf. Earlier teasers and trailers showed just a glimpse of Steppenwolf, but now the full form of the dreaded villain is here for everyone to see and figure out how the superhero ensemble defeats him.
A new clip shows the assembled Justice League – Batman (Ben Affleck), Aquaman (Jason Momoa), Wonder Woman (Gal Gadot), The Flash (Ezra Miller), and Cyborg (Ray Fisher) – taking on Steppenwolf (Ciaran Hinds), the general of Apokolips who leads the invasion of Earth in the film.
The clip begins with Batman assisting Wonder Woman in dispensing with a para-demon. Cyborg then drops from the sky and interfaces with the Night Crawler and launches a missile at Steppenwolf. Steppenwolf is unimpressed, catching the missile and noting how primitive the inhabitants of Earth seem to be.
Who is he?
Steppenwolf was first hinted at in a deleted scene from Batman v Superman: Dawn of Justice. The scene was added back to the Batman v Superman's Ultimate Edition. The scene shows Lex Luthor exploring a Kryptonian ship left behind after Zod's attack in Man of Steel. He activates a three-dimensional representation of Steppenwolf who is surrounded by Mother Boxes.
The upcoming
Justice League
movie will feature DC Comics character Steppenwolf as its villain, but fans know that he's really just a prelude to a much bigger bad to come.
Darkseid, the ruler of Apokolips, is who Steppenwolf serves, and it has long been speculated that after Steppenwolf tries and fails to invade Earth in Justice League, Darkseid will lead his own intergalactic assault against Earth's heroes in Justice League II.
PS: As the tyrannical ruler of the planet Apokolips, Darkseid's ultimate goal is to conquer the universe and eliminate all free will. One of the most powerful beings in the DC Universe, the character became a staple Superman villain and a major enemy of the Justice League.
In the Comic World...
Steppenwolf is one of the earliest survivors of Doomsday, the monster who once killed Superman. Two hundred and forty-five thousand years ago, Steppenwolf takes an Apokolips shuttle with Darkseid, Master Mayhem and a small crew to the planet of Bylan 5.
Most of Steppenwolf's appearances under the pen of Jack Kirby are in flashbacks: his debut, in New Gods #7, was a flashback story where he is introduced and helped Darkseid murder the wife of Darkseid's hated rival, Highfather. Highfather later tracks down and kills Steppenwolf in retaliation as the murder reignites the war between the two sides.
Steppenwolf appears later when Mister Miracle gains godlike powers over life and death. He torments Scott Free over his role in killing his mother (or alleged mother figure as is claimed) and in return is physically tortured. Scott ends up healing him, instead of killing him as he desires.
In DC Comics lore, Steppenwolf isn't just Darkseid's top general - he's also his uncle. In fact, there's a whole well-established lineage for the "New Gods" of the warring planets New Genesis and Apokolips, and apparently, the DC Films Universe isn't afraid to mix that up.
His strengths...
Steppenwolf is an immortal with superhuman strength, speed, and stamina appropriate to his race. He is an experienced military leader, having served as the head of Apokolips's armed forces, and when going into battle personally often commands units of the dog cavalry - warriors riding enormous dogs, known for the carnage and mass deaths he causes when he leads forces.
The villain wields several weapons, including a cable-snare in which he can entrap opponents and from which he can fire lethal radion beams. His main weapon is his electro-axe. He is a master swordsman and a formidable hand-to-hand combatant.
In the film, Steppenwolf leads an army of Parademons to Earth to hunt down three motherboxes for Darkseid.
So DC fans, it's time to sit tight and hold the arms of your chair because going by the trailers,
Justice League
is going to be a never experienced before adventure with big fights and bigger villains.
(Get detailed and live results of each and every seat of the state Assemblies in Madhya Pradesh, Rajasthan, Telangana, Chhattisgarh and Mizoram to know which candidate/party is leading or trailing and to know who has won and who has lost and by what margin. Our one-of-its-kind Election Analytics Centre lets you put on the psephologist's hat. Know interesting facts and trivia about the elections. Elections = News18)
Read full article
Countdown To
Elections Results
To Assembly Elections 2018 Results