Jyo Achyutananda Review: The Film Is Well-Written and Light-Hearted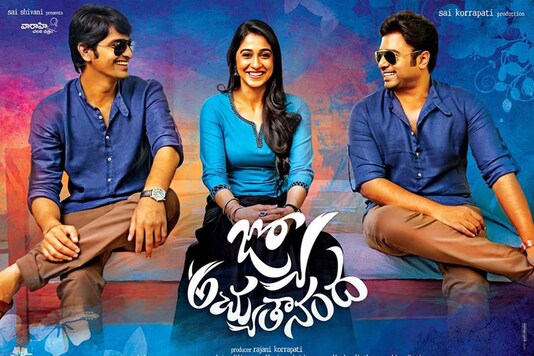 Avasarala isn't an ordinary filmmaker; hence, he's done a commendable job.
Last Updated: September 10, 2016, 11:16 IST
Edited by: Shomini Sen
FOLLOW US ON:
Cast: Nara Rohit, Naga Shourya, Regina Cassandra.
Director: Srinivas Avasarala
The success of Srinivas Avasarala's directorial debut, Oohalu Gusagusalade, had put the actor-turned-director in a tricky place. On one end of a string, he was playing supporting roles, and on the other end, he was directing. But, the audience was wondering if his directorial touches would continue to shine. With the release of Jyo Achyutananda, he has walked a little distance, and placed a big board saying, "I'm here to stay as a fantastic director, too."
The trailers for the latest movie focused on the three main characters: Jyotsna (Regina Cassandra), Achyut (Nara Rohit), Anand (Naga Shourya). As the premise promises, the brothers, Achyut and Anand, fall in love with Jyo. Jyo is a simple woman who expects nothing from the brothers, other than may be some good company. Who wouldn't want to be friends with these carefree, affable brothers?
The film opens with an unexpected twist marking the beginning of the principal characters' journey into the world of brotherhood and betrayals. In a story involving two people, there would usually be three versions: the first person's version, the second person's version, and the truth. The way Avasarala has folded these versions under the garb of narration is quite fascinating. The fact that these versions collide and create rib-tickling situations is a plus which keeps the humorous nature of the film intact.
Though, Regina's character is limited in terms of screen-time, it comes off as an interesting one. The scene where she tries to remember the answer for treating a tooth problem in a dental clinic is undeniably funny. Regina's job, or for that matter, the boys' jobs are not given a room. The characters' chosen lines of work appear in just about a handful scenes. They don't have any tangible impact on the viewer as the film doesn't enter those territories.
Rohit and Shourya share a comfortable on-screen vibe. If this hadn't been fiction, people would have readily believed that they were real brothers. We have already seen a film with two A-list stars in the title roles as brothers, Seethamma Vakitlo Sirimalle Chettu. While Srikanth Addala's SVSC deals with what brothers do, Jyo Achyutananda deals with how they do it. The single most quality that connects these characters is the bonhomie between the brothers. Venkatesh – Mahesh Babu, and Rohit – Shourya don't find the need to burn the bridges once and for all. Even if they are behaving like naughty three-year-olds in one scene, they'll look teary-eyed in the next scene which includes waiting for a green-signal moment that'll bring the brothers back to talking about everything under the sun. This male-bonding has wonderfully worked for both films.
Avasarala's writing passes through various tunnels. What he did in, Oohalu Gusagusalade, and what he has pulled off in, Jyo Achyutananda, are two very different things. First of all, Avasarala has given Rohit a bright film that the actor can feature in his resume. And, by adding the elements of a triangular love story to his script, he has unlocked the door of complexity. Love stories with more than two actors in the lead often take a rusty backseat as the characters fail to make the audiences' heads turn with their quirks. Avasarala isn't an ordinary filmmaker; hence, he's done a commendable job. What does the writer-director have in his mind for his third film? How much of a deviation would he be willing to take for his future films?
Sree Kalyan Ramana's music is a water balloon that keeps exploding, thereby giving us nice songs, and relatable scores. His association with Avasarala gets a pretty thumbs-up. Jyo Achyutananda is for everybody who loves laughs (throughout the movie), and cries slow tears (the ending).
Rating: 3.5/5
First Published: September 10, 2016, 11:14 IST
Next Story