Director: Sanjay Gupta
Cast: Hrithik Roshan, Yami Gautam, Girish Kulkarni, Ronit Roy
Kaabil
is one of those Bollywood films – which doesn't offer anything new or anything you wouldn't expect out of a usual 'masala' film – yet you can't call it disappointing. In fact, if you ignore some characteristic flaws in the film, it might turn out to be an interesting watch for some.
The film shows a love story between two visually impaired people – Rohan (Hrithik Roshan) and Supriya (Yami Gautam). One is a dubbing artiste, other is a pianist. They meet on a blind date, fall in love at first sight (quite ironically) and get married in a blink of an eye. Everything is beautiful in the lovers' paradise unless a tragedy bestows on them and things begin to fall downhill. The romantic phase soon makes a swift transition to the thriller it is touted to be. The first half offers a romantic scoop and the second, a full-on dramatic revenge plot.
The film gives you exactly what you'd expect out of a Rakesh Roshan-Sanjay Gupta partnership. Both have a strong affinity towards dramatic thrillers, although in different contexts, and both love blood spills, action sequences and the idea of revenge a little too much. They mix up their likings and helm a romantic-thriller. What they miss, however, is the realism required to base a concrete thriller. There are songs amid intense scenes – which are absolutely not required. They won't stay with you long enough, not even till the time you leave the theater. There are locales – strikingly beautiful yet unreal and effects absolutely artificial. There are dialogues so cheesy you'd want to remember and use it while taking somebody's case. "Tumne meri adhoori zingadi ko poora kiya hai", "Do negatives kabhi positive nahi bana sakte" are just some of them.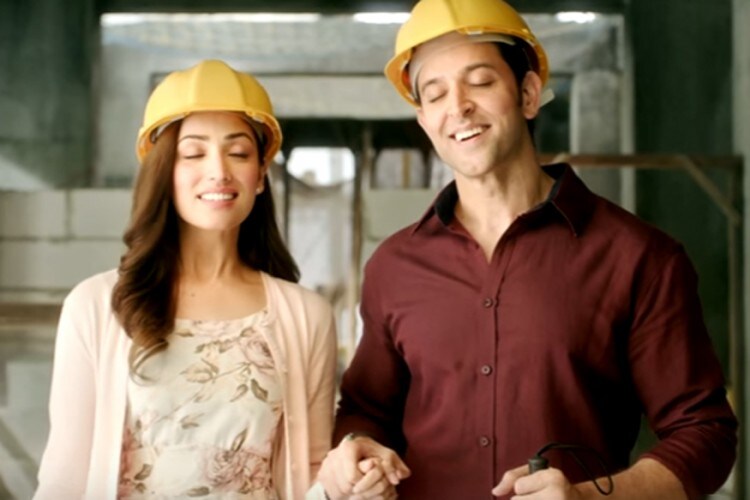 Image: Youtube/ A still from Kaabil
Hrithik Roshan as a visually impaired man does a fine job. He flirts, laughs his heart out, shows his angst and despair – in short - he expresses his emotions quite well. Having said that, you can't ignore the fact that some scenes are overly dramatic. And the overall wide-eyed stares from him takes it a little far than required. Yes, you do get glimpses of his past works including Koi Mil Gayaa in some of the scenes, all because of the visible excitement on his face.
There's no scope for layering in Yami Gautam's characterisation. She sticks to the required monotone throughout the running time. The scene where she's raped and the scenes that follow are too compelling and quite honestly, those are the moments that bring out the best of both the actors.
What this film actually rides high on is the performance by the supporting cast. Ronit Roy has a limited screen time in the first half but it's him, who carries the narrative forward in the second part. He and his brother Rohit Roy play the baddies in the film. While Rohit maintains the flow, it's Ronit who keeps alive the 'criminal' aura throughout. He shines as a corrupt politician – covering up for his brother every time – both plot wise and acting wise. Another striking performance is that of Girish Kulkarni. He plays a nonchalant witty cop to his utmost best. It's almost as if the character was written for him.
Even though
Kaabil
doesn't have anything out-of-the-box, it still doesn't disappoint. For the most part, it keeps you invested. Your attention comes back as soon as it starts wavering which works well for the film. It becomes predictable after a while but you still wouldn't want to miss out on those moments. In fact, sometimes, you'll even see the scene from a mile but that won't stop your involvement.
If you're a die-hard Hrithik Roshan fan, it's a good weekend watch for you. If you aren't, you'll still not mind watching this usual run of the mill film.
Rating: 2.5/5