Kangana Ranaut Counters Saif Ali Khan's Genetics Defence in Nepotism Debate
The end of the nepotism debate seems far from over.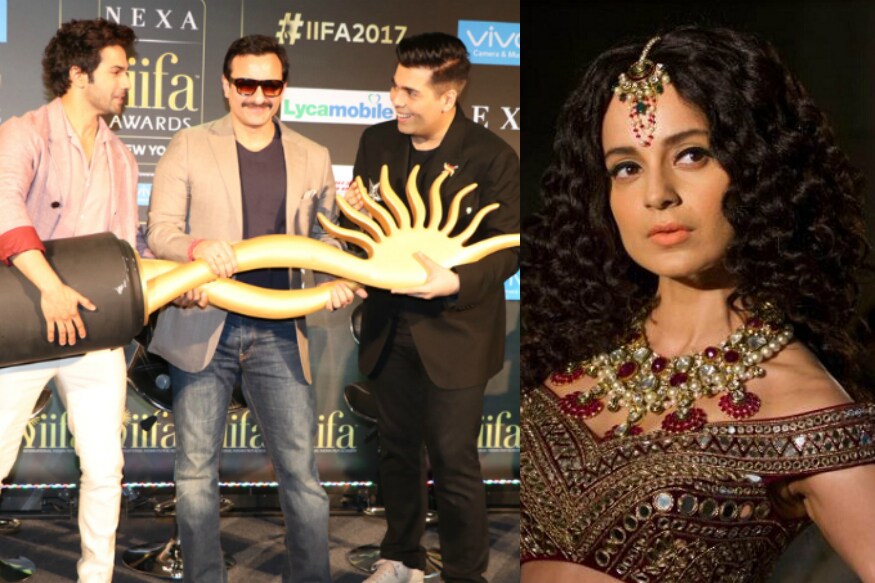 The end of the nepotism debate seems far from over.
Bollywood is going through a tough time with actors picking sides in the nepotism debate. After the 'Nepotism Rocks' act at IIFA 2017, Saif Ali Khan, Karan Johar and Varun Dhawan found themselves at the receiving end for taking pot shots at Kangana Ranaut over her nepotism remark. The act didn't go down too well with the viewers, who vehemently criticised the three 'privileged' men, for ganging up against a self-made actor in her absence.
Saif, who's away from the hustle bustle of social media, decided to pen an open letter in DNA, to clarify his stand. In the letter, the 'Nawab of Pataudi' said the issue should now be put to bed, and apologised to Kangana. He then went on to debate how genetics plays a role in Bollywood. He said star kids are always hounded by a certain level of hype and curiosity and that it's the media which is "real flag-bearer of nepotism".
Kangana, who also maintains a safe distance from Twitter and other social media platforms, has responded to Saif in an open letter of her own in Mid-day.
In the letter, Ranaut clarifies that the actors' comments shouldn't be viewed as a clash of individuals but as a healthy exchange of ideas and that the people shouldn't pit them against one another.
She explained how the nepotism row isn't just a personal issue between both of them but, in fact, addresses a larger issue that concerns the society as a whole. And that the actors, do in fact, owe a public explanation for the same.
"Nepotism is a practice where people tend to act upon temperamental human emotions, rather than intellectual tendencies. Businesses that are run by human emotions and not by great value-systems, might gain superficial profits. However, they cannot be truly productive and tap into the true potential of a nation of more than 1.3 billion people," she wrote in the open letter.
"So, we owe an explanation to everyone who either owns, or wants to own these values. Like I said, we are the ones who will shape the future of the coming generations," she wrote.
She also countered Saif's claim of genetics playing a role in star kids inheriting their parents' talents. She explained that she fails to understand his comparison between genetically hybrid racehorses and artistes and asked if his thinks artistic skills, hard-work, experience, concentration spans, enthusiasm, eagerness, discipline and love, can be inherited through family genes.
"If your point was true, I would be a farmer back home. I wonder which gene from my gene-pool gave me the keenness to observe my environment, and the dedication to interpret and pursue my interests," read the letter.
She even posed a question on Saif's allegations against the media. "No one is putting a gun to anyone's head to hire talent they don't believe in. So, there is no need to get defensive about one's choices," read the letter.
She further explained that how "privileged are the least to be blamed in the debate, since they're part of the system which is set around chain reactions."
Terming the arts industry as the "flag-bearers of hope", Kangana concluded by writing, "In my opinion, that is an extremely pessimistic attitude for a Third World country, where many people don't have access to food, shelter, clothing, and education. The world is not an ideal place, and it might never be. That is why we have the industry of arts. In a way, we are the flag-bearers of hope."
Get the best of News18 delivered to your inbox - subscribe to News18 Daybreak. Follow News18.com on Twitter, Instagram, Facebook, Telegram, TikTok and on YouTube, and stay in the know with what's happening in the world around you – in real time.
| Edited by: Kriti Tulsiani
Read full article