Sunday's episode of Koffee with Karan has got to be the most candid one with 'Queen' Kangana Ranaut being her unabashed self and taking down host Karan Johar in the calmest and the most sophisticated manner.
From casually hinting at Johar's snobbery and uppity ways to being brutal about how he made fun of her accent once upon a time, Kangana was on a roll even as her
Rangoon
co-star Saif Ali Khan only manage to gape at the actress and raise eyebrows.
At the beginning of the show, Karan gave out a disclaimer of sorts to Ranaut and said, "This is an unapologetically frivolous show. And you always make a lot of sense in all your interviews. I am a bit nervous of what you will make out of it."
"We are going to give the show some dignity," pat came Kangana's reply.
Johar congratulated her for her two back to back National Award win and admitted that he had initially thought Kangana had no future in Bollywood post Gangster. To which Kangana said, "You've been a driving force in my life. If it wasn't for all the rejections, the mocking… You made fun of my English on this couch." "I am not complaining but somewhere these things drive you," the actress added.
Kangana was asked to react to Alia Bhatt's comment on her airport looks but instead of reacting to Alia's comment, she told Karan, "She answered to a question you asked her. You asked her who would you want to stalk, and her reply was 'Kangana's airport looks are amazing but I want to know where she is going?' So you put words in her mouth and you just changed the question right now, Karan."
At one point Karan said, "Kangana has really attacked me on this show and I love that darling."
Kangana also spoke about how despite being at the top of her game she loses out due to lack of visibility. "I have the best songs of the year but I don't do stage shows, I don't endorse fairness creams and hence I lose out on lot of international products. But you really make a choice, you let that go for something more valuable."
Both Saif and Kangana stated that social media was not for them. "Twitter at one point was about spreading the news. Now it's about being the news. It's not something that comes naturally to me."
"I think it will take me away from the moments I really want to enjoy myself if I am more concerned to photograph it and post it. When my child is born, do I record that or enjoy the experience by looking into my wife's eyes and enjoy the moment and say we remember this forever, "said the actor.
"I feel very possessive of those moments you know" added Kangana.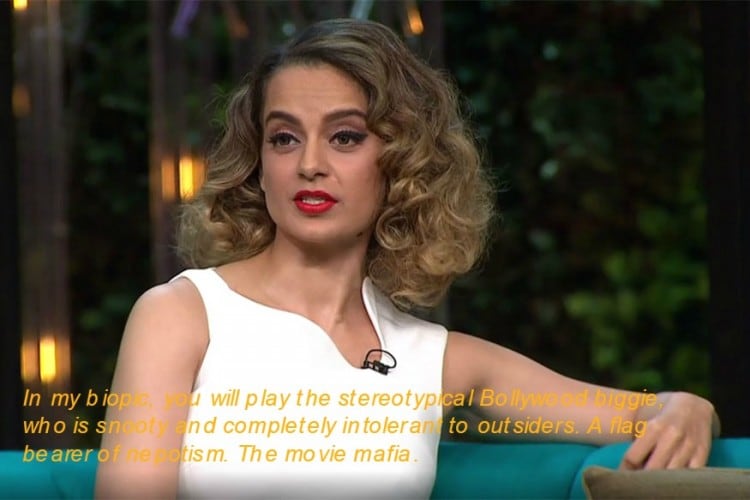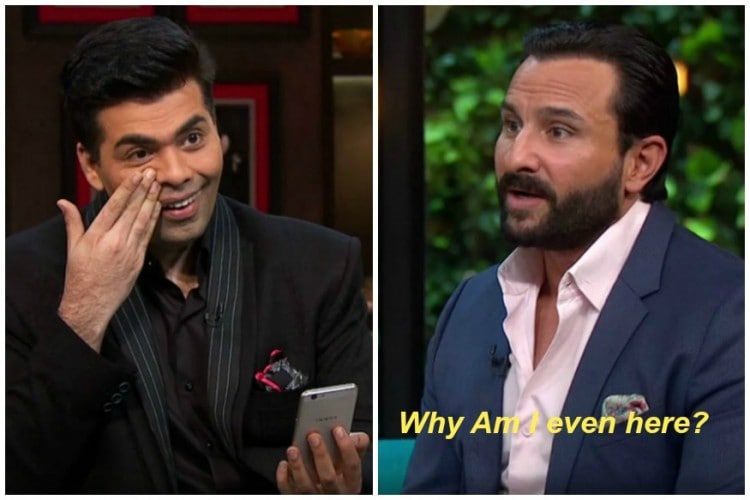 During the rapid fire, Karan asked Kangana who has given her more unnecessary attitude, female co-stars or male co-stars. "I think you Karan," said Kangana without even batting an eyelid and added, "He is a star and he has given me the most attitude." Karan immediately rendered his apology to the actress.
Kangana then added, "In my biopic, if ever it's made, you will play the stereotypical Bollywood biggie, who is snooty and completely intolerant to outsiders. A flag bearer of nepotism. The movie mafia."
Kangana wanted Karan to play the antagonist in her biopic, to which Karan jibed, "If that makes your book sell, and makes you happy, so be it."
By now Saif Ali Khan was just seen adjusting uncomfortably on the couch and he even muttered "Why Am I even here?"
Queen #Kangana absolutely slays it on the Koffee couch! #KoffeeWithKangana pic.twitter.com/0sYytJUXll

— Star World (@StarWorldIndia) February 19, 2017
In the last segment, Shahid Kapoor joined in as the three actors spoke about their upcoming film
Rangoon
. Karan asked Shahid to react on the sensual scenes that he shot with Kangana and Kangana cut Shahid in the middle accused the filmmaker of treating sensuality on screen as frivolous. She explained that it is not something that the actors enjoy, rather it takes a lot of effort to get it right on camera.
Kangana and Shahid reportedly didn't get along on the sets of Rangoon and the awkwardness was evident on the show as well. Karan asked Saif and Shahid whether it was awkward for the two of them to work together considering they had Kareena in common between them. "I do love history but this is even older than medieval history. We got along perfectly well the first time we met. Unfortunately for those who were expecting some drama, there was none."
Interestingly, Shahid seemed more at ease with Saif who is married to his ex Kareena Kapoor, than he was with Kangana. He even said 'it was complicated' to work with Kangana but quickly added "No, I am just kidding."
Also see:
Will The Film Industry Be Kind to Kangana Ranaut Post Her Koffee Outing?