Koffee With Karan: Shahid, Mira's Episode Was About Love, Marriages and Common Crush on Twinkle Khanna
Even if you aren't a die hard romantic, you will find yourself smiling all throughout.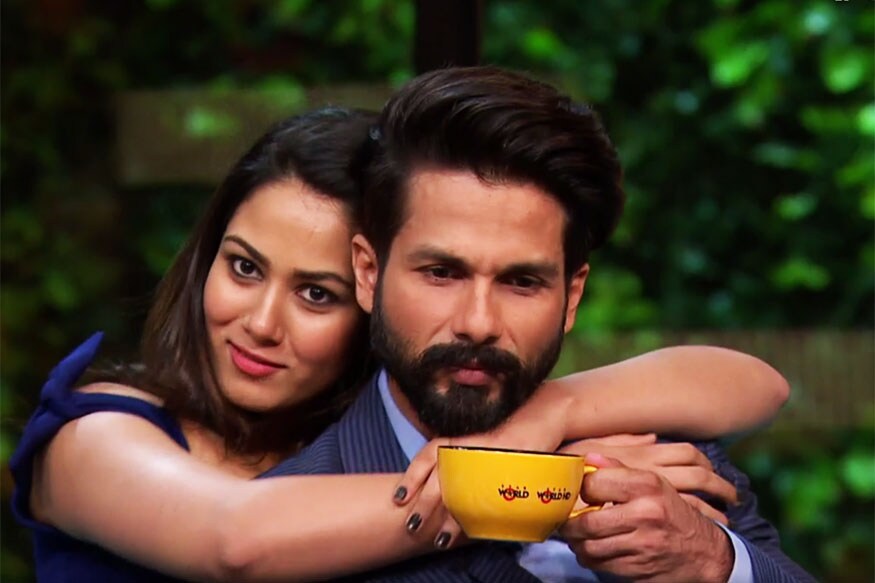 Representative Image: Screen grab via Hotstar.
Shahid Kapoor and his wife Mira Rajput's debut TV appearance on Karan Johar's
Koffee With Karan
was, as the host himself suggested, a coffee coup of sorts. The new parents shared their love story, the moment they realized they are in love, their pet peeves and their common love for actress Twinkle Khanna on the show.
From how they first met and discussed the huge age gap between them in first meeting, they both realized they were deeply in love after Mira got pregnant. "Pregnancy brings a couple together. From You and I we became 'Us'," said Mira.
Having dated several actresses in the past, Shahid stated, he was single for four years and wanted to be with someone when his parents suggested he meets Mira. The actor revealed that even though he was not familiar with the arranged marriage set up, he was now a big supporter of that 'format'. "I think the graph for arrange marriage is a lot better in the long term."
Photo via Hotstar
The couple met in Delhi and they spoke for 7 hours during their first meeting. "It all happened in a flow." Shahid even admitted that there were initial bumps in the first two months of marriage because "two different people living together would naturally have differences." But the actor said, that Mira's early pregnancy and her bad health during her term, made them come closer. "He would bring me stuff when I was unwell because I couldn't go out to shop."
Here's how it all started for @shahidkapoor and #MiraRajput! #KoffeeWithShahid pic.twitter.com/FEYpfD7UEh

— Star World (@StarWorldIndia) January 1, 2017
.@shahidkapoor setting a benchmark for all the husbands out there! #KoffeeWithShahid pic.twitter.com/LWDQV9hbUu

— Star World (@StarWorldIndia) January 1, 2017
The couple who have a 13 years age gap between them, admitted that it played a factor initially. "He of the same age as my eldest sister and I call her Didi," said Mira. Mira also stated that how initially her mother thought that Pankaj Kapoor and his wife Supriya were considering Mira for their younger son Ruhaan. "Shahid was eliminated by my mother because of age." But Shahid was quick to add, "Now you know- age is not a factor. It is just a number."
Age is no bar when it comes to true love! #KoffeeWithShahid pic.twitter.com/GhZUd2fZ2W

— Star World (@StarWorldIndia) January 1, 2017
The couple admitted that they indulged in PDA and that they were deeply in love. During the rapid fire, they admitted to have made out in the car and even stolen kisses in family gatherings. Mira said how she says, 'I Love you' every night to Shahid before going to bed and Shahid calls her 'Baby' or 'Jaan'.
Photo via Hotstar
They also shared their common love for Twinkle Khanna. When Karan asked who was her first celebrity crush, Mira admitted she loved the actress in the film
Jab Pyaar Kisi Se Hota Hai
. To which Karan said, "Even I love her. She rejected my first film. Shahid then added, "Raj Babbar's son, Arya Babbar and me used wait at this pool for hours where she would come for a swim. We were 12 years old, had huge crush on her and behaved like complete stalkers."
Wonder what @mrsfunnybones has to say about this. Everyone here's totally crushing on her! #KoffeeWithShahid pic.twitter.com/SHDIkhrOYM

— Star World (@StarWorldIndia) January 1, 2017
The couple were infact quite competitive when it came to the rapid fire round and the 'koffee quiz'. While Shahid won the rapid fire, Mira won the quiz.
| Edited by: Shomini Sen
Read full article
Countdown To
Elections Results
To Assembly Elections 2018 Results