Loud Cheers Go Up as Priyanka Chopra Introduces Nick Jonas as Husband at Reception, Watch Video
Priyanka Chopra and Nick Jonas gave a heartfelt speech together at their first Mumbai reception on Wednesday, amid loud cheers and applause from the guests.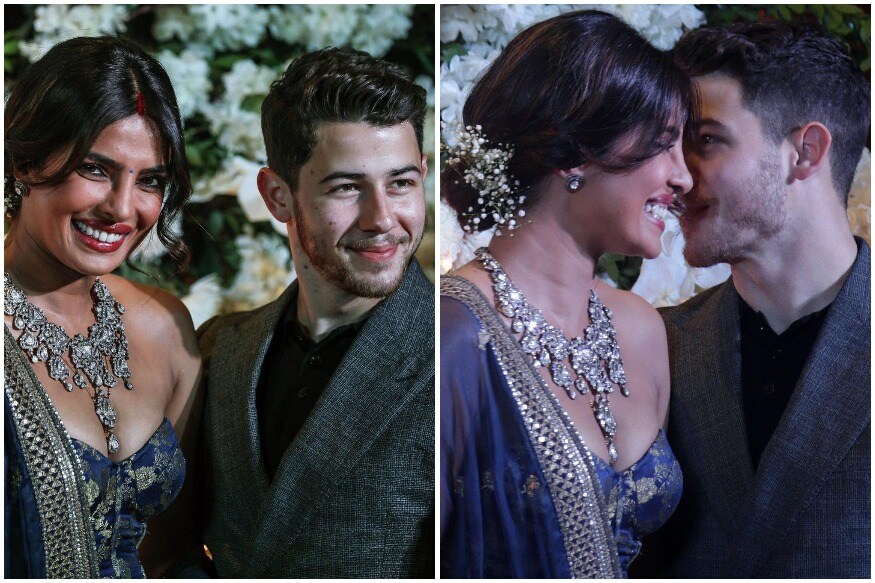 Priyanka Chopra and Nick Jonas at their reception in Mumbai on December 19. Image: priyankapedia/Instagram
Priyanka Chopra and Nick Jonas' wedding has been the centre of much attention and affection. And when PC formally introduced Nick as her husband at the reception on Wednesday, it drew a collective cheer from the guests who had gathered. Hosted by her mother Madhu Chopra, the reception was attended by family, close friends and the media.
The couple took to the stage to thank everyone who had arrived. Priyanka began, "I want my husband to meet all the special people here. So thank you so much for being here. Friends of my parents, my mom who is hosting this wonderful evening and my dad, who I know is here. Thank you so much for coming and giving us your blessings and I hope you have a wonderful time tonight."
PC ended the speech by proudly saying, "And this is my husband Nick Jonas," which was followed by a loud applause as the guests cheered for the newly-weds.
Nick then took over the mic and started with a joke, "This is my first show in India," as the crowd broke into laughter. He went on to thank Priyanka's mother and other guests who he was meeting for the first time. "It wasn't too far from here that I took Madhu out for lunch and asked if I could marry her daughter. To be here with all of you, who have helped shape who she has become, means a lot to me. You have welcomed me with such open arms. So thank you for that. Tonight is about celebrating and spending some time together. My first introduction to all of you. So thank you again and thanks to Madhu for putting this together."
Turning to Priyanka, he said, "And my beautiful wife, I couldn't be happier being with you."
Priyanka wore a blue strapless custom-made anarkali by Sabyasachi, with a big diamond necklace. Nick complemented her in a grey suit. The reception was held at JW Marriott in Juhu which had their NP logo on display. Priyanka's mother Madhu Chopra turned up in a shimmery lehenga sari.
Priyanka and Nick tied the knot in a lavish ceremony at Jodhpur's iconic Umaid Bhawan Palace earlier this month. The extravagant wedding was followed by a quieter reception in Delhi on December 4, which was also attended by PM Narendra Modi. The couple are throwing a big bash for their friends from the industry in Mumbai tonight.
Get the best of News18 delivered to your inbox - subscribe to News18 Daybreak. Follow News18.com on Twitter, Instagram, Facebook, Telegram, TikTok and on YouTube, and stay in the know with what's happening in the world around you – in real time.
Read full article