GET Stock

Quotes


Love Per Square Foot Review: Little Moments, Big Dreams Make This Mumbai Tale Come Alive
The film deals with space - both metaphorically and physically and gives you a sense of what surviving in Mumbai looks like.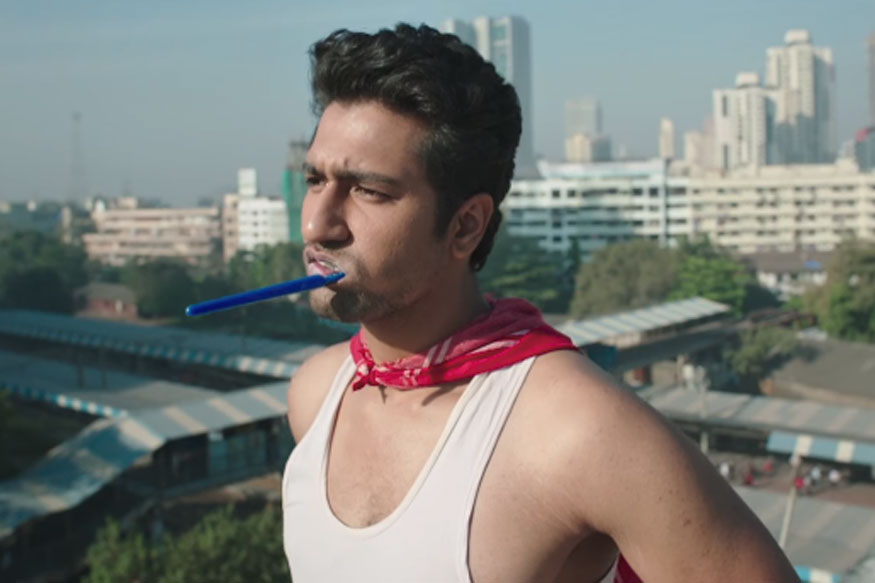 Image courtesy: A still from the film's trailer/ YouTube
Director:
Anand Tiwari
Cast:
Vicky Kaushal, Angira Dhar, Alankrita Sahai
If the title
Love Per Square Foot
isn't enough to bring a smile to your face, just sit back and relish Netlix's first Indian original direct-to-digital film and take in the conundrums of love and space in the city of Mumbai.
Space is as much a metaphor as it makes for the underlying theme of the film and love, well it's the force that keeps the story alive. And this is nicely developed in the early shots of Anand Tewari's directorial with lyrics in sync with detailed shots of the city that never sleeps. Right in the beginning, we see Sanjay Chaturvedi (Vicky Kaushal) standing on his terrace with a toothbrush in his mouth and a dream in his eyes. The dream of owning his own space, his own home, in the city. As he looks towards the couple residing right in the opposite multi-storey modern flat, his thoughts are disturbed by his mother's call (Supriya Pathak) announcing that his father Bhaskar Chaturvedi (Raghubir Yadav) is done with his morning business and has now freed the bathroom. This is in Dadar while in Bandra, resides a beautiful Karina D'Souza (Angira Dhar) with her Catholic mother Blossom (Ratna Pathak Shah) in her maternal uncle's studio apartment which is almost on the verge of collapsing. Karina, too, dreams to have a home to call her own in a 50-50 sharing basis with a partner. Not just in terms of monetary responsibilities but also for life's little things - like happiness and sadness for instance.
The film deals with space - both metaphorically and physically and gives you a sense of what surviving in Mumbai looks like. Like Sanjay enters the washroom of his matchbox-like flat with a newspaper in hands in which he continues to mark important (and affordable) housing properties but alas, he doesn't get enough space (or time for himself) even inside, as his mother begins to knock on the door.
While Sanjay is involved with his boss Rashi (Alankrita Sahai), Karina is engaged to Sam (Kunal Roy Kapur). Both happen to work in the same office, on different floors, but as fate has it, the two meet at a reception party of a common colleague and immediately strike a connection of sorts. Their relationship builds and further builds on their shared dream of owning a house but failing to afford it individually. They zero down on an arrangement to work things out. The makers have steered clear of Tinder and other stereotypes that thwithinnnial generation has been portrayed with in the recent past. And to their credit, the story thrives partly on their innocence and partly on their shared dream and the scenes depicting their growing "confused" bonding have been etched well. Just like how urban love stories actually are - one doesn't know when and how the sparks begin to flow but if it feels right, you go with the flow. And if it doesn't, you just give it a shot and see what follows. How the factor of convenience keys in to be a top priority for a relationship to thrive is also been portrayed well - like literally the understanding grows leaps and bounds once they live in a house together.
The oven-baked pairing of Vicky and Angira is a delight as both deliver an earnest and honest performance throughout and complement each other despite certain odds pertaining to the way the story eventually pans out. The highlight of the film, however, lies in the fact that makers haven't restricted the story to the protagonists. There's a world within a world, powered by nuanced performances of the veterans - Ratna's ace comic timing, Supriya's bang on mother act, Raghuvir's memorable train-announcer part or Gajraj Rao's 'jugaadu' lawyer portrayal - this world is a series of separate class moments woven together. Whether it's Pathak sisters' Chaturvedi-D'Souza meeting or Raghuvir's harmonium-based train announcement- what a fine world to cash in.
Love Per Square Foot
is also about the little moments that come together to form Mumbai- the hustle bustle of local trains, the lack of private places for intimacy, the stolen kisses on beaches or trains, the sky-high prices of sky-high towers, the mad dreams and the pursuit to chase them. At some parts in the film there's also a certain
Bang Baaja Baraat
vibe, but while here it is a reflection of Mumbai and its world, the latter web-series was pure Delhi stuff.
But the film feels a little over-done and stretched at 133 minutes. Some scenes towards the end could have been done away with. Except for the introductory track, the rest of the songs feel out of place and the lip-sync part, honestly, is a bit of a bane. The makers could also have added a certain inkling of the struggles of actually getting the ownership of a plot or winning a house lottery but it comes all too easily for them. And while much of it finds its base on the idea of companionship and survival coercing together, a little more on the survival part would have done no harm.
But having said that, it's easily one of the most likable films so far (despite not having an official theatrical release) and makes for a pleasant story of two individuals who had set on a journey to own a house, but instead, find a home to call their own. Watch it for the little moments and the big dreams because as Sanjay puts it, "Sapne toh khulke dekho, middle class."
Read full article