Love, Sex, & Modern Relationships: Karan Johar, Zoya Akhtar, and Dibakar Banerjee Discuss Netflix's Lust Stories
After Bombay Talkies, these four filmmakers have come together again, this time to tell stories of love, lust and everything in between.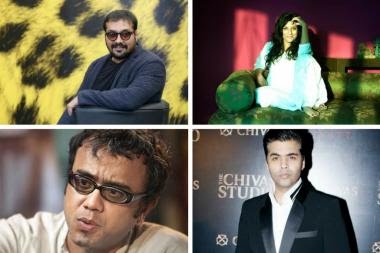 After Bombay Talkies, these four filmmakers have come together again, this time to tell stories of love, lust and everything in between.
The trailer for Netflix's upcoming film,
Lust Stories
gives you an insight into four different tales of modern love, each told in a different voice, style, and syntax by four different filmmakers -- Karan Johar, Zoya Akhtar, Anurag Kashyap, and Dibakar Banerjee. After
Bombay Talkies
, these four filmmakers have come together again, this time to tell stories of love, lust and everything in between.
You can watch the trailer for the film
here
.
During the trailer launch, Zoya Akhtar said that her film is about the role class differences play in relationships. "My film is about a relationship but in context of the class, the way we perceive it, and what it means to us when we are attracted to people of different social class," said Akhtar.
Akhtar's film features Bhumi Pednekar and Neil Bhoopalam in lead roles. If the trailer is any indication, it is a story of a maid played by Pednekar. Pednekar's character happens to be in a relationship with one of the family members (Bhoopalam) of her employer. The film explores how the relationship is affected due to the difference in the two characters' social status.
Talking about her role, Bhumi Pednekar said, "The film by Zoya speaks about so many biases that we have, which we often fail to notice. In a very sweet and nice way, the film highlights these biases."
Karan Johar, who was also present at the trailer launch revealed that his film deals with a woman's right to pleasure in a relationship. "My film is about seeking pleasure, and it is also about the fact that it is not always about a man's right to pleasure but also a woman's right to pleasure," said Johar.
Talking about the narratives in
Lust Stories
, Johar said, "All the stories in the film are about love and lust. It is exciting because we all decided on this theme together and thought that all the directors will have an individual interpretation of love and lust. I think when given a choice between love and lust, more sensible people will choose lust. It is infinitely more exciting than love is. It is the more popular four-letter word to live a life by, and I think that is what we chose in certain sense."
Akhtar said that in recent years Indian films have started becoming more vocal about stories of desire and lust, and whether they are shown in a crass way or not reveals the depth and class of a filmmaker. However, she said, Indians have a strong preference for love stories.
"I think different cultures go to the cinema for different reasons. One of the biggest reason our audience goes to the cinema is escapism, fantasy, aspiration and to hope for something they don't have," said Akhtar.
"Sadly, love is something that is still taboo in our culture. We don't have that many love marriages, we are not allowed to date, and our parents still decide who we should spend our lives with. So, the ultimate fantasy is to see a boy fall in love and end up happily with his love, no matter the opposition...Love stories will always be in our culture." added the filmmaker.
Dibakar Banerjee, whose short film is also a part of
Lust Stories
said that his story is about fidelity. "My film is about being hopelessly attracted to somebody you are not allowed to be with... it is about lying, about fidelity... My story is about lying but wanting to tell the truth, and not being able to," said Banerjee.
Talking about working with Akhtar, Johar and Kashyap after
Bombay Talkies
, the filmmaker said, "The reason why we are here is because the last time Ashi (Dua) brought us together we had a lot of fun. The last time four of us came together (in Bombay Talkies), I felt confident that I have three big guys with me so I can go ahead and do something different." added the filmmaker.
Banerjee's film stars the beautiful Manisha Koirala and Jaideep Ahlawat (who was last seen in Alia Bhatt's
Raazi
). Along with them, Sanjay Kapoor will also be seen onscreen after a long time. Talking about his comeback, Kapoor said, "For me, this journey could not have been better. I have been part of a lot of commercial films, but to work in a film like this is an honour."
"I am so glad that it is releasing on Netflix, because I feel that the world will see this film on 15 June, and not just India. It will be shown in 190 countries. I think this is a big platform for all of us, especially for me." said the actor.
The fourth film that's part of
Lust Stories
has been directed by Anurag Kashyap and features Radhika Apte and Akash Thosar in lead roles. The filmmaker was not in India at the time of the trailer launch, however, if the trailer of his film is any indication, his story is about a married older woman having an extramarital relationship with a young guy.
Lust Stories
has been produced by Ronnie Screwvala and Ashi Dua Sara and will release on Netflix. Talking about making a Netflix film, Johar said, "I believe this Netflix film is definitely pushing boundaries... but just because it is called Lust Stories doesn't mean that it has too many sex scenes, or it has something that is too out there, or in your face. In fact, in popular cinema, we have seen more explicit and out there moments. But, you will find that we are creating art while exploring lust (in this film). I think that is the USP of all our narratives."
Lust Stories
is all set to release on 15 June 2018.
Read full article
Countdown To
Elections Results
To Assembly Elections 2018 Results