Lucknow Central Movie Review: Farhan Akhtar's Prison Boy-Band Doesn't Hit The Right Note
Planning to watch Lucknow Central this weekend? Read our review first.
Director: Ranjit Tiwari
Cast: Farhan Akhtar, Diana Penty, Deepak Dobriyal, Gippy Grewal, Ronit Roy, Rajesh Sharma
"Shehar chhote hote hai, sapne nahi.." insists a Muradabad-based Kishen Mohan Girhotra (Farhan Akhtar) to his father while explaining his aspirations of moving to Delhi and forming a band. Just like the finale song the band plays in the film, Lucknow Central, in entirety, needs fine-tuning on multiple levels.
Kishen, an aspiring singer who only dreams to lead a band of his own, lands in a jail based on false murder accusations. But as fate (read makers) has it, an NGO worker Gayatri Kashyap (Diana Penty) is asked to form a band of jail inmates for an upcoming competition. After quite a few troubles, Kishen finds his band members in people with varied temperaments - Dikkat Ansari (Inaamulhaq), Victor Chattopadhyay (Deepak Dobriyal), Pirushottam Pandit (Rajesh Sharma) and Parminder Trehan (Gippy Grewal). How these non-musically-inclined people find their way to music and how they learn life lessons while planning the big escape is what the film tries to deal with.
While the first half sleepily goes in the formation of the band, the second gains momentum and focusses on the band's training and of course, the plotting of the prison break.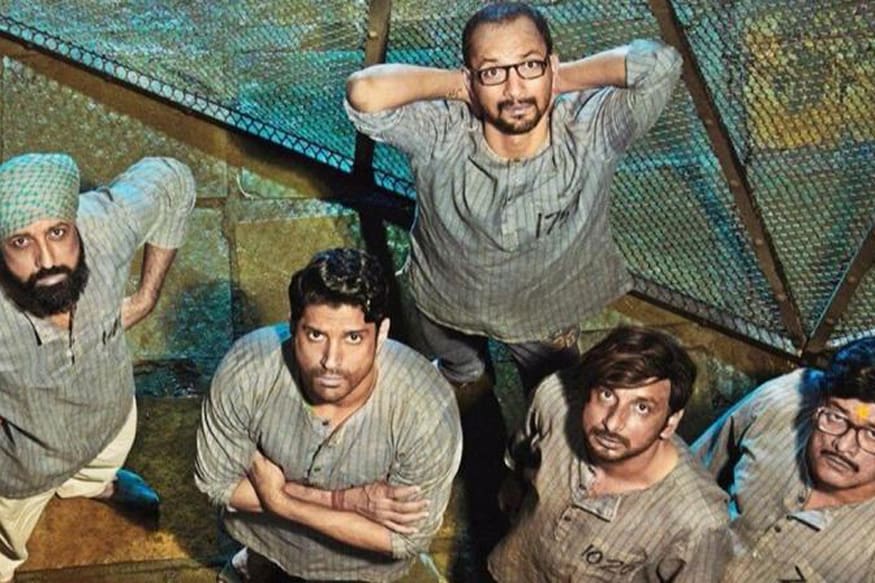 Image: Youtube/ A still from Lucknow Central trailer
Very early in the film, one realizes that the suave Farhan is a misfit for a small-town Kishen. And that no matter how much his eyes speak of hope and despair at the same time, his Kishen remains underwhelming and unconvincing. Diana, as Gayatri, remains unexplored and it's disappointing for two reasons. First that Diana's potential as an actor remains untapped and second that while the narrative keeps her character at a high pedestal, her character build-up and screen time fail to render any validation to it.
The supporting cast does a fine job, but again, because the build-up is so weak- you don't sympathise with their past, connect with their present or root for their future. In fact, it's only after the interval that Deepak Dobriyal's and Rajesh Sharma's characters start interesting you.
For a film to have based itself on the theme of prison boy-band, you'd expect a host of good songs to keep the flow alive. But except for Rangdaari and Meer-e-kaarvan, no other song will stay with you. Apart from the feeble character graphs and faulty screenplay, Lucknow Central also falls flat on its climax so much so that you can sense it miles ahead.
But one thing that Tiwari and co-writer Aseem Arora get right is the dynamics and foreplay of the jail insides – something that Bollywood has only dealt with a stereotypical angle all these years. The film not only throws light on the outside officer-prisoner angle, but also on the equations between jail inmates and brings to the forefront the bullying, the crimes and the brotherhood inside.
Quite interestingly, just three weeks back a film titled Qaidi Band featuring a similar plotline – juxtaposition of music and freedom for jail inmates - was released. And while one cannot call any of them a masterpiece, Lucknow Central still comes across as a slightly better version of the two.
In a nutshell, despite a dependable cast and makers' deep understanding of jail insides, Lucknow Central doesn't hit the right note and remains a film too far from perfect.
Rating: 1.5/5
Get the best of News18 delivered to your inbox - subscribe to News18 Daybreak. Follow News18.com on Twitter, Instagram, Facebook, Telegram, TikTok and on YouTube, and stay in the know with what's happening in the world around you – in real time.
| Edited by: Kriti Tulsiani
Read full article