Mallika Dua, Aditi Mittal, Radhika Vaz And Other Comediennes Who Are Breaking Stereotypes And Glass Ceilings with Their Acts
Mallika Dua, Aditi Mittal, Radhika Vaz , Kaneez Surka and Aparna Nancherla are at the top of their game.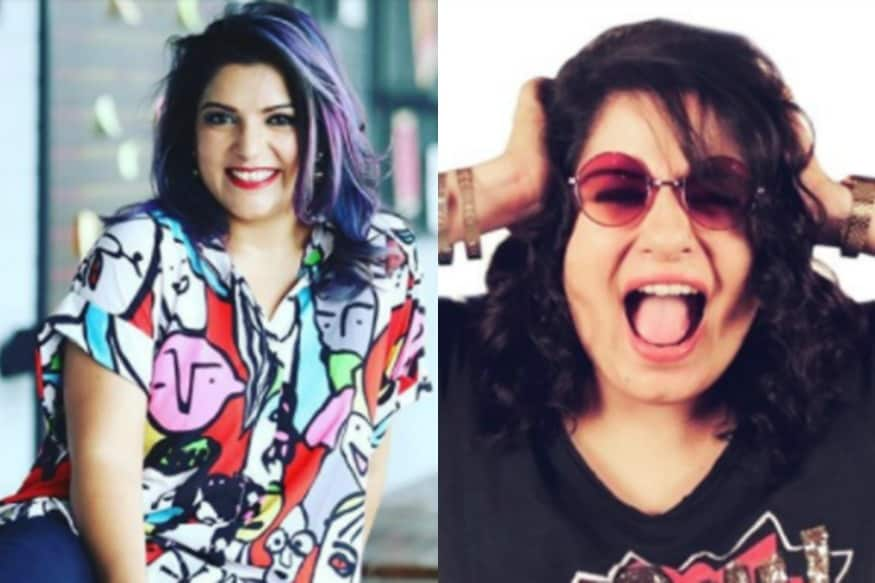 Image: Instagram/ Mallika Dua and Aditi Mittal
When the floodlights dim and these women take the stage, applause and sporadic calls erupt from the audience. Comedy, be it stand up or videos on networking sites, has historically been a male dominated field. But that's changing; now, women are starring in the funniest movies, TV shows, and comedy specials. From feminism to the hazards of bra-shopping, these comedians have a very different and unusual take on women problems.
Here are the reigning queens of comedy:
1. Aditi Mittal
Aditi Mittal is breaking the stereotype by being politically incorrect. She's an actor, voice-over artist and now a stand-up comedienne at 30. She says, "I was not aware, when I started out, that a woman doing comedy was supposed to be as rare as a monkey being able to quote Shakespeare."
Mittal makes her audience both outraged and amused by talking about topics ranging from menstruation to the experience of shopping for bras. Her humor is intelligent and often fine-drawn. With her new Netflix special Things They Wouldn't Let Me Say, she is out to change the way women are perceived.
2. Mallika Dua
India discovered a new internet sensashyan. 27-year-old actor Mallika Dua who made the internet laugh with her spot-on portrayal of makeup didi, Smylie Jenner and Parveen aunty, was a copywriter before becoming a full-time actor. She says her characters are inspired by women she encounters in Delhi metro. Mallika is making the best use of her obvious Punjabi-ness. In two short years, Dua has gone from interning at an ad agency to becoming the face of brands like Levi's and KFC.
Her first YouTube sketch, Shit People Say: Sarojini Nagar Edition, has nearly 2 million views at the time of publication; it has also earned her over 305k Instagram followers. She was a lead in popular web series The Trip and even had a cameo in the Irrfan Khan-starrer Hindi Medium.
3. Radhika Vaz
Radhika Vaz started her career in New York City as a stand-up comedienne and trained with Groundlings School (LA) and Improvolution (NY). Her bi-weekly column in The Times of India has attracted millions of readers of all age groups. Her book Unladylike: A Memoir covers a lot of material from her one-woman show, by her own admission, and talks about things like bikini waxes, skinny jeans and bisexual fantasies.
Her one-woman comedy specials, Unladylike and Older. Angrier. Hairier., have sold-out in New York, Los Angeles, and major Indian cities. Hailed as 'the funniest person you will ever meet' by Harpers Bazaar, Vaz is considered as one of the pioneers of the stand-up movement in India.
4. Kaneez Surka
Kaneez Surka is known for her work with The Week that Wasn't, a popular show on CNN-NEWS18 created by Cyrus Broacha and Kunal Vijaykar. She a comic and actress who has been a big part of Mumbai's improvisational comedy scene since 2009. Surka is often seen working with All India Backchod (AIB) and Girliyapa.
She will be a part of TLC India's ad film for Queens of Comedy. The show is breaking the most common stereotype that women can't be inherently funny and leads to the launch of what could be India's first-ever female comedy challenge.
5. Aparna Nancherla
Aparna Nancherla is a comedienne, a TV writer, a podcaster, and is totally hilarious. Born in 1982, she is an American comedian. She has appeared on Inside Amy Schumer and has written for The Late Night with Seth Meyers and Totally Biased with W. Kamau Bell.
She is also riding high on a TV comedy special, tour and a new album, Just Putting It Out There, all while talking about some pretty tough personal issues, like depression, on stage. Nancherla's humor awakens through her very expressive face, her dancing eyebrows and a wide smile.
Get the best of News18 delivered to your inbox - subscribe to News18 Daybreak. Follow News18.com on Twitter, Instagram, Facebook, Telegram, TikTok and on YouTube, and stay in the know with what's happening in the world around you – in real time.
| Edited by: Divya Pal
Read full article