Manikarnika, Padmaavat, Aiyaary: Stop Being a Pushover Bollywood, Take a Stand
Don't let groups like Karni Sena and Sarva Brahmin Mahasabha dictate what (NOT) to show on screens.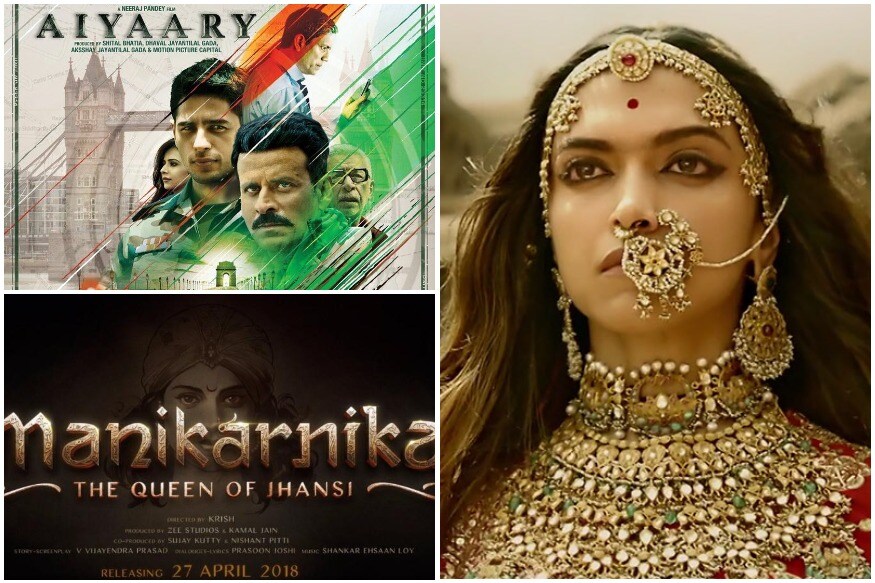 Don't let groups like Karni Sena and Sarva Brahmin Mahasabha dictate what (NOT) to show on screens.
Dear Bollywood, take a stance. What content you put out in front of the audiences is completely your decision and even if you continue to make films like Judwaa 2 and Golmaal Again, you should be allowed to do that and the critics will just have to suffer through them (may God give them strength!). But, don't let groups like Karni Sena and Sarva Brahmin Mahasabha dictate what (NOT) to show on screens.
In case you haven't noticed Karni Sena has started a dangerous trend. They have established that any fringe group can grab the national limelight in India if they lead a violent protest campaign against a big Bollywood film. Sarva Brahmin Mahasabha, another group from Rajasthan has clearly got the memo. They have already announced their opposition to Manikarnika: The Rani of Jhansi, starring Kangana Ranaut as Lakshmibai. In fact, it is not just fringe groups who are telling Bollywood what (not) to show these days.
Recent reports claim that the Defence Ministry had asked for a pre-view of Neeraj Pandey's upcoming film, Aiyaary and suggested changes. What next? Will police departments pre-view any film where they find content that shows them in poor light (that will be almost half of all Bollywood films every year)? Will the Sports Ministry review any film that Bollywood makes on sports?
Quit being such a pushover Bollywood! You guys don't make documentaries (thank god!) and people from every community know that. Sanjay Leela Bhansali clarified repeatedly that his film Padmaavat is based on Malik Muhammad Jayasi's poem, Padmavat and is NOT a true depiction of Rani Padmini's story. Since day one the filmmaker has maintained that there are no scenes where Padmini and Alauddin Khalji meet (which was something Karni Sena vehemently objected to). But the Karni Sena refused to hear any of it. They continued to protest against the film. Now that Padmaavat has finally released and the entire liberal media wants to jump in another fire for supporting a film's release that glorifies Jauhar so brazenly, what is Karni Sena doing? Still protesting!
Manikarnika:The Rani of Jhansi might meet Padmaavat's fate. The producer of the film has already rushed in with a disclaimer in hand and a willingness to comply. A report in Hindustan Times quotes the producer Kamal Jain saying, "....there is no distortion of history in any way. It pains me to hear these statements about one of the greatest leaders India has seen. Is this what independence means? We are making a film which depicts the real story of Rani Laxmibai. Having said that, we are open and willing to show the script (to people who might have doubts)."
Jain and Bhansali aren't the only film producers/makers who have readily complied with opposing political groups. Karan Johar did the same when MNS opposed to Ae Dil Hai Mushkil because it starred a Pakistani actor, Fawad Khan. Johar swore to never to work with any Pakistani talent in the future.
However, it is hard to blame these filmmakers for kowtowing to political pressures. With crores of rupees riding on their films, it is clear that they will face tremendous financial losses if their films don't make it to the theatres; so they do everything in their power to stop that from happening. More so, even groups like Karni Sena are aware of it, and therefore they persist with one demand after another and still expect to be humored.
While several Bollywood celebrities send out sympathy tweets in support of these movies, there hbeen ar been a collaborative effort to help out these films when they get dragged into a political quagmire. So Bollywood, perhaps it is time for you to show some solidarity against the forces that threaten to dictate your content and the fate of your films. If you are need some inspiration, look where you always go looking for inspiration: Hollywood.
Throughout the award season in the United States last year, celebrities passionately protested against American President Donald Trump. They stood in solidarity against Trump's infamous Muslim ban which not only affected artists and actors of their own community but also a large section of America.
Remember Meryl Streep's profound outcry for empathy at the Golden Globes. The actress asked, "What is Hollywood anyway? Just a bunch of people from other places... Hollywood is crawling with outsiders and foreigners and if we kick them all out you will have nothing to watch but football and mixed martial arts which are not arts."
Streep wasn't the only one to voice her objection to Trump's divisive policies. On the stage of every award show, be it the Oscars, Golden Globes or SAG Awards, Trump was either made the butt of jokes or profoundly condemned. Award recipients dedicated their acceptance speeches to that cause of promoting unity and eliminate discrimination based on cast, colour or gender. Actors, filmmakers, artists spoke passionately against Trump at the red carpet events.
The Directors Guild of America and Screen Actors Guild- American Federation of Television and Radio Artists (SAG-AFRA) openly condemned the Muslim ban.
The Directors Guild of America said that they strongly believe that artists -- regardless of their national origin, faith, or gender -- should be able to come to the United States to showcase their work. A report quoted a DGA statement saying, "Policies that prevent this, without due consideration, should be of concern to all who care about art and cinema.... the DGA will continue to support the ability of artists to work and share their art in the United States."
SAG-AFTRA (Screen Actors Guild- American Federation of Television and Radio Artists) said, "This immigration policy is misguided and we will support our fellow artists every step of the way."
So, take your cue Bollywood. If Hollywood can stand up against the policies of a President of a country, you too can take a stance against fringe groups like Karni Sena and Sarva Brahmin Mahasabha. Each filmmaker fighting for the release of their respective film will not help in the long run. If Bollywood continues to keep mum as political groups hold community or religious sentiments hostage to target films consequences will be dire. Bollywood will lose the little freedom it has to make movies in its own way. So, stand up and fight the bullies Bollywood before it is too late.
Get the best of News18 delivered to your inbox - subscribe to News18 Daybreak. Follow News18.com on Twitter, Instagram, Facebook, Telegram, TikTok and on YouTube, and stay in the know with what's happening in the world around you – in real time.
Read full article