Manju Movie Review: Virinchi's Latest Film Rides on Nani's skills.
Manju isn't the sweet sin it's supposed to be.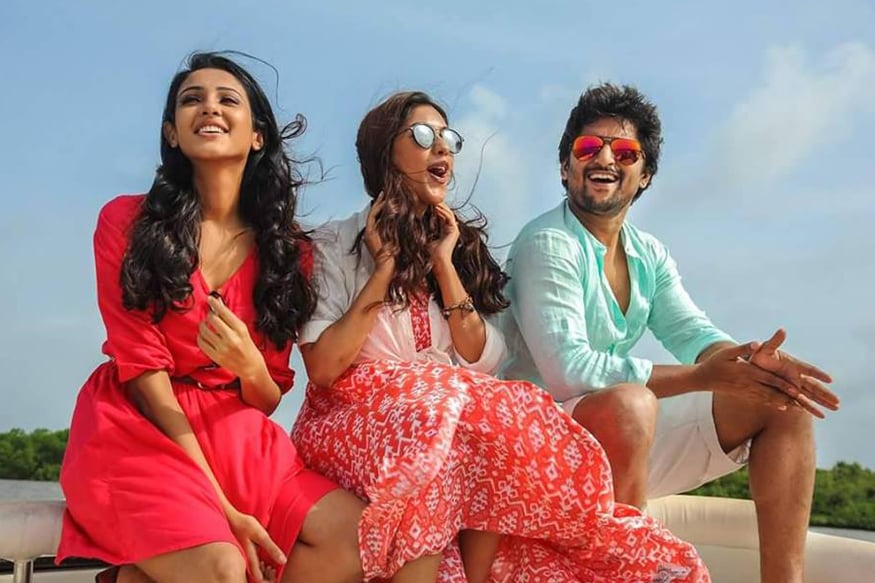 A still from Manju.
Cast: Nani, Anu Emmanuel, Priya Shri.
Director: Virinchi Varma
Majnu is kind of a feverish title for a romantic film. If the film is pretty and heart-warming, the title would be an apt one, but if the film doesn't lift the moods of the viewers then the title is as good as a recycle bin.
Virinchi Varma's Majnu is somewhere in-between. It keeps moving back and forth largely due to its weightlessness.
When we first see Aditya (Nani), he's this cool dude with a cool job. He's an assistant director working on the second part of Baahubali. Oh, yes! We see SS Rajamouli in action for a couple of minutes. But then, this movie isn't about what happens to an AD, it's about what happens if he falls in love.
Nani crosses paths with Suma (Priya Shri) and falls a little for her. By the time he realizes that he's still crazy about his old flame, Kiran (Anu Emmanuel), it's too late for him. The writing allows a room for Vennela Kishore in the latter half to sprinkle his wisecracks, and boy, he whips up a few laughs easily.
For Nani, this role is similar to a walk in the park. The way he absorbs the nuances of his character is enough to say how far he has come. He is definitely one of the charming performers in Telugu cinema today. The audiences are not interested in the amount of preparation he puts in behind the camera. They buy tickets to see what happens on-screen. And that's where he excels. He reveals the side of his emotional turmoil in half a minute, and he also tickles your mighty funny bone in the next scene. This is why he keeps growing as an actor.
Virinchi's latest film rides on Nani's skills. The Natural Star is in fine-form here. There's nothing that goes against his performance. The leading ladies, however, look like they have been made to stand in front of the camera for a test-shoot. Does Priya express more through her body language because Anu fails to emote with her face? Nani's efforts to keep the proceedings light-hearted are not supported by the ladies. Anu's big eyes could have conveyed so much, yet she stands mutely in many scenes like she's seeing an imaginary bird fly away. It doesn't matter if she's in love with Nani, or, if Nani is in 'love' with another woman, her face and her actions never rise to the occasion. It's a terrible downer since the movie revolves around these three characters mainly.
This romantic drama could have been called a musical had there been a collection of moving moments. Gopi Sunder's music is nice. It, perhaps, can be named as one of the better things; still while watching the movie, it feels as though the songs are crushing the film as they pop up at undesired places.
Majnu isn't the sweet sin it's supposed to be. In this case, it's primarily linked to the poor casting choices (leading ladies), and the tone of narration.
Rating: 2.5 out of 5.
Get the best of News18 delivered to your inbox - subscribe to News18 Daybreak. Follow News18.com on Twitter, Instagram, Facebook, Telegram, TikTok and on YouTube, and stay in the know with what's happening in the world around you – in real time.
| Edited by: Sameeksha
Read full article