Manmarziyaan Trailer: Despite Vicky Kaushal-Taapsee Pannu's Hot Chemistry, Abhishek Bachchan Stands Out
Manmarziyaan, directed by Anurag Kashyap and presented by Aanand L Rai, stars Abhishek Bachchan, Vicky Kaushal and Taapsee Pannu in lead roles.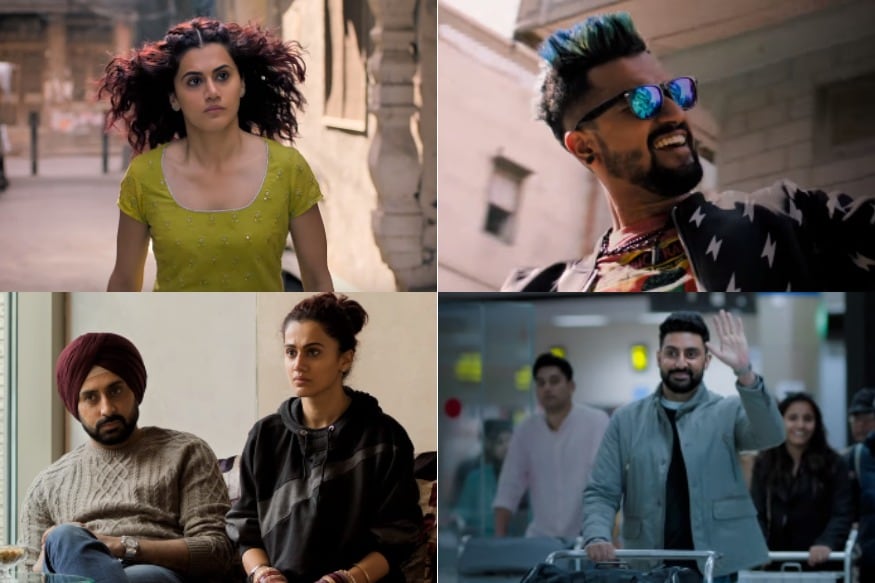 Screengrab of Manmarziyan trailer. (YouTube)
Abhishek Bachchan has just dropped the much-anticipated trailer of Anurag Kashyap's upcoming film, Manmarziyaan, on his Twitter. Bachchan, who is making a comeback after a two-year hiatus, plays Robbie, a subdued foil to Vicky Kaushal and Taapsee Pannu's rowdy lovers in the film.
Kaushal is playing his namesake — a glitzy, responsibility-shirking young man in Punjab who is all for 'fyar' (pronounced as pyaar) but cannot bring himself to discuss marriage with the parents of the girl he is sleeping with.
Taapsee plays Rumi, a woman torn between a man who would not commit marriage to her and another, whom she doesn't love, but marries anyway.
Jointly produced by Phantom Films and Anand L Rai's Colour Yellow Production, The story of Manmarziyan isn't unique, but its treatment is. Unlike Kashyap's other films, Manmarziyaan's colour palette is bright, and vividly neon.
After her power-packed performance in Anubhav Sinha's latest courtroom drama, Mulk, expectations from Taapsee are sky high and yet she delivers. Kaushal, who has been basking in the critical and commercial success of Sanju, doesn't disappoint either. However, it is Bachchan who will stay with you.
According to Manmarziyaan, love isn't complicated, people are. Just how much, we'll find out on September 14.
Talking about the film, Taapsee had earlier told IANS, "It is a typical Anurag Kashyap style of love story, where you do not have black and white characters. Everyone has certain flaws."
Get the best of News18 delivered to your inbox - subscribe to News18 Daybreak. Follow News18.com on Twitter, Instagram, Facebook, Telegram, TikTok and on YouTube, and stay in the know with what's happening in the world around you – in real time.
Read full article