'Manto Exposed Hypocrisy, He Is Paradoxically Relevant In Our Times'
As popular culture continues its romance with the storywriter and essayist, his grandniece Ayesha Jalal, professor of history and Director at the Center for South Asian and Indian Ocean Studies at Tufts University, spoke to News18's Eram Agha on Manto in our times.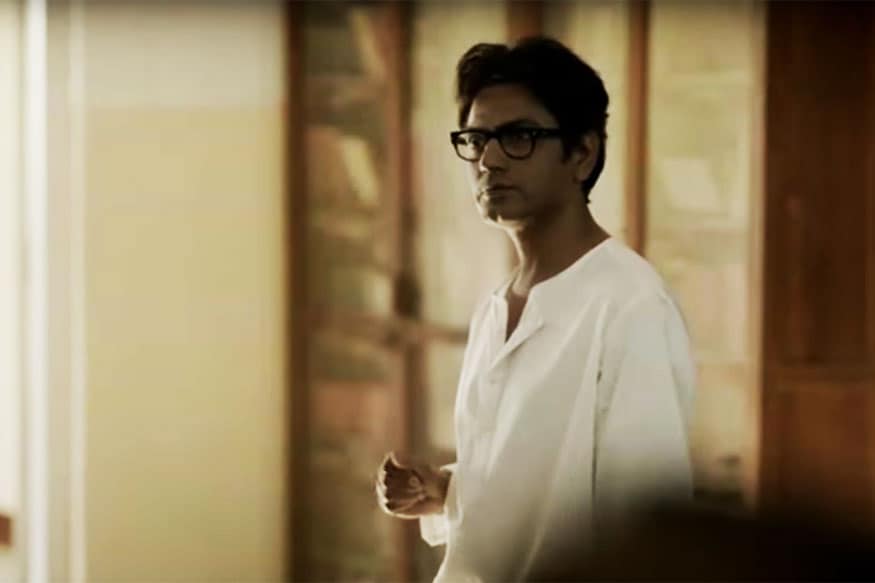 Image: A still from Nandita Das' directorial Manto.
In Vaso, a small town near Baroda, the shoot for feature film Manto is underway. Nawazuddin Siddiqui is playing Saadat Hasan Manto, the legendary Urdu writer, in the movie directed by Nandita Das. As popular culture continues its romance with the storywriter and essayist, his grandniece Ayesha Jalal, professor of history and Director at the Center for South Asian and Indian Ocean Studies at Tufts University, spoke to News18's Eram Agha on Manto in our times. Here are some excerpts from the interview.
A film on Manto was made in Pakistan. Now Nandita Das is directing a film focusing on later years of his life. How do you read the rising interest in Manto in times when marketability matters a lot?
Manto has always had a niche following in the subcontinent despite outright hostility from ensconced elements in postcolonial bureaucracies and the absence of any sort of state patronage. His works have always been "marketable" and are increasingly being translated internationally as well as in different South Asian regional languages. While interest in Manto's life and times has always been there among his ardent admirers, the recent attention he is receiving from filmmakers will undoubtedly introduce him to a much wider audience. There are a number of reasons why filmmakers are turning their gaze on Manto's life, times, and works. The year 2012 was the birth centenary of Manto and there was considerable media focus on his corpus as well as readings and theatrical performances of specific works. Another important reason is Manto is somewhat paradoxically relevant in our troubled times — a fiery nonconformist who rejected bigotry and exposed social hypocrisy. He is attractive to those who feel frustrated and angered by exclusionary politics and the apparent ideological homogenization that they see around them. Manto's life and times make for great cinematic drama and pose creative challenges for filmmakers.
Can we draw parallels between the times when Manto lived with our times?
If you are referring to the tendency of fake news replacing fact-based news as post truth, then Manto clearly is an attractive voice of resistance for those who oppose the nonchalance with which verification of facts to establish truth is coming to be looked upon today. Parallels between Manto's times and our own can certainly be drawn, especially the targeting of entire communities on account of religious or national affiliations. His stories, and especially his partition stories, force discerning readers to question their assumptions by delving deeper into themselves and discovering the lost threads of humanity within them in a hate-filled contemporary globalized world.
When it comes to portrayal of Manto in popular culture, there has been emphasis on women, sexuality and partition. How do you see this trend, and do you think we need to reinvent the way we look at Manto?
There is a danger of foregrounding one or the other aspect of Manto's corpus and thereby distorting his overall contribution to Urdu literature. While his stories exposing the hypocrisy underlying attitudes towards sexuality and the human tragedy of partition are very poignant and extremely popular, there are many others that have either been ignored altogether or remain to be discovered. At the same time, Manto was more than just a short story writer. His essays, in particular, as I argued in my book The Pity of Partition, are excellent historical sources. Then there is Manto and his productive stint as a radio dramatist. Few people today realize that Manto became a household name on account of the plays he wrote for radio.
How does Manto appeal to the generation marked with overdose of information from all quarters in the digital age?
Manto has always and will continue to appeal to those who do not passively accept the reigning truths of the day and like to think out of the box. Several of the themes he takes up in his works, and his personal history as a renegade who was repeatedly accused of "obscenity", resonate with the rebels in our own times.
If you are to talk about Pakistan's relationship with Bollywood, how would you define it? What Bollywood means to a Pakistani house?
Bollywood is an immensely popular form of entertainment for a cross section of Pakistani society and there is no secret about that. After a lapse of several decades, cinema halls are again showing Bollywood films. Even when there was a ban on Indian cinema in Pakistan, people regularly watched Bollywood flicks on videos at home. Bollywood is very much part and parcel of everyday social life in Pakistan and is likely to remain so regardless of the tenor of Indo-Pakistan relations. In this context, it is worth remembering that Manto himself was a scriptwriter in Bombay's film industry at the time of partition. Ashok Kumar and Shyam were among Manto's closest friends and these friendships were beautifully depicted in several of his stories and essays.
Get the best of News18 delivered to your inbox - subscribe to News18 Daybreak. Follow News18.com on Twitter, Instagram, Facebook, TikTok and on YouTube, and stay in the know with what's happening in the world around you – in real time.
Subscribe to Moneycontrol Pro and gain access to curated markets data, trading recommendations, equity analysis, investment ideas, insights from market gurus and much more. Get Moneycontrol PRO for 1 year at price of 3 months. Use code FREEDOM.
| Edited by: Kriti Tulsiani
Read full article