Mard Ko Dard Nahi Hota: Meet Gulshan Devaiah's Two Sides, Karate Mani and Bad Boy Jimmy
In a freewheeling conversation, Gulshan Devaiah talks about working with Vasan Bala, playing twin brothers in Mard Ko Dard Nahi Hota, his other projects and his growth as an actor over the years.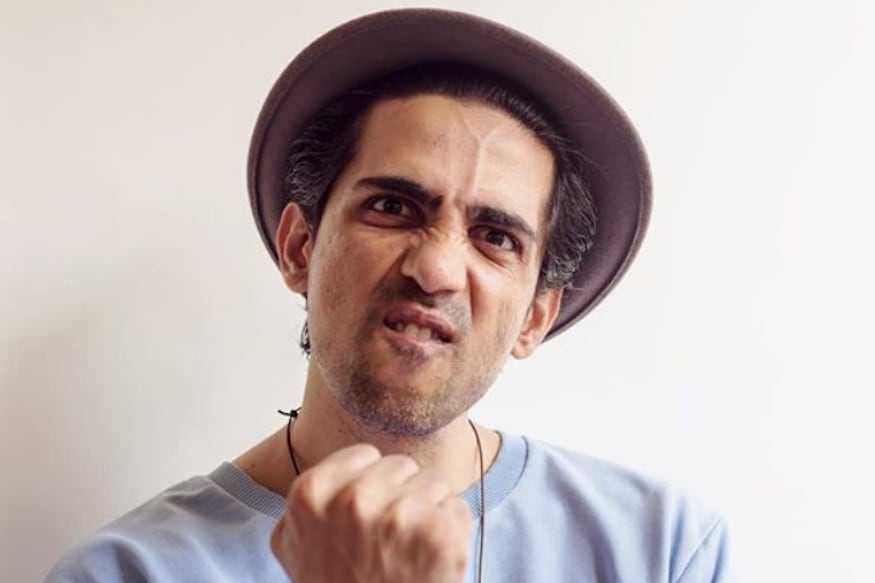 Gulshan Devaiah plays twin South-Indian Christian brothers in Vasan Bala's Mard Ko Dard Nahi Hota. (Image: Instagram/Candy'd Box)
Though he is known for his nuanced performances in films such as That Girl in Yellow Boots, Shaitan, Raam Leela and A Death in the Gunj, Gulshan Devaiah is at his terrific best in Vasan Bala's forthcoming film Mard Ko Dard Nahi Hota.
He has a double role in the film. He plays twin South-Indian Christian brothers—one-legged karateka Mani and his baddie sibling Jimmy—with such remarkable finesse, that you can't ignore his versatility. Tell him this and Devaiah says, "I think I have grown as an actor. I feel I am better now, more confident and in control of myself and my craft. I understand things better, am able to apply myself and harness my imagination better than before."
The shift, the gravitas in his performance is discernible. Devaiah credits it to the experience and knowledge that has come to him with time and practice. "When you are inexperienced, you have 12 really good days in a 35-day shoot. But now, I have 20 good days. It's really about small fine-tunings," he says.
Mard Ko Dard Nahi Hota is not his first film with Vasan though. He was a part of the director's first project Peddlers, which never released. "I believe in him. I understand him and his stories, and I really like his sensibilities," says Devaiah.
Their easy familiarity and fondness for each other reflects on screen. Despite Mard Ko Dard Nahi Hota being the launch vehicle of Bhagyashree's son Abhimanyu Dassani, it belongs to Devaiah. And he knows it. "There was a certain degree of difficulty to doing the double role in this film which excited me. My part is the best in the film. It required a lot of technical acting because I had scenes with myself—like the ones where the two brothers have confrontations. There are markers, you can't cross certain things, your hand can't go just anywhere. I enjoyed the challenge," Devaiah said during the film's premiere at the recently concluded Jio MAMI Mumbai Film Festival.
However, it wasn't easy for him to crack the psyche of the men who are poles apart from each other—one Dr. Jekyll, the other Mr. Hyde. "I figured that it had to be from the outside in, that I had to get Mani right first. And once I got him right, I knew it would be easy for me to get Jimmy," Devaiah says.
"I was a bit intimidated in the beginning. I didn't know how to differentiate between them. But then I realized that they were not different. Rather, they were the same person. Just their circumstances were different. That really gave me a perspective and made it easier. It did the foundation to build the rest of the details," he adds.
Playing the twin brothers wasn't the only challenge for Devaiah. Since he was essaying the role of a karateka, he had to get the action right, which was a task considering he was recovering from a knee surgery.
Read|Mard Ko Dard Nahi Hota: Bhagyashree's Son Abhimanyu Dassani is All Set to Win You Over
Read|Ronnie Screwvala on Working with Newcomers: Want to Get the Right Person for Each Role
"I am very right-sided. But my right knee was the one that was surgically put back together. I knew there was no way that I could kick and land on it. So I had to do everything from my weak left. Even the trainers, the action choreographers struggled initially because I had to kick and land on the same leg while sticking to the Kyokushin karate style, which is a very specific style of fighting. Also, because I had just had a knee surgery, I had to be doubly careful," he says.
And so Devaiah trained three days a week for four months. The result? He did not get injured even once while shooting, and now Indian audiences will soon get an authentic home-grown action film shot in the style of old classics.  
Devaiah is all praises for the film's lead pair, Abhimanyu Dassani and Radhika Madan, who are both newcomers. "They poured themselves completely into the film, were ready to give their life to it. They recognized the opportunity that it was presenting them. Of course, they made mistakes and their inexperience showed but it doesn't matter because they are in the pursuit of excellence," he says.
Though the date hasn't been finalized yet, Mard Ko Dard Nahi Hota is slated to release sometime early next year. Meanwhile, Devaiah is currently being seen as a Bihari gangster in Smoke, an Eros Now web-series which also stars Kalki Koechlin, Jim Sarbh and Mandira Bedi in important roles.
He is also filming the third installment in the Commando franchise. "They want to do something interesting with the film. It seemed like a good idea. I had one schedule with them in the UK. I have another next month," he says.
The writer tweets @sneha_bengani
Get the best of News18 delivered to your inbox - subscribe to News18 Daybreak. Follow News18.com on Twitter, Instagram, Facebook, Telegram, TikTok and on YouTube, and stay in the know with what's happening in the world around you – in real time.
Read full article