Meri Pyaari Bindu Review: Ayushmann Khurrana, Parineeti Chopra Starrer Is An Experience You Need To Live
Meri Pyaari Bindu is a ride that serves you just the right amount of nostalgia for the old, and the longing for the new.
Director
: Akshay Roy
Cast
: Parineeti Chopra, Ayushmann Khurrana
Meri Pyaari Bindu
is a ride that serves you just the right amount of nostalgia for the old, and the longing for the new. It takes you back to the days when cassettes and mixed tapes played an essential role in preserving the old bonds and in making the new ones. It transports you to the era where Mohammed Rafi, Kishore Kumar, Lata Mangeshkar, RD Burman and sometimes Bappi Lahiri, defined the romance for the young and old. It keeps the realism intact but makes sure you enter the little magical universe of the lead characters and soak in the feelings just like they do onscreen.
Abhimanyu Roy (Ayushmann Khurrana) is a Kolkata-based writer, who mostly pens down horror tales but this time, he's working on a love story – already 3 years into making. Through his parents, we get to know that he's somewhere stuck on a girl. The film is a first person narrative – where Abhimanyu pulls the story forward and defines that girl for us. We see Bindu Shankar Narayanan (Parineeti Chopra) as Abhimanyu sees her and that's what make
Meri Pyaari Bindu
an experience worth living.
Bindu is an aspiring singer, who wants to make it big in Bollywood. She's carefree, a fickle minded person who is pretty unsure what she actually wants in life. Even though Abhimanyu's words don't, his actions make it clear that he's unabashedly in love with Bindu.
The film might come across as a tale of two friends or lovers whose relationship brick was laid back in their childhood days, in a terrace room, when Bindu offers Abhi her Walkman and says, "Listen to this! It'll change your life."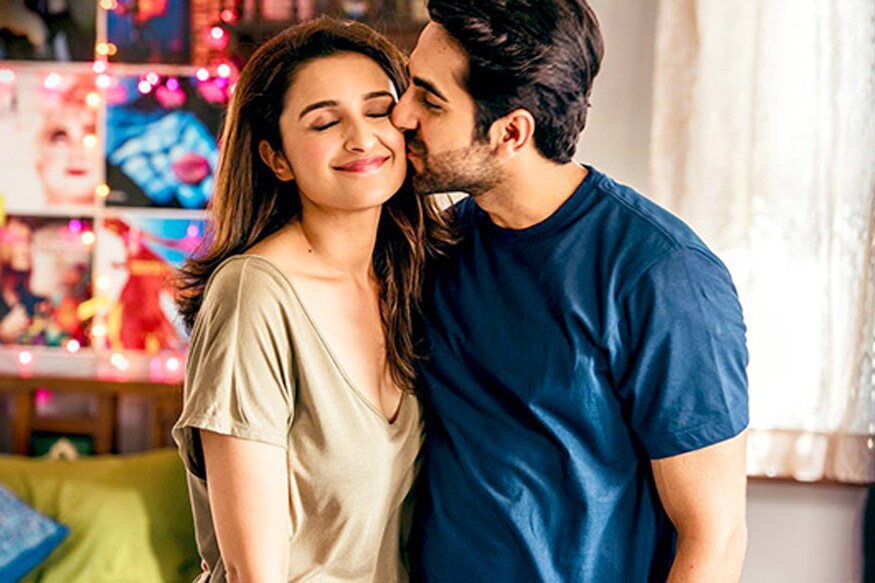 Image: Youtube/ Meri Pyaari Bindu
The foundation of old Bollywood classics sets a tone for their relationship and for the film. The film travels in time to trace their changing relationship's arc– from being the best of friends to being each other's anchor and then the story after the 'happily ever after'. As they grow up, they keep coming back to each other – like some business is always unfinished between the two and soon you realize that with them, it's never off the table.
As one progresses from first half to the second, and the 'iconic' cassette changes its side from A to B, the little universe of Abhimanyu and Bindu unfolds. While most part of the film is pretty relatable and comes across as a slice-of-life, a particular climax scene seems forced and you wonder was there really a need for it. The film, however, ages well and grasps you in with its successive scenes.
Ayushmann Khurrana as a Bengali boy is charismatic but often takes the viewers to his
Vicky Donor
days when he tries to speak Bengali. He maintains the charm of a lover, the comfort of a friend and the familiarity of the writer. He comes off as a natural when he narrates the tale. As he types away with a smoke in his hand and a hope in his eyes, you can't help but let the character grow on you.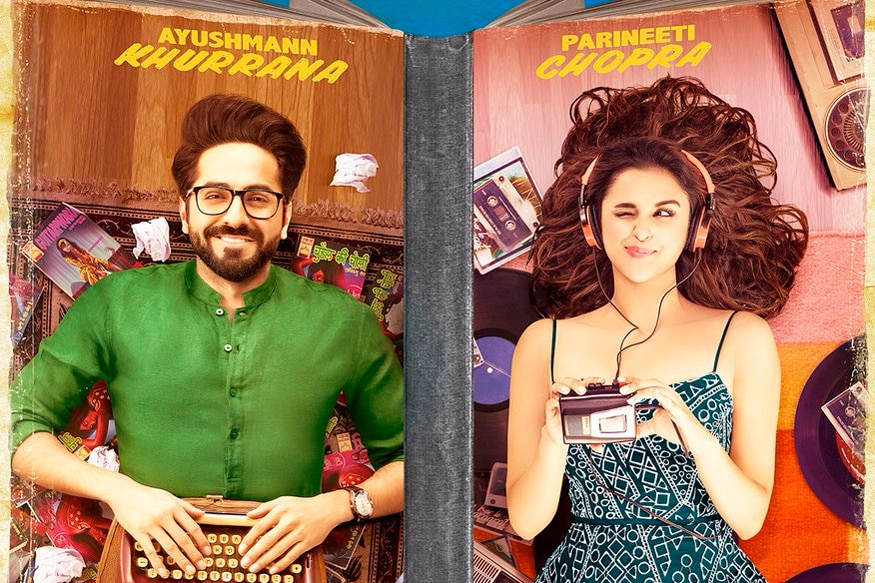 Image: Youtube/ Meri Pyaari Bindu
Parineeti, on the other hand, brings to screen a shade of her own. She's like the usual bubbly girl one regards her as. She's so much at ease with her blithe that it becomes hard to not smile when she's smiling. Plus, it's a shame that we hadn't heard her singing till now!
The two together, who are like an oven-fresh pairing in Bollywood, often dwindle with each other. They share a warm camaraderie and a certain palpable comfort but the lack of passion sometimes reflects on-screen. However, this doesn't make them bad, in fact, it only makes us curious to see them together again. In fact, the film sees them shining in their respective parts and gives a glimpse of the talent that still needs to be tapped.
Quite interestingly, director Akshay Roy has kept in mind, even the minutest details, to make sure this breezy romantic tale turns out differently from the rest. The bantam detailing– whether its recreating the old school charm or maintaining today's connect – throughout add an unexplainable weight to the narration and ends up building a parallel universe of sorts. Special word for the way this film has been shot and the way dialogues have been weaved. Like there's a scene shot at Marine Drive, where the two discuss their equation and Bindu calls Abhi her "chhat waala kamra (terrace room) wherein she can find solace at any point in her life. Another scene towards the end beautifully connects a cassette to one's life.
Meri Pyaari Bindu is more like a millennial take on modern-day relationships and with its unconventional ending, it leaves you with a lot of unprocessed thoughts and questions hanging to them. But, for some, this is exactly what'll make this film a magical ride. Go for this film and bask in the magic of everything old-school with a subtle modern twist.
Rating: 3/5
| Edited by: Kriti Tulsiani
Read full article
Next Story
Next Story
Also Watch

Jet Airways Crisis: "It Was Like A Family" Jet Employees Cry For Its Revival
Countdown To
Elections Results
To Assembly Elections 2018 Results