Actor Shahid Kapoor's wife Mira Rajput, who recently made her acting debut in a television commercial for a skincare brand, has become a target of online hate yet again for promoting the anti-ageing skincare brand on her Instagram handle.
The star wife, who is expecting her second child with Shahid, on Sunday took to Instagram to share a post in which she can be seen holding the product in her hand and endorsing it to her followers.
"It's incredible the strength and resilience mothers have been blessed with to handle everything they do. And while you go about your duties, don't forget to give yourself some TLC!
For me, it's a quick skincare routine with Olay White Radiance in the morning and then I'm set to take on the rest of the day with my little one. It's never too early (or too late) to start caring for your skin," read her post.
Just like the first time she shared the video of her debut commercial and got attacked by an army of trolls, this time too, Mira attracted too much negative attention and comments. While some called her out Mira or promoting an anti-ageing brand at such a young age, others called her 'fake' and 'desperate to earn money'.
Take a look.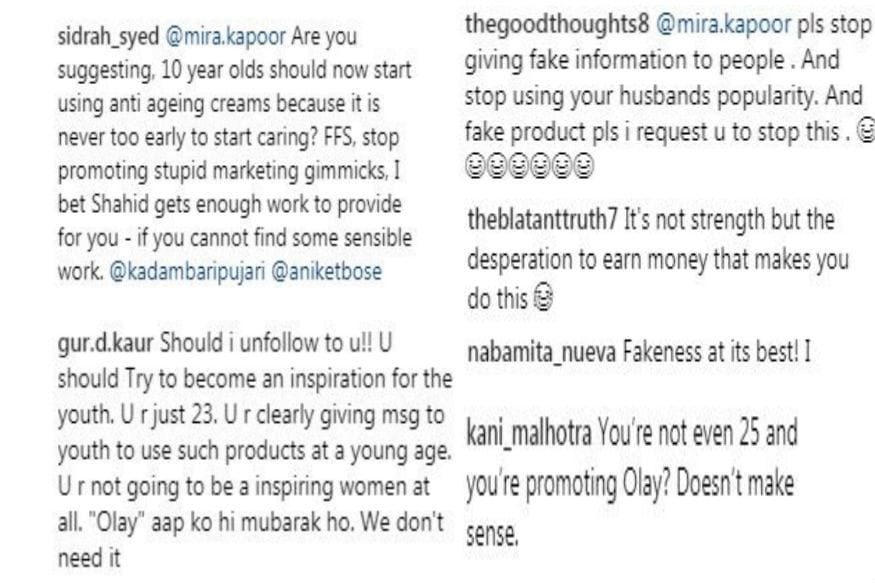 Earlier, Mira, reacting to the online criticism she received for her first advertisement, has told Time Now, "The internet is one platform that is accessible to everyone. People can say what they feel and it gives everyone the right to express themselves the way they want and to what extent they feel like. So, there will be opinions. It's not that everyone is going to love you. I have always spoken for myself and I have never shied away from expressing what I truly feel."
"Nowadays, people receive backlash for whatever they do or say. It is the way the internet is. At some level, it is a bit sad," she had added.