GET Stock

Quotes


Powered by



Mirzya Movie Review: Saiyami, Harshvardhan's First Is a Visual Delight But Fails To Impress
Will Rakeysh Om Prakash Mehra bring to screen the folk lore of Mirza-Sahiban effectively?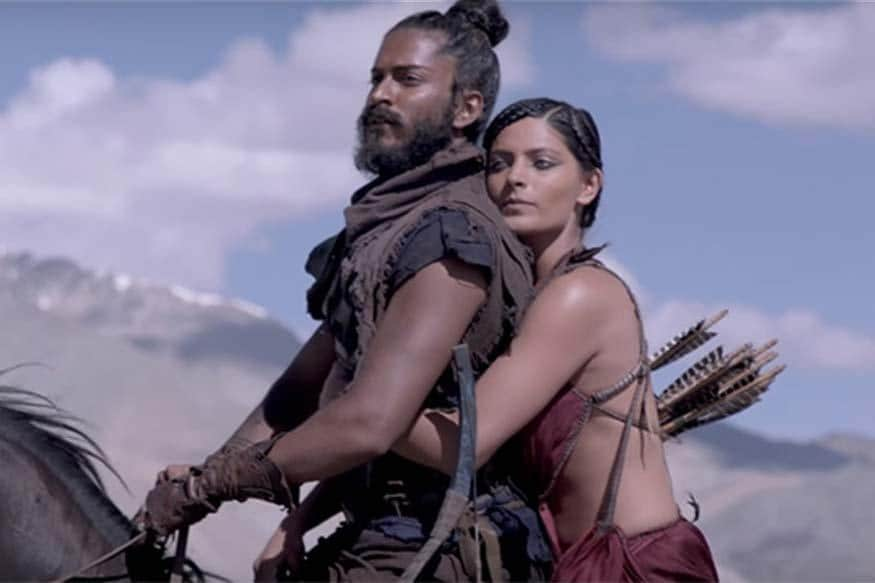 Harshvardhan in a still from Mirzya.
When it is announced that Gulzar is making a comeback as a writer after almost 17 years, one really needs to sit up and take notice of the film. Directed by Rakeysh Omprakash Mehra, Mirzya starring Harshvardhan Kapoor and Saiyami Kher, has been written by Gulzar.
This film is important not only because it marks the debut of Anil Kapoor's son and Sonam Kapoor's brother Harshvardhan's debut but also because it makes an effort to answer a question that has been bothering folk tale lovers since ages.
Based on the romantic folklore of Mirza-Sahibaan, the love story post which the tradition of romantic tales died up in Punjab, boasts of Mehra's moving back and forth in time narration. The story goes that Mirza Jatt fell in love with his cousin Sahibaan while studying together as kids.Not in favour of their growing intimacy, Sahibaan's parents decided to marry her off to another man. However, she eloped with Mirza on her wedding day and with a fear that Mirza would kill her brothers, Sahibaan broke each of his arrows. When her brothers found them, they killed Mirza right away while he kept wondering as to why did Sahibaan betray him.
Will Rakeysh Om Prakash Mehra bring to screen this folk lore effectively? Will he finally find a captivating answer to the story? Will Harshvardhan's performance win hearts? Will their chemistry do justice to Mirza-Sahibaan's love classic? Kriti Tulsiani from News18.com is inside the theater to find out.
9:45 AM: Directed by @RakeyshOmMehra, #Mirzya stars @HarshKapoor_ and @SaiyamiKher in lead roles.
9:52 AM: #Mirzya is based on the tale of Mirza-Sahibaan, one of the most important romantic folk tales of Punjab.
9:57 AM: Lohaaro ki gali hai ye: Gulzar's enigmatic words weave magic in the opening scene. #Mirzya
10:07 AM: The classroom scenes will take you back to school days and remind you of your childhood love. #Mirzya
10:07 AM: The classroom scenes will take you back to school days and remind you of your childhood love. #Mirzya
10:10 AM: Moving back and forth in time is something you'll have to expect if it's a #RakeyshOmPrakashMehra directorial. #Mirzya
10:27 AM: Horse riding scenes are beautifully shot. Such detailing. #Mirzya
10:40 AM: While #HarshvardhanKapoor is pulling off a controlled act as Mohnish, #SaiyamiKher plays Suchitra, a chirpy girl. #Mirzya
10:50 AM: Even though #Harshvardhan and #Saiyami make a good pair, there's something missing. #Mirzya
10:58 AM: Gulzar's couplets keep you invested. Voiceovers, tribal women depicting the essence; the narrative is creatively moving forward. #Mirzya
10:59 AM: It's half time. #Mirzya shuttles between a modern day tale of Mohnish-Suchitra and the old famous Mirza-Sahibaan folklore.
11:03 AM: First half rides high on stunning locales, powerful lyrics and fine background score. #Mirzya
11:05 AM: Not many shades and layers to #HarshvardhanKapoor and #SaiyamiKher's characters so far. #Mirzya
11:17 AM: Special word for Anuj Chaudhary for his fine portrayal of prince Karan. #Mirzya
11:20 AM: #Mirzya is more like a musical or a visually stunning stage play.
11:26 AM: Look out for the scene where @HarshKapoor_ goes to meet @SaiyamiKher's on-screen father. So convincing. #Mirzya
11:39 AM: The undercurrent of this passionate love is never really reaching the surface. Something is missing. #Mirzya
11:58 AM: From characters' detailing to camera work: #Mirzya shows some technical finesse!
12:03 PM: Despite the technicalities, you don't find yourself rooting for any character. Even their intense love fails to stir your soul. #Mirzya
12:04 PM: #Mirzya is a beautiful film shot and directed with technical sensibilities.
12:07 PM: #Mirzya sets a fine example for classic poetry in motion but doesn't really strike the right chord when it comes to romance.
12:11 PM: #Mirzya is definitely a visual treat but Harshavardhan and Saiyami's chemistry fails to grip you. Had sparks, but then, it wasn't enough.
12:14 PM: #Mirzya is not everyone's cup of tea. If you've poetic sensibilities and a certain love for fine couplets, you'll like it, else not.
12:16 PM: Guess we'll have to wait for another film starring #Harshvardhan and #Saiyami to tap their action potential. #Mirzya
12:18 PM: Special word. #ShankarEhsaanLoy, #Gulzar and #DalerMehendi's music makes the heart of this film. #Mirzya
12:19 PM: Thank you for staying with us throughout the tweet review of #Mirzya. Stay tuned for more movie updates.
Also Watch
| Edited by: Shomini Sen
Read full article