Mission: Impossible - Fallout: So What If It's All About Stunts, Tom Cruise's Ethan Hunt is the God of All Risky Business
For the past two decades, Mission Impossible movies are just a repetition of themselves and while there is always a promise of improved and breathtaking new stunts, the stories of these films might not have changed for the better with years.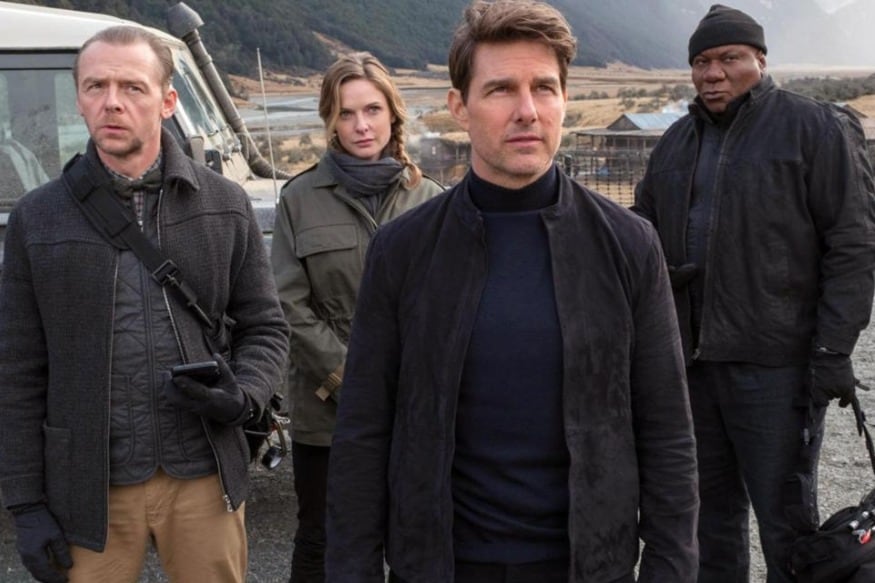 Image: A YouTube grab
'Tom Cruise and my mother are of the same age,' was the astute observation made by my childhood friend as we took our seats to watch the actor's latest offering, Mission: Impossible -- Fallout. We have seen Cruise play Ethan Hunt, an IMF (Impossible Missions Forces) agent in 6 films, in the last 22 years. When he first started out, it was 1996, we were mere eight-year-olds and our favorite activities were grooving to Spice Girls' Wannabe, belting out Pardesi Pardesi from Raja Hindustani, and well, daydreaming about marrying Tom Cruise.
Circa 2018, Cruise is 56-year-old, and clearly far from being the heartthrob of kids and teenagers. His Ethan Hunt looks older too, albeit he doesn't particularly act wiser than he did two decades ago. He has acquired small bags under his eyes over the years but he still retains his charming toothy grin. His dark brown hair has thinned out a bit. But, he is fitter than ever. 'The same old Ethan' as Luther (Ving Rhames) would say, going about his muscle-popping, impulsive-and-reckless -decision-making, car-chasing, bike-riding and saving-the-world routines.
However, in some tight framed close-up shots, Cruise looks a tad exhausted in his newest film. The exhaustion may be the result of carrying a hit franchise alone for two decades, but the actor certainly isn't complaining. On the contrary, with each film, Cruise has raised the bar, not of acting (of course not), no one needs that in a spy film. But, of stunts. Yes, it is a mutually agreed upon yardstick, that only Cruise and his audience understand, that Mission Impossible films are measured up by the outrageousness (and dangerousness) of their stunts and in that barometer Mission: Impossible -- Fallout scores high indeed.
From all the MI films, one scene that I particularly associate with the franchise, and with Cruise as Hunt is the mountain climbing scene in the introductory credit of Mission Impossible II. Donning a black vest, and khaki pants, we see Cruise skilfully climbing a massive cliff with careful and intricate body movements. At a precarious moment, his hand slips and he slides to the edge of the cliff and before you can catch your breath, there he is hanging at the very edge, holding onto the cliff with just one hand, suspended mid-air, above what looks like an abyss. In 2000, the first time I saw this scene my heart almost stopped. I bleeped out logical thoughts like, 'this is his film so it is impossible for him to die during the starting credit roll' and was almost on verge of a panic attack when my father gently reassured me by saying, "It's all camera work, he isn't doing it himself." I later discovered (thanks to the internet) that my father was wrong. It was actually Tom Cruise hanging from that cliff, and from all those buildings, airplanes, helicopters, trains and the strangest of things and places that one can think of, in all those MI films.
That's another thing MI films sell on. The realism. There is no CGI, no stunt doubles, leave it to Tom Cruise to do all the risky business (literally). Apparently, during the filming of mountain climbing scene in Utah's Dead Horse Point State Park (for MI 2), Cruise tore his shoulder. In fact, that wasn't the only time he was injured shooting a Mission Impossible film. Cruise practically collects injuries as souvenirs from each of his MI films. He broke two ribs shooting for Mission Impossible III and for his latest film, Mission: Impossible-- Fallout, he broke his ankle while jumping from one building to another.
The stunts too became dangerous with each film. In Mission: Impossible--Ghost Protocol, we saw Cruise climb Burj Khalifa, the world's tallest building. In Rogue Nation, he held his breath for about six minutes for an underwater safe breaking sequence. And, in the latest MI film, we see Cruise ride a helicopter and spiral down into a riverine in a way that might give nightmares to professional pilots. Needless to say, these daredevil stunts gives the audience an adrenaline rush like no other action films do. However, one cannot help but wonder:
Is there anything more to these MI films than the endless strings of stunts?
For the past two decades, Mission Impossible movies are just a repetition of themselves and while there is always a promise of improved and breathtaking new stunts, the stories of these films might not have changed for the better with years. A pouty Alec Balwin plays the secretary of IMF -- which seems less like a secret service unit and more like a one-man army. Moreover, with each film, it seems like less is at stake, except well, world destruction, which we know will never happen, because all those crazy chases and fight sequences will culminate into Ethan saving the world, YET AGAIN. Yes, it's so formulaic that ninety-nine percent of the time, it's hard to care for any character. And, as for Ethan, I have discovered over the years that Ethan doesn't need the audience to care for him; he is a big boy quite capable of handling the messes he creates (and boy does he know how to create a mess) or finds himself in. Ethan only inspires awe and adulation in the audience. Now that Cruise is 56-years-old chances are that the awe inspired by him is less for his symmetrical smile and more for the tenacity with which he executes each and every scene of these films.
Mission Impossible films, which started out as a film franchise based on the TV series by the same name (with a lot of cold war subtext) has become a thing of its own under Cruise's able leadership. In this latest installment of MI films, we also meet Walker (Henry Cavill), who plays an important part. The obvious handsomeness of Cavill, who is known for his Superman performance is hard to ignore despite that ghastly mustache he has been given by the makers. Cavill pitted against Cruise also seems like a worthy opponent initially. But, as the film advances, Cavill is reduced to a small player in the greater scheme of things. There are several fight sequences in which we see Cavill and Cruise share screen and while Cavill gets ample play in the movie, he doesn't leave any impact. Not because he is worse than Tom Cruise as far as his skills as an actor go, but because his Walker is no match for Cruise's Hunt, a character Cruise has played and perfected in the last 22 years.
Cruise brings a monk-like dedication to his craft when it comes to making these big budgeted MI films. Reportedly, he rehearsed the helicopter sequence for a year before actually shooting it for Mission: Impossible-- Fallout. His stoic approach to filmmaking also shows in his performance. He is a great producer too. He knows that all these hard work may go unnoticed by the untrained eyes of the audience, who cannot tell the difference between CGI and real action sequences. So, before every MI film, we also get featurettes on how painstakingly the crew and the stunt directors have made up each sequence and informing us of all the dangerous endeavors Cruise undertook to please the audience etc.
Cruise was never an actor with outstanding talents and his early claim to fame was more as a teenage poster boy than as a skillful actor. But, in all his MI films, he wears Ethan Hunt as his second skin. There isn't a moment you can tell them apart. Perhaps that's why these films work despite being such cliches because Cruise delivers every time. Cruise's Hunt is a legend who can turn most of these snooze-worthy, utterly predictable and stale MI films into adventure rides.
Get the best of News18 delivered to your inbox - subscribe to News18 Daybreak. Follow News18.com on Twitter, Instagram, Facebook, TikTok and on YouTube, and stay in the know with what's happening in the world around you – in real time.
Subscribe to Moneycontrol Pro and gain access to curated markets data, trading recommendations, equity analysis, investment ideas, insights from market gurus and much more. Get Moneycontrol PRO for 1 year at price of 3 months. Use code FREEDOM.
| Edited by: ---
Read full article