Cast:
Hrithik Roshan, Pooja Hegde, Kabir Bedi, Arunoday Singh, Suhasini Mulay
Director:
Ashutosh Gowariker
We have all studied about the great Indus Valley Civilization in school. One of the earliest civilizations that was located near the Indus River, the settlement has captured the imagination of historians for decades. But while there are several theories on how the civilization came to an end, how the culture of the settlements were- not much evidence of the era remains.
Which is why when Ashutosh Gowariker decided to make a film based on one of the most planned cities of that civilization, most felt it was a risk that the director was taking upon himself. But one that only Gowariker could dare to take because he has in the past made an epic saga on Mughal emperor Akbar's romantic saga with Jodha Bai- which may have had some factual inconsistencies but still was loved by one all.
Does
Mohenjo Daro
, then, match up to Gowariker's legacy? Not quite. Right from the first scene, the film appears to be a platform to remind fans what all Hrithik Roshan is capable of. The star, whose career hasn't been the most promising in the past few years, gets to fight crocodiles, semi-humans double his size, and even the fury of nature single handedly in Gowariker's period saga, thereby making the film more about Sarman (the character he plays) and less about the lost civilization.
Set in Mohenjodaro the city, the film opens with a carefree youth Sarman who hunts crocodiles and lives in a village called Amri with his uncle and aunt. Sarman is strong, brave and compassionate and while women eye him at his little village with adulation, he is in search of true love. Sarman also keeps dreaming of a running around empty streets of a walled, planned city as a child and one horn bull, (the film though shows a cross between a goat-deer) a symbol which is synonymous to the Indus Valley Civilization. On his insistence, his uncle send him to the city to trade Indigo.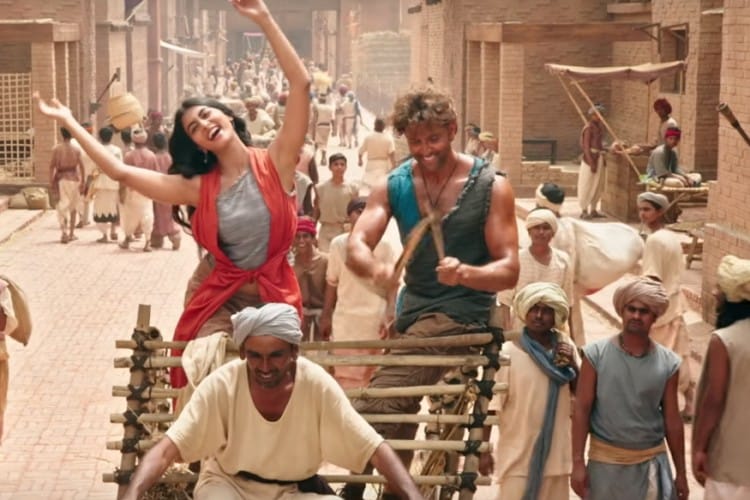 It's at the city market that Sarman first meets Chaani(Pooja Hegde), the head priests daughter who is also a symbol of the mother-goddess. Sparks fly almost immediately between the two and unwittingly, the do-gooder Sarman gets involved in the politics of the city. As Sarman fights for his love, he also learns about the oppressive chief Mahan (Kabir Bedi) and his son's (Arunoday Singh) evil ways of gaining more wealth.
Typical to his style, Gowariker takes leisurely time to establish the plot in the first half and just as you think that the film is a love story set in Mohenjodaro, the story introduces several other sub plot, making it a mash up of a love story-cum-revenge drama-cum-political drama-cum-disaster movie. All rolled into one. And strangely it has nothing to do with history.
Which is the basic problem with
Mohenjo Daro
. Had Gowariker called the film something else and not
Mohenjo Daro
, expectations from the film would have been far lesser. Because when you take up something historical, one expects that the film would give some insight into the past. This film gives none.
Hrithik Roshan gets a perfect platform to showcase his talent and is earnest throughout the film. From looking love struck as he spots Chaani, to somewhat pained when he finds out his own betrayed his parents- Roshan delivers. But a lousy script lets him down. It also does not allow actors like Nitish Bhardwaj, Narendra Jha, Suhasini Mulay to perform their best. Newcomer Pooja Hegde looks glamorous, but has very little scope to showcase her acting prowess.
Even if we ignored the factual inaccuracies- and those are plenty- the film doesn't really give us anything new. It's not a film based on history, it's not a full-fledged love story, neither a political drama- it remains a half-baked story – a story that we are all very familiar with.
It is, at the end, a story that could have been set in any era. Gowariker's
Mohenjo Daro
has got nothing to do with history.
Rating:
2/5