Mughal-E-Azam: Incredibly Choreographed Dance Sequences Make Feroz Abbas Khan's Broadway Musical Work
Agreed, doing justice to the unadulterated cinema that Mughal-E-Azam is is absolutely impossible. But Feroz manages to put forth a spectacle in a way that the film's magic doesn't dim a whit.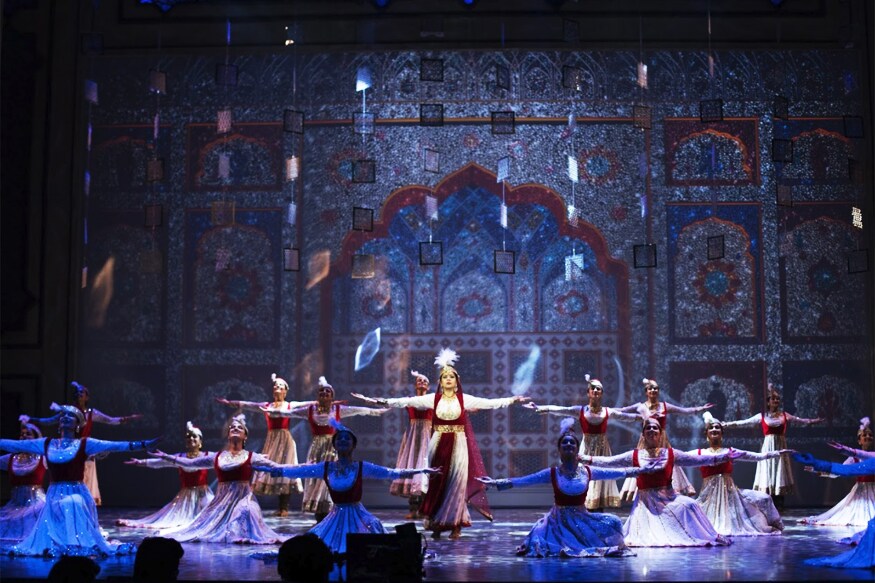 Image: A still from the musical show Mughal-E-Azam, directed by Feroz Abbas Khan.
While it is still unclear if the enthralling and doomed love story of Salim and Anarkali is a reality, it has been efficacious in capturing the attention of people for generations. So the moment Feroz Abbas Khan announced the Delhi dates of his broadway musical Mughal-E-Azam, most of us were instantly reminded of the majesty and magnificence of K Asif's 1960 iconic film. But the one thought that bothered me deeply was if the musical could match Mughal-E-Azam, the milestone in Indian cinema. Could Feroz be faithful in its tribute to a historical epic that had undergone a grueling struggle of over a decade and a half before it was finished?
For the unversed, K Asif's faced the unlikeliest of complications such as the demise of his protagonist (Asif's first attempt with the film was back in 1944 with Chandermohan, Nargis and Sapru playing the lead actors, but the project had to be shelved because the male lead passed away in 1946) and the budget issues with financiers leaving for Pakistan during Partition. Even though the project had to be shelved then, nothing deterred Asif from roping in the best writers for the film with Dilip Kumar, Madhubala, Prithviraj Kapoor and Nigar Sultana in the key roles in 1950. Agreed, he faced multiple challenges, but he was able to give Indian cinema its grandest epic, and subsequently get his name etched in the history books forever.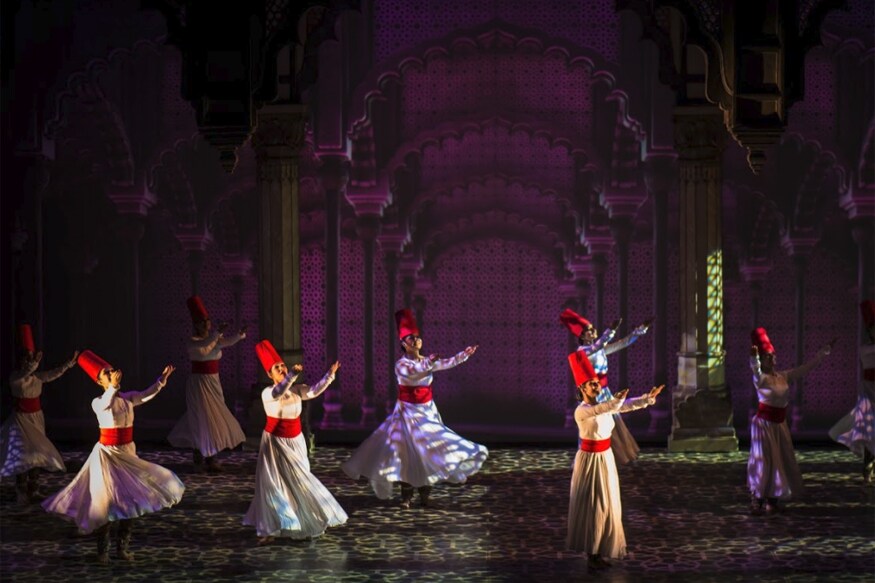 Agreed, doing justice to the unadulterated cinema that Mughal-E-Azam is is absolutely impossible. But Feroz manages to put forth a spectacle in a way that the film's magic is retained, to an extent though.
Much like the film, the musical's strength lies in its poetic dialogues, glorious costumes designed by Manish Malhotra, somewhat extravagant sets and of course the story! But what gives this musical an edge over the film is that it features live singing. To watch actors Priyanka Barve (Anarkali) and Ashima Mahajan (Bahar) perform live was indeed a moving experience. Their unearthly singing is just one aspect of it. But the sincerity with which they present (especially Priyanka) builds an almost soul-to-soul connection.
As a powerful, energetic and a soulful vocalist, Priyanka could sing popular tracks Jab Pyar Kiya Toh, Mohabbat Ki Jhoothi Kahani Pe Roye, Teri Mehfil Main Kismat Azmaakar with absolute ease. Her inconceivable performance along with the film's original poetry added the much-needed depth to the legendary romance.
But can we hold the same opinion about the cast's performance? No.
What made Mughal-E-Azam the richest Indian film in history were the captivating performances by the stellar cast that the viewers still appreciate. Prithviraj Kapoor was the most commanding performer in the film as Emperor Akbar because of his powerful act. His voice was as compelling as his emotions. Even though theatre actor Nissar Khan was interesting, he paled in comparison. Similarly, excelling in crucial sequences the way Dilip Kumar and Madhubala could in the film as Salim and Anarkali was clearly tough for actors Dhanveer Singh and Priyanka Barve.
The assessment of this musical can't be complete without acknowledging its incredible dance sequences. Beautifully choreographed by Mayuri Upadhya and incredibly orchestrated by Feroz, these dance sequences made the theatre experience totally unforgettable.
Whether it was the intensity of Mohabbat ki jhooti or the undoubted rivalry in Teri mehfil mein kismat aazama kar hum bhi dekhenge, or the melodious rebelliousness in Pyar kiya to darna kya – every sequence could make for an emotional experience, because it could depict the best examples of dance in theatre, and how much they ought be lauded.
Get the best of News18 delivered to your inbox - subscribe to News18 Daybreak. Follow News18.com on Twitter, Instagram, Facebook, Telegram, TikTok and on YouTube, and stay in the know with what's happening in the world around you – in real time.
| Edited by: Divya Pal
Read full article