Mukti Bhawan Review: A Heartfelt Film About Life And Death
Divya Pal is watching the film to live tweet the experience.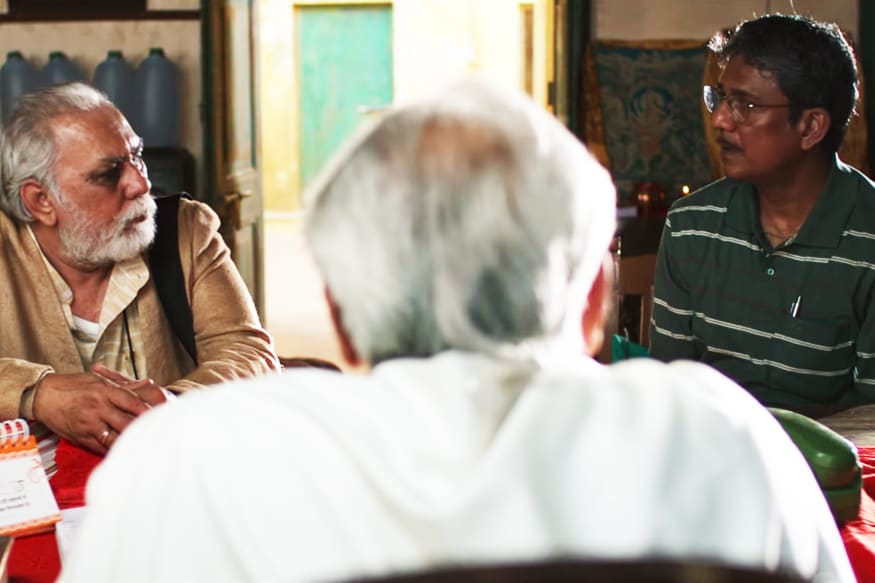 A still from the film Mukti Bhawan.
After screening the film Mukti Bhawan at multiple international film festivals, and winning applause from the viewers world over, the makers release the much-talked about film in theatres today.
Directed by Shubhashish Bhutiani, the film features Adil Husain and Lalit Behl in key roles. It revolves around a unique bond between a father and son after the former decides to dies in Varanasi and his son is compelled to join his journey.
From the real emotional tension that develops amongst the central characters and Adil's predicament over whether he should leave his dying father, the film deals with it all.
Will the film which has already been premiered in Venice Film Festival, and bagged the UNESCO award for peace and human rights and also shown at Dubai International Film Festival among others be able to give a better understanding of life and death?
Divya Pal is watching the film to live tweet the experience.
1:52 PM Stay tuned for live tweet review of #MuktiBhawan.
2:01 PM Shubhashish Bhutiani's debut feature is an interesting take on relationships and most importantly life and death. #MuktiBhawan
2.02 PM #MuktiBhawan begins with a dream sequence which sets the tone of the film.
2:04 PM Even though we are just 15 minutes into the film, we have started feeling the story. So real. #MuktiBhawan
2.05 PM Adil Hussain, who's won special mention for #MuktiBhawan, has a hectic work life, but tries hard to shoulder all responsibilities in film
2:06 PM A wrestler, group of sadhus giving suspicious looks, a couple of clueless men - shots of Varanasi are so true. #MuktiBhawan
2:08 PM Mrityu ek prakriya hain. Aap us prakriys SE guzarne me liye taiyaar hain? #MuktiBhawan
2:19 PM Most of the shots of #MuktiBhawan will remain with you. For, each comes with a unique perspective.
2:23 PM Lalit Behl is such a fine actor. He has understood the nuances of his character really well. His tantrums are genuine. #MuktiBhawan
2:36 PM This one sequence between Adil and Lalit where they can't stop crying will leave tears in your eyes as well. #MuktiBhawan
2:37 PM It's interval. #MuktiBhawan first half is genuine, relatable and heartfelt.
2:48 PM There is a lot to learn from grandparents. The bonding between grandparents and grandchildren has been explored well. #MuktiBhawan
2:57 PM Kuch karne na karne se maut nahi aati, mann se aati hai #MuktiBhawan. The film comes with several deep thoughts
3:16 PM Even though #MuktiBhawan gets a bit slow, it doesn't take away the essence of the topic it covers.
3:47 PM All in all, #MuktiBhawan is film you won't be able to forget easily. It will make you cry. But laugh too :)
3:48 PM Adil Hussain, how do you make an emotionally difficult scene look so easy? We can't forget your last shot. #MuktiBhawan
3:50 PM #MuktiBhawan may be about death, but not so much about grief and loss.
3:52 PM Watch #MuktiBhawan if you want to better your understanding about life and death. It has insights that will remain with us.
3:54 PM Shubhashish Bhutani remains faithful to the concept of death in #MuktiBhawan. He is honest in the genuine depiction to attain mukti
3:56 PM Lalit Behl shows his humour and seriousness in #MuktiBhawan. Watch his character and you'd remember someone who resembles him completely.
4:05 PM Thank you for staying with us throughout the tweet review of #MuktiBhawan. Stay tuned for more updates.
Get the best of News18 delivered to your inbox - subscribe to News18 Daybreak. Follow News18.com on Twitter, Instagram, Facebook, Telegram, TikTok and on YouTube, and stay in the know with what's happening in the world around you – in real time.
| Edited by: Divya Pal
Read full article