News18
»
News
»
Movies
»
Nandita Das is the Most Sorted Woman I Have Ever Met, Says Manto Actor Madhurjeet Sarghi
5-MIN READ
Nandita Das is the Most Sorted Woman I Have Ever Met, Says Manto Actor Madhurjeet Sarghi
A still of actor Madhurjeet Sarghi who will be seen playing Nawazuddin's sister in Manto
Actor Madhurjeet Sarghi who will be seen playing Nawazuddin's sister in Manto has dubbed for Punjabi blockbusters and leading actresses of Punjab such as Sonam Bajwa, Sargun Mehta, Aditi Sharma and many more.
Last Updated: June 07, 2018, 18:05 IST
FOLLOW US ON:
When they say that whisper a wish to the Universe, and it will come true, maybe there are right. Take a look at how film, TV and theatre actor Madhurjeet Sarghi landed a role in actress-filmmaker Nandita Das' much acclaimed Manto. Sarghi says, "Manto happened out of the blue. One day I was talking to an actor friend of mine and telling her that since I have read almost everything Saadat Hasan Manto has written I wished I was a part of this film Nanditaji is making. In return, she asked me to contact Manto's casting director Honey Trehan. Since the shoot had already begun, I thought there was no point as the casting must have been locked by now."
Miraculously two days after that conversation, Trehan called Sarghi to meet Das. Sarghi who plays Manto's sister Nasira Iqbal in the film recalls, "I met her, and she briefly told me about my character. Then I was given a scene to read, and the next thing I knew was that I was part the film."
Biographical historical period drama film Manto is about Saadat Hasan Manto who is known for his writings around the partition of India and Pakistan. Manto – the only Indian film in Un Certain Regard category at 71st Cannes Film Festival Film stars Nawazuddin Siddiqui as Urdu writer Saadat Hasan Manto. Quiz Sarghi about how she prepared for the role and she says, "Nanditaji told me about Nasira's background and her relationship with her brother – the camaraderie that these siblings shared. I asked her few questions and that's how it all started."
Sarghi who has earlier worked with both Das and Siddiqui has a couple of exciting things to say about them. The actor who has previously worked with Das in Firaaq while speaking about her experience of once again working with Das says, "She is the most sorted woman I have ever met in my life. I respect her immensely and admire the way she conducts herself on set. She makes you feel special – like she gave me this handwritten card on the last day of my shoot which I'll cherish forever. Manto's shoot was the most organized shoot I have ever been to."
Coming to Siddiqui with whom Sarghi has teamed for the third time after Summer 2007 and Firaaq, she says, "I played Nawaz's wife in Summer 2007 and then we both were part of Firaaq. I have seen him grow professionally. It was nice to see that after reaching his desired position he still takes his craft seriously and tries to give his 100 percent."
Sarghi who was last seen in Bollywood film Agneepath and TV serial Na Aana Is Des Laado has been quite choosy about her projects. "I enjoyed Na Aana Is Des Laado initially but stopped enjoying once the story took a leap. Even the offers which came post that weren't exciting at all. And let's face that TV is in pits these days. I wish I was born in the time of small screen's golden era when serials like Tamas, Buniyaad, Bharat EkKhoj, Katha Sagar and Hum Log were made. Things are a bit better on the digital platform as a lot of good web series are being made. I enjoy all the mediums as they challenge you differently as an actor and you learn a lot. The experience has always been gratifying. Hence I'm open to perform anywhere – be it on stage, TV, web-series, films or short films – provided the content is good."
But theatre is something that she has been actively doing for past many years. She says, "I'm associated with a group called 'Jashan-E-Qalam' that gives us a platform to do dramatic readings of short stories by various Hindi and Urdu writers along with performing them on stage. Theatre helps me to brush up my aesthetics and brings a certain kind of discipline which is necessary for your growth as an artist. I recently performed – Rajendra Singh Bedi'sLambiLadki, a 35-minute solo act and Mohan Rakesh's Uski Roti, a 25-minute solo act that was well received by the audience."
Jashan-E-Qalam also has a show on BookMyShow app for which Sarghi has narrated and directed ten stories by Saadat Hasan Manto and MunshiPremchand. Far removed from the glitz and glamour of the film industry and the way Sarghi dabbles in the world of TV, films and theatre; it is clear how the actor has mastered the art of balance.
Sarghi who originally hails from Punjab's Jalandhar helms from a family that has created a mark in Punjabi film industry. Sarghi is married to Punjab's leading filmmaker Anurag Singh who has yielded Punjabi blockbusters – National Award winning Punjab 1984, Jatt & Juliet series, Super Singh, Disco Singh and will now direct Karan Johar's historical epic Kesari based on Battle of Saragarhi that stars Akshay Kumar. Sarghi's father veteran Punjabi film director Harjit Singh, has made films such as Eh Janam Tumhare Lekhe and Heer Ranjha and her brother Param Shiv recently made his debut with Bhalwan Singh.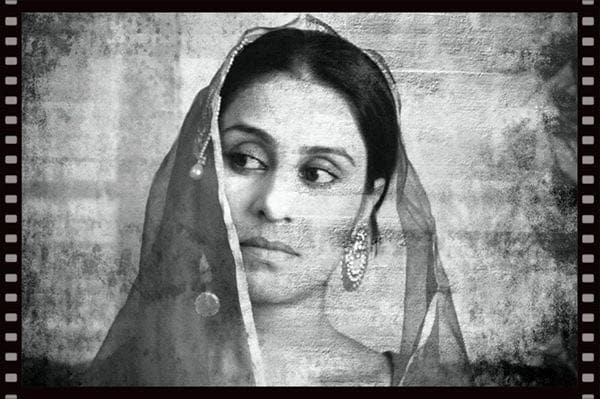 Then what is it that still keeps her away from films made in the Punjabi language? She answers, "I think all the three directors in my family – my father, brother and husband want to cast me, but unfortunately I have not fit the bill as per the demand of scripts they have directed so far. Although I have been involved behind the camera in all their projects in some form or the other. I have offered my services as casting director and dubbing artist in almost all their projects."
Sarghi who has always made unconventional choices is hungry for performance-oriented roles. "Initially I always wanted to follow my father and be a director like him. But when I did my first play in college, I became aware that my true calling is acting. Besides acting I enjoy dubbing. I have given my voice to various leading Punjabi actresses."
For the ones who closely follow Punjabi cinema would be surprised to know the kind of films and heroines to whom Sarghi has lent her voice. "I have dubbed for SonamBajwa in Best of Luck, Sargun Mehta in Angrej, Jaspinder Cheema in IkKudi Punjab Di, SagarikaGhatge in Dildariyaan, NavpreetBanga in Bhalwan Singh and most recently Aditi Sharma in SubedarJoginder Singh," says Sarghi who has also dubbed for multiple characters in Eh JanamTumhareLekhe, Punjab 1984, Super Singh, Jatt& Juliet and YaarAnmulle.
Next Story