Nation Bids Adieu To 'Hawa Hawai': Sridevi Draped In Tricolour, Cremated With State Honours
The actor, who was conferred with Padma Shri in 2013, was draped in the national tricolor and was accorded with a gun salute and elaborate arrangements made by the Maharashtra Government.
Sridevi's mortal remains carried in a truck during her funeral procession in Mumbai on Wednesday, February 28. (Reuters)
Mumbai: After a lifetime under the arc-lights, Indian cinema icon Sridevi was on Wednesday given a send-off fit for celluloid posterity with surging crowds of mourners walking with the cortege as it made its slow way through the city and thousands more glued to television to watch her last rites.
The 54-year-old, whose sudden death in Dubai late Saturday sent shock-waves through India, was given a state funeral with her body wrapped in the tricolour and a gun salute by the Mumbai Police. The actor's mortal remains were draped in a red kanjivaram sari with a bindi on her forehead.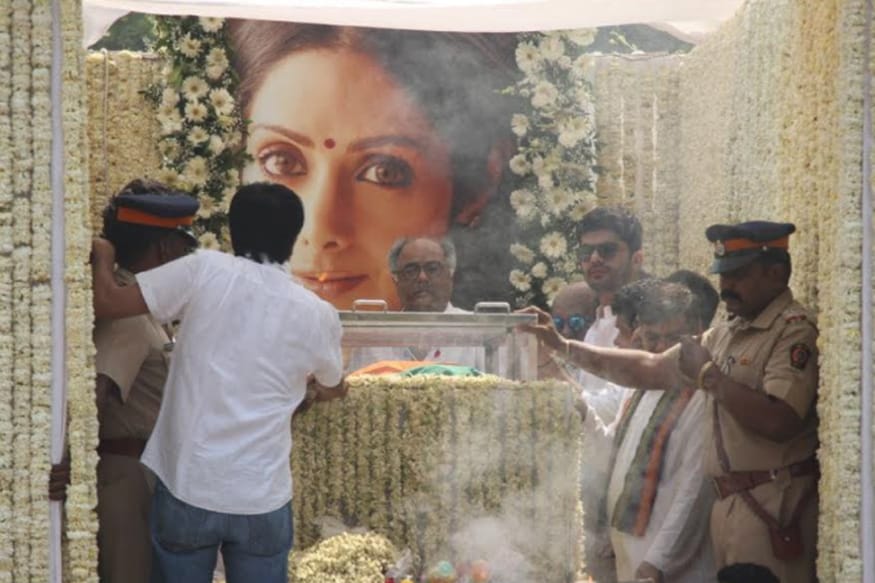 Sridevi's filmmaker-producer husband Boney performed the last rites at the ceremony. The couple's daughters, Jahnvi and Khushi, were by his side, sources close to the family said.
The final journey commenced at around 2 pm wherein Sridevi's body was carried to the Vile Parle Seva Samaj Crematorium and Hindu Cemetery at SV Road in Vile Parle West in the presence of huge crowds of mourners including celebrities, politicians, business professionals and thousands of fans and well-wishers. The fans had started to line up early in the morning even though the gates had opened around 10 am. Many admirers of Bollywood's leading lady of several years had brought with them her photographs, flowers among other things at the Celebration Sports Club at Lokhandwala Complex to pay tribute and catch a final glimpse of their favourite star.
The likes of Deepika Padukone, Sushmita Sen, Aishwarya Rai Bachchan, Shabana Azmi, Javed Akhtar, Shahid Kapoor, Mira Rajput, Vidya Balan, Madhuri Dixit Nene, Akshaye Khanna, Farah Khan, Tabu, Rekha, Hema Malini, Neil Nitin Mukesh, Sanjay Leela Bhansali, Jackie Shroff, Chiranjeevi, Kajol and Ajay Devgn had arrived at the prayer meet to pay their last respects to film industry's first female superstar.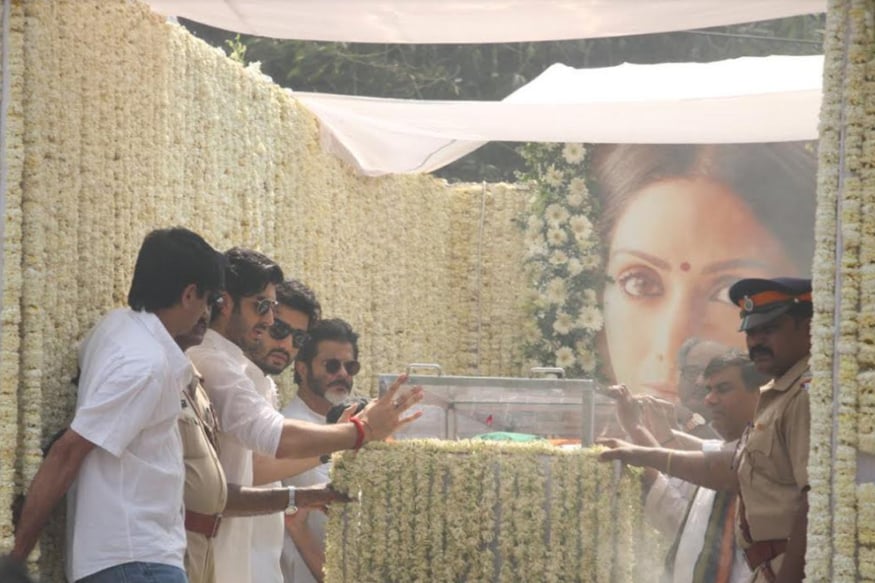 Sridevi's body was brought to the venue at around 9 am where her family members including Boney Kapoor, Arjun Kapoor, Anil Kapoor, Sanjay Kapoor, Harshvardhan Kapoor were present. Her daughters Khushi and Jahnvi were standing just a little behind them. While Sridevi's close friend and fashion designer Manish Malhotra was consoled by Karan Johar, Rani Mukerji sat near the body and consoled Sridevi's niece Sonam.
Ever since the news broke out, a steady stream of celebrities including Shah Rukh Khan, Salman Khan, Rajinikanth, Kamal Haasan and Krishna Raj Kapoor, had begun to visit Anil Kapoor's residence to condole the bereaved family including Sridevi-Boney Kapoor's two daughters Jahnvi and Khushi.
The actor passed away following an "accidental drowning" in her hotel room in Dubai on Saturday night leaving a void in the hearts and minds of the fans. The Dubai police authorities took over three days to complete the legal and medical formalities before handing over the body to the family on Tuesday.
Read full article