Neha Kakkar, Rohanpreet Have a Blast at Mehndi Ceremony, Mahesh Bhatt Denies Allegations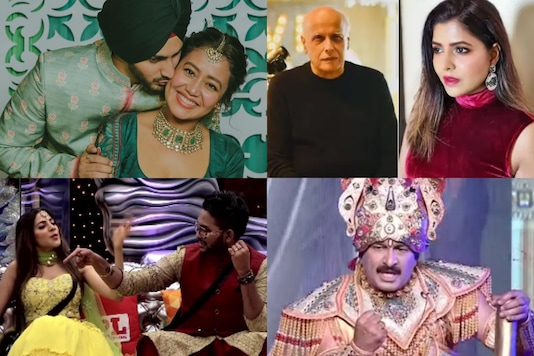 From Neha Kakkar and Rohanpreet Singh's Mehndi ceremony pictures to a legal suit against actress Luviena Lodh by Mahesh Bhatt, check out today's stories from the world of entertainment.
Last Updated: October 25, 2020, 18:43 IST
FOLLOW US ON:
Singer Neha Kakkar is all set to marry Rohanpreet Singh in Delhi this weekend. The wedding celebrations are in full swing. The couple had a blast at their Mehndi ceremony last night and a couple of pictures have made their way on social media, thanks to Neha, who has been constantly giving inside glimpses into her wedding festivities to fans through Instagram.
Read more: Rohanpreet Singh Plants Kiss on His Bride-to-be Neha Kakkar's Cheek at Their Mehndi Ceremony
The legal counsel of Vishesh Films, on behalf of filmmaker Mahesh Bhatt, has issued a statement in response to an Instagram video uploaded by actress Luviena Lodh, alleging that Bhatt has been harassing her and her family.
Read more: Mahesh Bhatt to Take Legal Action Against Luviena Lodh Over Video Alleging Harassment
An amusing video of BJP MP Manoj Tiwari essaying the role of Angad in Ramlila and mouthing English words like 'second' and 'team' during his act has left netizens in splits. Drawing hilarious reactions, the video has been shared across several social media platforms.
Read more: Video of Manoj Tiwari Saying '1 Second' and 'Team Ka Bandar' at Ayodhya's Ramlila has Left Netizens in Splits
He has got the eyeballs after his portrayal of the stock market scamster Harshad Mehta in an OTT series. A theatre artiste from Gujarat, Pratik Gandhi speaks to News18 on what this long recognition and accolades mean to him and how he had to change himself for the role.
Read the interview here: Pratik Gandhi on Gaining Weight, Understanding Harshad Mehta's Traits and Scam 1992
On tonight's Bigg Boss 14 Weekend Ka Vaar, Salman Khan will reveal Jaan Kumar Sanu's "other side" to housemates. Salman will reveal how Jaan manipulated Nishant Singh Malkhani to not let Nikki Tamboli and Rahul Vaidya become the captain of the house despite them being his good friends.
Read more: Bigg Boss 14: Nikki Tamboli Blasts Jaan Kumar Sanu As Salman Khan Exposes His 'Other Side'
Next Story