News18 Reel Movie Awards: Nominees For Best Web Series 2017
Take our poll here to vote and choose your favourite director of 2017.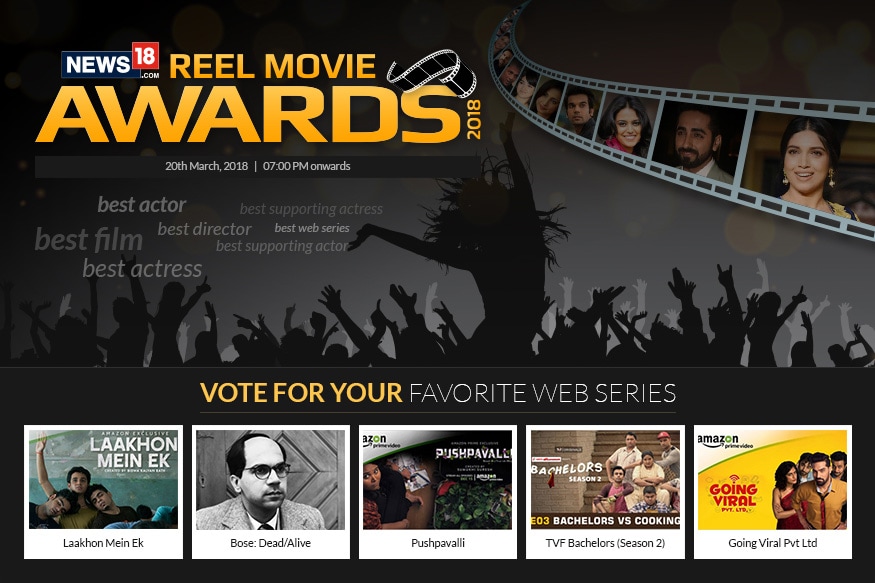 Image: News18 Creative
From small-budget gems shining upfront to some regular big Bollywood blockbusters, the successful films in 2017 had one thing in common- re-emergence of the middle-class in Hindi Cinema. It was a year that saw a transition of cinephiles accepting genuine performances than just make-believe. Despite a few dreadful misfires by big names, viewers found performances dipped in humour more engaging and thoughtful. From talking about the electoral policy of the country to making people aware of something as common as erectile dysfunction- humour emerged as the genre of the year.
In the first edition of News18 Reel Movie Awards, we select nominees in various popular categories and let our readers decide the outcome.
Take our poll here to vote and choose your favourite web-series of 2017.
Laakhon Mein Ek :
Created by popular stand-up comedian Biswa Kalyan Rath Lakhon Mein Ek is a show about an average boy trying to get an extraordinary rank at an IIT coaching institute. All that 15-year-old Aakash wants to do is make mimicry videos and post them online. Instead, he finds himself in an IIT coaching institute called Genius Infinity, where he is a misfit, unable to cope with the syllabus, and placed in the notorious section D. Now, along with roommates Bakri and Chudail, Aakash will learn to answer life's multiple-choice questions. Based on a very close personal ordeal, the show features stories of those individuals who chose to be different and uncommon. Moreover, it focuses on people who preferred to listen to their heart than the society.
Pushpavalli :
Created by popular female comedian Sumukhi Suresh, Pushpavalli is a comic take on stalking. Inspired by few personal incidents Sumukhi brings a tale that'll make you laugh and creep out a bit at the same time. Sumukhi plays the titular Pushpavalli, a young woman who moves from Bengaluru to Bhopal to chase Nikhil, a businessman she met and fell for at a food conference in Bhopal. What follows is a study of her deteriorating mental health, as one bad decision after another gives way to a chilling conclusion.
Bose: Dead Or Alive :
Bose: Dead/Alive is an Indian historical period drama web series, based on the life of Subhas Chandra Bose. The show stars Rajkummar Rao, portraying the character of Bose and Naveen Kasturia in a supporting role. On 18 August 1945 after his overloaded Japanese plane crashed in Japanese-occupied Formosa (now Taiwan) Subhas Chandra Bose(Rajkumar Rao) is presumed dead. However his family in Kolkata receive a telegram from Mahatma Gandhi to not conduct his last rites. It then begins with speculation about his death and other characters who suggest how he has vanished in the past as well, with all of them suggesting his possible return.
TVF Bachelors :
The series revolves around Four Bachelor Flatmates who in every episode will deal with a specific daily life bachelor related problem. It's about their battle against an external X problem as a single team The Bachelors. TVF's Bachelors in 2017 brough it's season two where their practical problems caught the fancy of the audience. Each episode was themed around a movie and while it was hilarious, it also worked in the show's favour, without trying too hard to impress its niche urban audience.
Going Viral Pvt Ltd :
Created by stand-up comedian-playwright Anubhav Pal and starring Kunaal Roy Kapur, Kubra Sait and Prabal Punjabi among others, the web series Going Viral Pvt Ltd is all about a company which creates viral content for social media. And it is no easy job. Set up in a media company that thrives on making their content viral, this show was a self aware take on the digital platforms that package content for the likes. Breaking the fourth wall on most occasions, this show was a fresh take on the office comedy routine.
Get the best of News18 delivered to your inbox - subscribe to News18 Daybreak. Follow News18.com on Twitter, Instagram, Facebook, Telegram, TikTok and on YouTube, and stay in the know with what's happening in the world around you – in real time.
| Edited by: Sameeksha
Read full article