Nick Jonas on 'Spiritual' Romance with Priyanka Chopra: The Story Sort of Wrote Itself
Nick and Priyanka, who got engaged in July, formalised their relationship with a traditional Indian 'roka' ceremony in Mumbai, India, last month.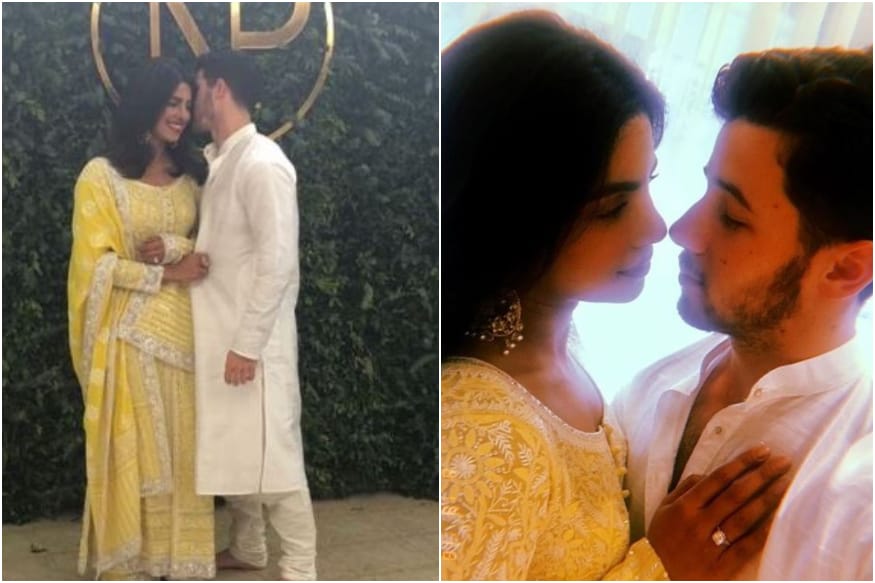 Image Courtesy: Viral Bhayani/ Priyanka Chopra Instagram (Embedded images courtesy: Viral Bhayani/Instagram)
"The story sort of wrote itself," American singer-actor Nick Jonas said of his romance with Quantico star Priyanka Chopra, opening up for the first time about how they met and what led to their engagement. The former Jonas Brothers band member told the story during an episode of The Tonight Show with Jimmy Fallon, reports eonline.com.
Nick and Priyanka were connected through a friend. After the initial introduction, the two texted each other but didn't actually meet in-person until about six months later. In May 2017, they attended the Met Gala together. While Jonas said the two "had a great time", he also insisted they went only as friends. "Our lives were kind of taking us in different places," Nick, 25, told Fallon.
It was only in the subsequent few weeks that the couple spent a lot of quality time together and started to spark romance rumours. While people around them started questioning what was cooking, Nick maintained then that their relationship was just platonic. "People thought we were being coy, and so did we until we cut to now (and) we're engaged," he said, adding: "So, the story sort of wrote itself."
Nick said it wasn't until about five months ago that the two decided to give a romantic relationship a try. "It was kind of immediate, and I think we just knew it was right and jumped right in," he said. "And we're very happy."
Nick and Priyanka, who got engaged in July, formalised their relationship with a traditional Indian 'roka' ceremony in Mumbai, India, last month.
Nick opened up for the first time about his engagement to Priyanka, with whom he celebrated an Indian ritual last month in Mumbai among family members. He called it a "spiritual" experience. After getting engaged, the couple participated in a traditional 'roka' ceremony, which Nick explained is a "confirmation from both sides of the family that they approve of the engagement". "We both left that ceremony so full of joy," said the 25-year-old, also sharing that his parents were "blown away by the love shared among all the people".
Nick said their ability to have privacy from the spotlight that was the most satisfying. "For she and I, I think it was just nice to have that time with the family first. Have that private moment then be able to share with the world afterwards. We had this beautiful ceremony and we felt so connected, our families all met, it was spiritual and then we put it on Instagram, we were like 'Oh my God! It's official," he added.
After months of speculation, Priyanka and Nick publicly announced that they are in a relationship with a traditional roka ceremony held on August 18 in Mumbai, in the presence of family and friends. The two had met at the 2017 Met Gala and got along like a house on fire, fuelling rumours that they were romantically involved.
Following the engagement, the two were holidaying in Mexico and, along with the actress's mom Madhu Chopra and Nick's brother Joe Jonas and his fiancé Sophie Turner, were spotted enjoying the US Open together.
(With IANS inputs)
Read full article