'Nil Battey Sannata' Tweet Review: Heartwarming and Thought Provoking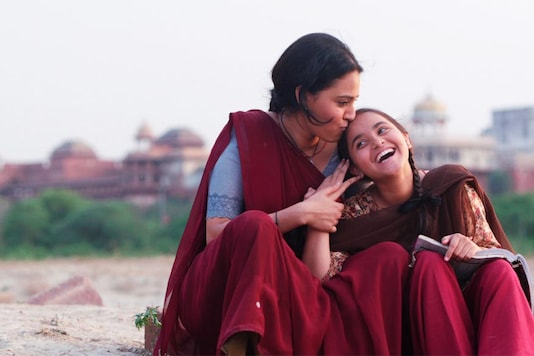 Last Updated: April 22, 2016, 17:26 IST
FOLLOW US ON:
'Nil Battey Sannata' caught most of our attention when the film's trailer released. A poignant story of a mother trying to educate her daughter while fighting the odds is something that we have seen before. But Ashwini Iyer Tiwari's film takes the unusual turn when the mother herself gets enrolled in the same school like her daughter to finish her basic education.
Featuring Swara Bhaskar, Pankaj Tripathi and Ratna Pathak Shah, the film has already garnered critical appreciation at various international film festivals. The film has been produced by Anand L Rai and is said to be a Hindi remake of a Tamil film called 'Amma Kanakku'.
Bhaskar is known for delivering powerful performances in films. This would be the first time that the actress will play a mother of a 15-year-old on screen. Will the film be able to deliver its intended message? Will Bhaskar performance woo the audience once again? Shomini Sen of News18.com was inside the theatre to find out.
12:50 PM: Next up, tweet review of #NilBatteySannata Stay tuned
12:56 PM: The morning assembly scene right in the beginning of the film is so real! Brings back memories of school life :) #NilBatteySannata
1:06 PM:The screenplay of #NilBatteySannata is absolutely brilliant. Every little detail taken care of.
1:15 PM: Film may highlight the struggle of a house maid struggling to get her daughter to like studies but it is relatable for all #NilBatteySannata
1:21 PM: Pankaj Tripathi is such a genuinely gifted actor. Such a delight to watch him perform on screen. #NilBatteySannata
1:45 PM: .@ReallySwara makes the film and the character Chanda her own. #NilBatteySannata
1:59 PM: The scene with @ReallySwara and @sanjaysuri is such an endearing scene. Beautifully performed as well #NilBatteySannata
2:24 PM: Nothing seems unrealistic in the film. The story is so real and thought provoking. #NilBatteySannata
2:37 PM: You will be missing out on something beautiful if you don't watch #NilBatteySannata
2:38 PM: What a movie, what a story! Absolutely perfect! #NilBatteySannata
2:42 PM: From Ratna Pathak Shah to the little girl Ria Shukla who plays @ReallySwara's daughter everyone is perfect in their role #NilBatteySannata
2:43 PM: It is on the able shoulders of @ReallySwara that the film rests and she shines as Chanda. #NilBatteySannata
2:45 PM: Some may call the film unrealistic but the overall message that the film tries to convey is clear. #NilBatteySannata
2:46 PM: Go watch #NilBatteySannata. Such good films seldom come our way
2:48 PM: Thanks for staying with us throughout the tweet review of #NilBatteySannata.
Next Story