Ocean's 8 Film Review: All-Female Cast Let Down By Male Director and Production Crew
Planning to watch Ocean's Eight this weekend? Read our review first.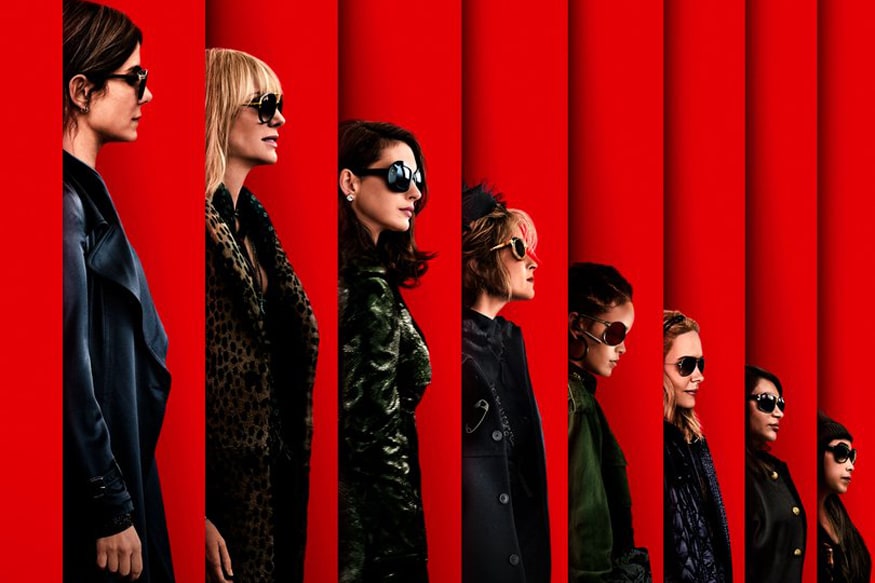 Image: Twitter/Oceans 8 movie
Cast: Sandra Bullock, Cate Blanchett, Anne Hathaway
Director: Gary Ross
It may seem unfair to compare this all-female remake to the original, but director Gary Ross sort of forces it on us. Ocean's 8 isn't so much a cut copy paste of Ocean's 11 as it is a poor lithograph. Indeed apart from differences in the numbers and anatomy of the crew, there isn't much derivation from the basic plot.
Debbie Ocean (Sandra Bullock), sister of the infamous Danny (George Clooney in the original) has just been released from the penitentiary after several years following a job gone wrong. Despite having been released early for good behaviour, Debbie returns to her life of crime pretty much as soon as she walks out of the prison gates.
She meets up with her old partner in crime, Lou (Cate Blanchett basically playing a feminised version of Brad Pitt's Rusty from the trilogy), and after some convincing, Lou agrees to help Debbie round up a crew to pull off a heist that'll accrue each member tens of millions of dollars. Sound familiar?
But wait, there's a catch: Ocean's 11 robbed casinos, because they were manly men; Ocean's 8 decide to rob necklaces, because they're ladies, I guess?
This is but only part of the writers' laziness. Several dialogues and gags in 8 are lifted straight from 11; but the worst is how this forces the female cast to be crammed into the characters and characteristics established by the male actors who were there first.
Bullock and Blanchett are incredible performers given their own space, but here are forced to comport to the typeset of Clooney and Pitt to the point of it becoming a travesty. Debbie and Lou have the same calculated insouciance of Danny and Rusty, the mannerisms and characters (Debbie is the rakish planner and Lou the eccentric fixer), similar speech patterns, hell, they even have similar sartorial tastes. Basically, it's a pantomime of a play.
The rest of the 8, boasting stellar talents like Sarah Paulson, Helena Bonham Carter, Mindy Kaling, Rihanna and Awkwafina are criminally wasted, being reduced to comic relief and or used as montage fodder. The camaraderie and goofing around which made 11 so eminently watchable is missing, presumably because the male director and writers don't know how women bond.
Thank goodness then for both Anne Hathaway and the character she plays. As Daphne Kluger, a narcissistic and seemingly airheaded yet perceptive celebrity, Hathaway is hilarious and utterly believable, and manages to draw the few laughs from this apparent comedy.
Apart from that, the movie seems more an elaborate commercial for New York, its Met museum, Vogue magazine and the Met Gala (the target of the heist). Anna Wintour is featured of course, both with and without her iconic shades, as are most members of NYC celeb royalty, including the Kardashians, models like Heidi Klum and the Hadid sisters, America's hippest sardar Waris Aluwalia, and all of Wintour's other favourite people.
And all this brings us to the direction. Steven Soderbergh is an auteur and the vision and sheer chutzpah he brought to the earlier trilogy made people forgive even Ocean's 13; it may have become hackneyed, but damn it's watchable. Alas, Gary Ross, who helmed 8, is a director and not an artist, and his almost sychophantic attempt to ape Soderergh's aesthetic is just monkey business.
Don't get us wrong, we're all for female-centric content and even all-female remakes. But then let women take charge, damn it.
Rating: 2.5/5
Get the best of News18 delivered to your inbox - subscribe to News18 Daybreak. Follow News18.com on Twitter, Instagram, Facebook, Telegram, TikTok and on YouTube, and stay in the know with what's happening in the world around you – in real time.
Read full article