Director: Sanjay Leela Bhansali
Cast: Ranveer Singh, Deepika Padukone, Shahid Kapoor, Aditi Rao Hydari and Jim Sarbh
If there's one thing that
Padmaavat
, earlier titled
Padmavati
, tells us it's that Sanjay Leela Bhansali is the monarch of grandeur, opulence and splendor. The director's vision carries forward his legacy of larger-than-life films, so even though the battle is between Rawal Ratan Singh and Alauddin Khilji, it's Bhansali's unfazed vision and technical finesse that takes the cake.
If there's another thing that
Padmaavat
tells us, it's that the film is, in fact, meant to uphold the valour, sacrifice and glory of the Rajputs. And nothing else that has been fed into the minds of viewers over the past few months, courtesy protests by fringe outfit Karni Sena.
The film, as clarified by Bhansali, is based on the legend of Rani Padmavati, a legendary Rajput queen mentioned in the Awadhi-language poem Padmavat, written by Sufi poet Malik Muhammad Jayasi. Padmavati (Deepika Padukone) is a free-spirited princess who loves to hunt in the jungles of Singhal. And on one such plucky hunt, she chances upon Rawal Ratan Singh (Shahid Kapoor), the Rajput ruler of Mewar, who is searching for precious stones (motis) to fulfill his wife's command. Given the exceptional combination of beauty and brains that Padmavati is, it doesn't come as a surprise that the two immediately decide to get married.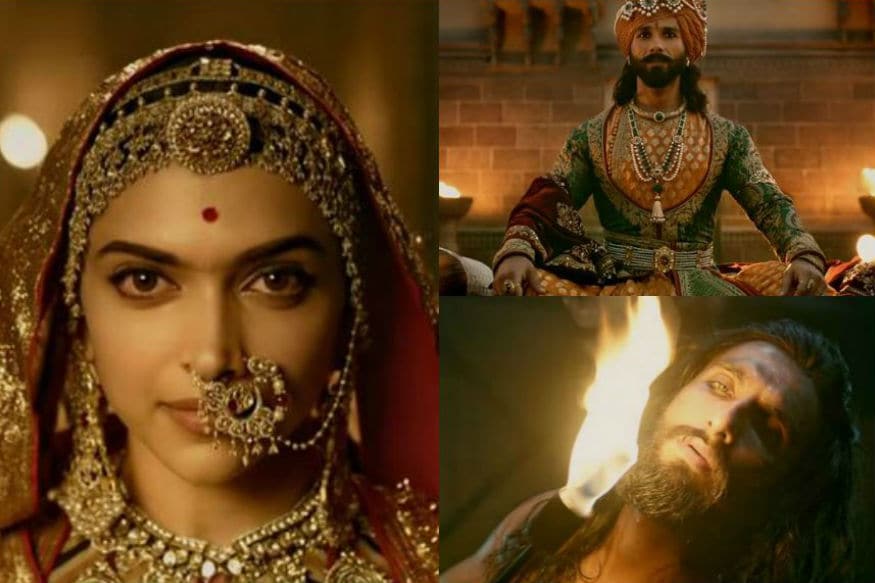 While the royal love story is brewing, there's another power-hungry Turkish-Afghan ruler, Alauddin Khilji (Ranveer Singh), who, upon setting his eyes upon anything exquisite (nayaab), doesn't breathe a sigh of relief until he's in possession of it. After taking over the Delhi sultanate, Khilji is told by a priest Raghav Chetan that if he wishes to be the true Sultan of Hind, he needs to have Padmavati by his side and rule the Rajputs. Soon after this, he's almost possessed by the idea of Padmavati and decides to lay a siege on the Chitttor Fort in Rajasthan. With no surprises, the film follows the exact trajectory of the poem and builds up to the large-scale jauhar, self-immolation of the women to protect their dignity, as their men sacrifice their lives on the battle field.
First things first, the film is a quintessential Bhansali work- it's a visual spectacle in every which way. The scenes are shot and edited (for most part) with such finesse that despite not having a surprise ending, the film makes for a gorgeous cinematic experience. Sudeep Chatterjee's cinematography creates a canvas that comes to you as a magnanimous painting and especially during the war scenes, wherein the expanse is grand and the imagery is flattering. The kesariya colour of Rajput pride is well woven in every second frame except for the ones wherein Khilji's dark side begins to prevail. And you'll call yourself a sadist but Bhansali can even make a jauhar scene look spectacular and a few others, a bit overwhelming.
Deepika is an epitome of grace and she delivers a knockout performance as a Rani yet again. Her portrayal of Padmavati is all things ethereal and keen. And even though she doesn't have many dialogues, it's her eyes that do the talking. Plus, her being a strategist in times of conflict, gives her an edge. Shahid does a controlled act of the righteous king and does full justice to his part. With kohl-ed eyes and an impressive build, he looks the part. But the film only and only belongs to Ranveer Singh. He is in top form and doesn't bat an eye lid while playing a character so black and honestly, despite being an anti-hero in the film, he actually makes you root for him. He is eclectic and wins every scene he is in. His eccentric moves and dialogue delivery make him an ever-ideal fit for Khilji. As a menacing ruler, who is atrociously self-consumed with the idea of victory and becoming the Sultan and gaining possession of all things exquisite, Khilji's depiction might raise some eyebrows but as far as performance goes, no one could have done it better than a meat-mincing Ranveer.
Plus, despite the fact that Khilji doesn't even share a frame with Padmavati per se, their forbidden love story is likely to stay with you long after you leave the theatre. And ironically, the film revolves around Khilji and is narrated from his point of view, so much for naming the film
Padmavati
in the first place.
There's also Aditi Rao Hydari as Mehrunisa, wife of Alauddin Khilji, who makes the best of what little screen time she gets and Jim Sarbh, who plays Malik Kafur, an eunuch slave-general of Khilji. Both do a decent job with Sarbh going over-board in some scenes.
But no matter how big a visual delight the film is, one has to pull the plug when necessary. And at 163 minutes, Bhansali's ambitious film starts to drag and is an imaginary piece with not enough meat to keep the viewer invested, except for the meat Khilji is surviving on of course. And notably, it's only Khilji's character that is detailed enough to grasp you with its uni "black" shade dulling the goodness of both Padmavati and Rawal Singh. The film also serves constant reminders of Rajput bravery and pride and during its course, gets a little arduous. But is that an after-math of staged protests or an authentic part of the actual narrative- guess we'll never know. And while all other pointers are ruled by the two disclaimers in the beginning, one might still feel a certain fictional hangover that continues to rule Bhansali's works which doesn't quite make up for a lack of a consistent story. Plus, one would also feel a lack of good music, a department Bhansali has expertise in, in this one with only
Ghoomar
and
Ek Dil Ek Jaan
being the notable ones.
But none of it makes
Padmaavat
a bad watch- it's actually everything a Bhansali fan would expect and honestly, it does warrant an enriching cinematic experience despite falling short on certain things here and there.
Rating: 3/5