GET Stock

Quotes


Pehredaar Piya Ki Faces Ban Petition; Actors Speak Out on Indian Television Content
At a time when there's a constant debate over the existence of a regressive television world in modern India, it becomes rather important to find out what the industry insiders think.
At a time when Indian television feeds a mix of
naagins, daayans, gorillas, makkhis
and cringe-worthy love stories under flag names like supernatural and different, it comes as no surprise that viewers find themselves at a distance from their television sets.
Pehredaar Piya Ki
, the latest show to fuel viewers' angst against Indian television shows, has courted criticism for its infamous plotline- revolving around the marriage of a 10-year-old boy to an 18-year-old woman- for depiction of 'objectionable' content including
suhaag raat
and stalking scenes, and on other similar accounts.
In fact, a petition on
change.org
addressed to Smriti Zubin Irani, Union Cabinet Minister of Textiles and Information and Broadcasting (Additional Charge) calls for the ban on the show.
The petitioner, who has already got over 101,888 supporters (and still counting), stated, "Pehredar piya ki. - A 10 year old impressionable little kid(" piyaa") caressing and stalking a lady who's more than double his age and filling sindoor in her "maang" is being telecasted at prime time -8:30pm on sony. (Family time) It is to be devoured by the entire Nation. Imagine the kind of influence it will steadily and perpetually infuse in the viewers mindset. We want a ban on the serial. We do not want our kids to be influenced by such tv serials. Join us in signing the petition to ban this serial.(sic)"
Considering that the show has again ignited the heated debate over the kind of content one'd like to see, it becomes even more significant to know what industry insiders think about it.
Vikrant Massey, who shot to fame with daily soaps like
Balika Vadhu
and
Baba Aisa Var Dhoondo
, questions the motives behind the helming of a show like this. "It's ridiculous. I tried watching two episodes. The Information and Broadcasting ministry, when it comes to other shows like Bigg Boss, want to slot it at a particular time but this is on prime time and my only thing is as to what are they trying to say. What are the broadcasters trying to say? What is the producer and the writer of the show trying to say? What is the motive behind this show is all that I want to ask."
"What's disheartening is that the producers, Shashi Mittal and Sumeet Hukumchand Mittal, are much-respected individuals. I've highest of regards for them. It's very disheartening to see them fall prey to this TRP trap," he adds.
He further points out that while the society continues to fight for its basic rights, the television continues to feed regressive content. "The
naagins, newlas
and
Pehredaar Piya Ki
– our society, in reality, is fighting for rights - for equality, for neutrality, for a changed outlook whereas on the largest, most penetrable medium of entertainment – we're feeding absolutely regressive content."
Massey makes no bones in accepting that we as viewers are equally at fault. "We're equally to be blamed. They're only feeding us something which we're binging on the last 50 years. The day we stop watching stuff like this is when they'll stop making shows like these because nobody wants to undergo any form of loss financially. We've talent hunt shows for 5-year-old kids. Has anyone ever gone and checked the conditions these reality shows are shot at. But you really can't blame the makers because the parents are sending their kids," he articulates.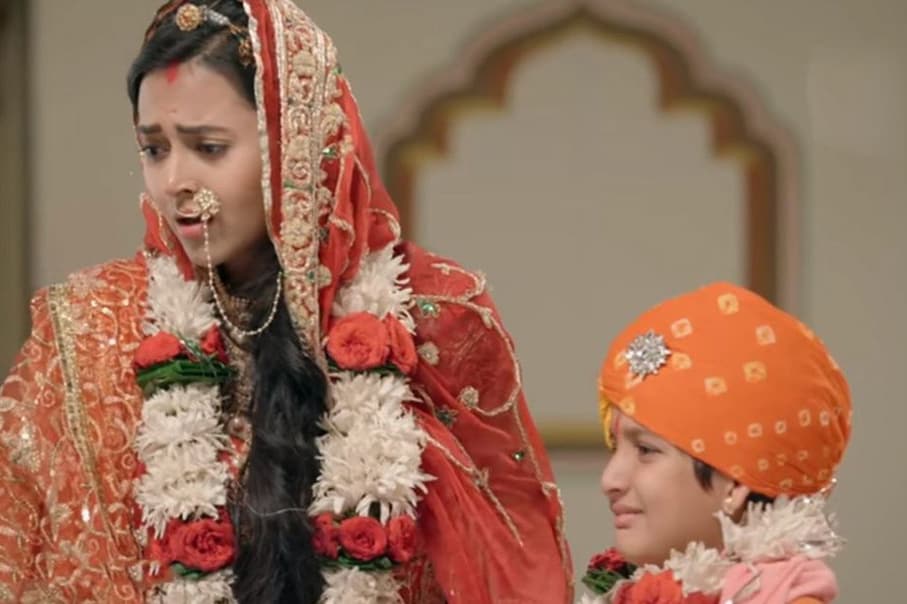 Image: Youtube/ A still from Pehredaar Piya Ki
Gaurav Chopra, who was last seen on
Bigg Boss 10
, believes that it's unfair to comment on a show if you haven't seen it. But when asked about the general content being fed through television shows, he says it's completely dependent on what the audience likes.
"The content of television is completely dependent on what the audience likes. So it's not decided by anyone else in any other way. It's a business – everyone wants to make money. No one is trying to change society, no one is doing charity here. If the audience chooses to watch something and give it TRP, that kind of work continues to happen. So I find this debate really silly. We aren't the ones deciding – we aren't masses who provide TRPs to these kind of shows," he opines.
As an actor, however, he believes that he can control the quality of his work by the kind of shows he chooses to do. "As somebody whose part of the industry, I say no when I think it's not good. I take my time –months in fact. Because whatever is being offered to me, that's in my hands – it's in my hands to control the quality of my work," he says.
Karan Wahi, who took to Facebook to voice his opinion a month back, continues to maintain that the content will change only if we want to make it change. The actor, who's clear that he has no intentions of sensationalizing his post, wonders why it got viral in the first place. In the post shared, the actor wrote, "Dear producer and channel .. i understand we cant make shows like how i met ur mother and friends, and honestly i dont expect us to also ,but for the love of god and for the reason we all got in this industry plz dont sell me stupidity in the name of content whch gives trp because honestly noone is watching this . Leave aside other people i think the fraternity only dsnt . I wish and pray well fr everyone whose a part of this show also but it wud be great if we started enjoying our work and not just working because we dont have an option... Not to sound arrogant but we can be better than this.(sic)"
While Tejasvi Prakash - who plays the protagonist Diya Ratan Singh - refused to comment to us on the ongoing debate, she had termed the show progressive as opposed to masses calling it regressive in a recent interview to IANS. "I think it's really progressive. But again, a lot of people believe in judging a book by its cover... They love being judgmental and people have nothing better to do than judging somebody else's work. Then okay, what can I do?" she was quoted as saying.
She, in fact, compared her show to the popular series
Game of Thrones
and said, "People love 'Game of Thrones' and if same thing happens in 'Pehredaar Piya Ki', then it's an issue."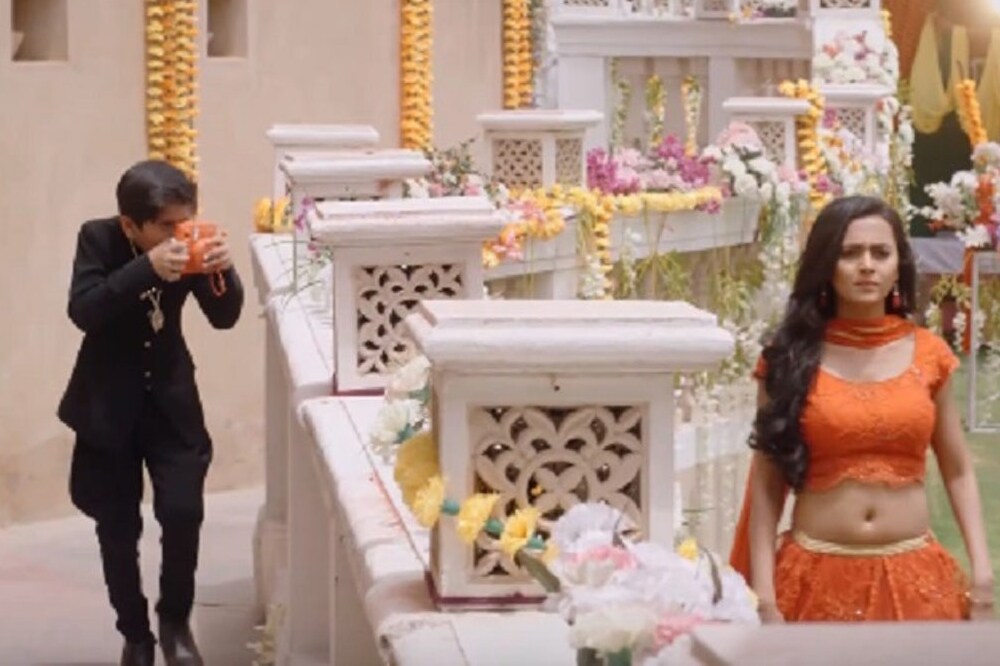 Image: Youtube/ A still from Pehredaar Piya Ki
While the likes of Yuvika Chaudhary, Devoleena Bhattacharjee and Mahika Sharma refrain from commenting on the concerned show, they, too, believe that it's more to do with what audiences prefer than what makers make and that it's a medium of entertainment and not education as such in general. They also accept that it's now become a market of sorts wherein the producers continuously watch out for TRPs.
Shubhangi Atre, popularly referred to as Anguri ji from
Bhabhi Ji Ghar Par Hai
, shares a similar view and says, "Television content has been a major question at the point of time. As artists, we accept a challenge to portray something which we are not in our real lives. We don't come here to teach but to entertain. No one watches fiction drama for education but only to get entertained. Because majority of old-age and rural people still enjoy stories with more unrealistic content, it ends up earning more TRPs."
She, however, admits that the shows on digital platforms are more practical and realistic.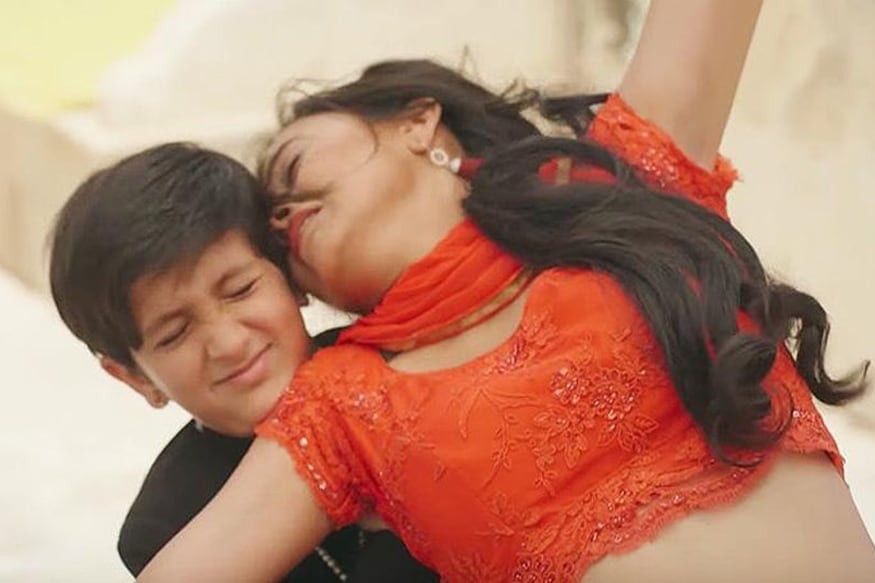 Image: Youtube/ A still from Pehredaar Piya Ki
Also Watch
| Edited by: Kriti Tulsiani
Read full article