Debates and conversations in Bollywood recently witnessed a slight shift from nepotism to feminism and many celebrities made headlines for sharing their perspectives. The discussion, however, has brought an important point to the forefront - why Hindi film industry needs to churn out more female-led movies.
It's not surprising, but certainly shocking that the most successful directors in Bollywood today have a history of ignoring female narratives. However, as they say, there are always exceptions. We do have a bunch of filmmakers that have given us well-imagined and realistically portrayed female characters and R Balki is undoubtedly one of them.
Right from his debut with
Cheeni Kum
, which was a refreshing take on romance, to
Paa
- a path-breaking attempt at depicting the emotional reunion of estranged parents,
Ki & Ka
- a progressive experiment that broke the stereotype of a mainstream Bollywood film's concept, quite literally, to his most recently released
Pad Man
, which tackled the issue of menstrual taboo, Balki has made an attempt to ensure that the voice of his female characters come across as strongly and confidently as the male counterparts.
During his recent visit to the capital to attend Pushing the Boundaries on the Menstrual Hygiene Management (MHM) Dialogue, we spoke to the director about how
Pad Man
helped change the lives of many women across the country, how he manages to balance socially relevant cinema along with commercial success and how the portrayal of women has evolved over the years in the industry.
Q. Do you think your film Pad Man played an instrumental role in starting a healthy conversation around menstrual hygiene?
Balki:
I think that's the power of film. Once you make a film on something it becomes a contextual point. Even the mention of that stuff evokes imageries of a particular topic that you have never gone into imagining. Therefore, I believe that it's started a conversation, a very healthy conversation, not just in India but worldwide. More importantly, it's given the license to people to talk about it freely rather than just have a conversation about it. I wouldn't hesitant for a pad today on the table, but I'd have hesitated before.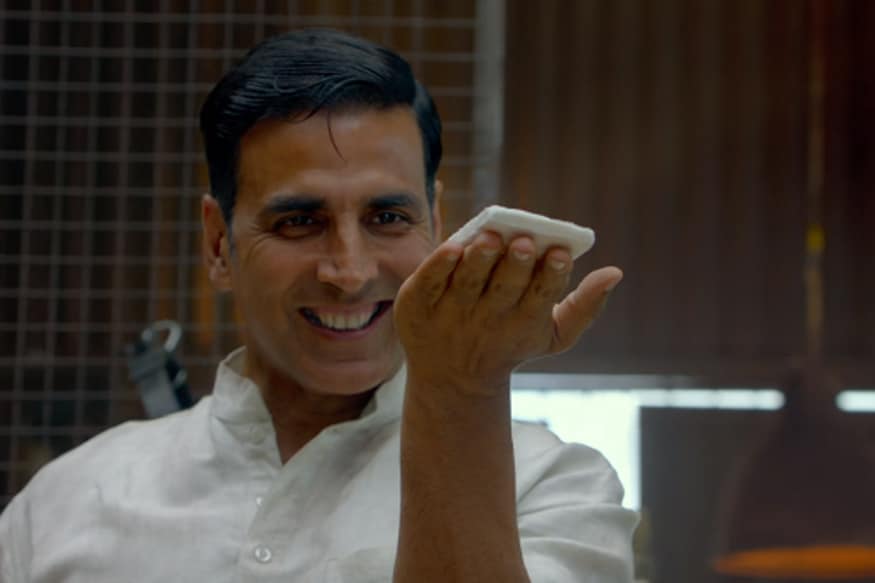 Q. Any particular story that you came across after the release of the film?
Balki:
I can't begin to tell you how many people have sent me videos and notes. There was a man, a labourer, who wanted his daughter and wife to use pads. So he decided to take off from work and brought his daughter and wife to a theatre (to watch Pad Man) to understand the importance of menstrual hygiene. He had sent me a note stating how much the film had changed their thinking' and that 'my wife bought the first pad packet for my daughter and I didn't have to force it'. That reaction was huge for me. I have got so many people from India, Arabia and Africa writing to me about these things.
Q. Pad Man was a box-office success. But it wasn't able to do as much business as Akshay Kumar's other films usually do. It missed the 100 crore mark at the box-office. Does it matter?
Balki:
I was very shocked that it did even what it did because 80 crore or 90 crore worldwide is fabulous for this kind of film. Of course, success matters, but I actually ask one simple question, 'Did I like it? Did people like it when they were watching it?' I have no idea how success happens because a lot of crap films - which I believe should not even have existed - have made huge money. So, you can't explain that is success and wish that 'Oh! How do I do it?' I don't know how to make a film like that. Some people have started calling films brilliant because they have made so many crores. There's something called luck. The whole business runs on luck and you don't know what appeals to people. You can't assume to understand everybody's head and say, 'I'll make a successful film.' No! A lot of crap makes a lot of money that doesn't mean they are good films and that's not an example of success. I also believe that a lot of good films don't make a lot of money, but that doesn't mean they are bad films. Take a film like 'English Vinglish'. It's a phenomenal film. It's possibly one of the finest films made in this country. 'Is it any less than a 300 crore film?' No, it is not. It all depends on what you are targeting. You assume that certain audience don't want to watch certain kind of films, but you forget that there are a lot of those people appreciate these films on TV in a huge way. I'm sure a lot of films that both of us (wife Gauri Shinde) have made have done phenomenally well on TV because people are watching it over and over again. We have not designed any 100 crore film. You don't design a film to reach out to all kind of areas. Yes, there are some films that are good films that also make 100 crore that is what we should aspire for and that's a bit of luck too. You can't assume that you make a good film and it'll make 100 crore. A lot of factors play a huge part in this whole thing.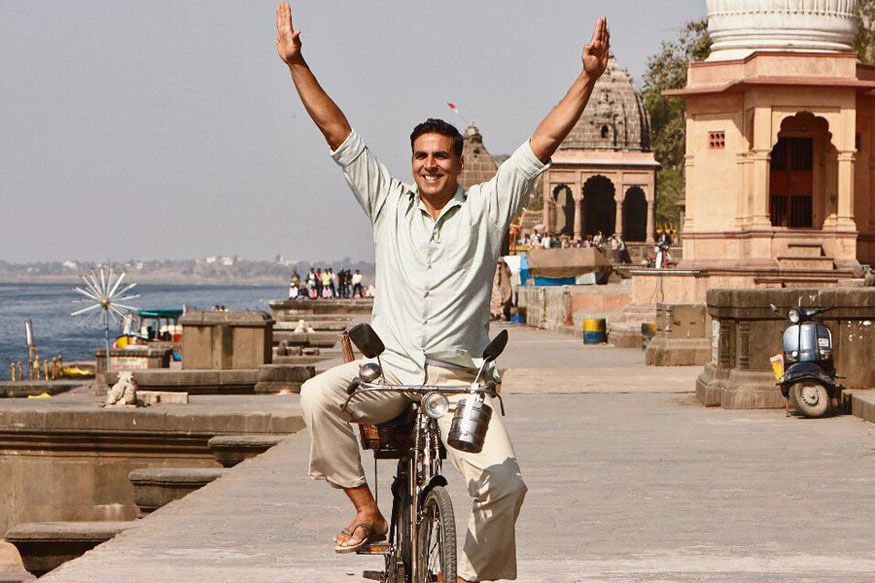 Q. If we look at your filmography, you have always taken a fair amount of time before starting any new project. How do you go about your scripts? Tell us about the process
Balki:
Filmmaking is a very laborious process. Unless an idea really hits you saying 'I must spend the next one year of my life behind this idea,' there's no point. I just love watching films so, 'Why should I make them?' I have far more fun watching them. So, I spend my time watching a lot of films and travelling. Now, the last three films I made in the past four years, I have been a bit faster, but I write my own films and it takes me a little time to kind of get away and get a topic that I really feel is important to do. So I won't do my next film in a hurry. I'd just really think about it and enjoy all the films that are being made in the process.
Q. You once said in an interview that you don't make films as a message. Considering most of your films have been socially relevant and thought-provoking, what made you say so?
Balki:
Yes, I don't. I never start out to make a message film. This was the only film I did because when Akshay (Kumar) and Twinkle (Khanna) said, 'Should we make a film on (Arunachalam) Muruganantham?' I told them I first want to meet him. I went to meet him and he's a very fascinating man. I liked his mind and the way he works. I came back and said 'Yes'. I also did it because I'd never get a chance to make a film on a sanitary pad, again. It's a first film or feature film with a mainstream star. I was aware while doing this particular film that it's a very socially responsible film. But it had to be entertaining for it to become socially responsible. If it's not entertaining it's socially irresponsible. I don't go to the theatre to watch a film because it has got a message. I go to the theatre to watch a film because I want to have fun.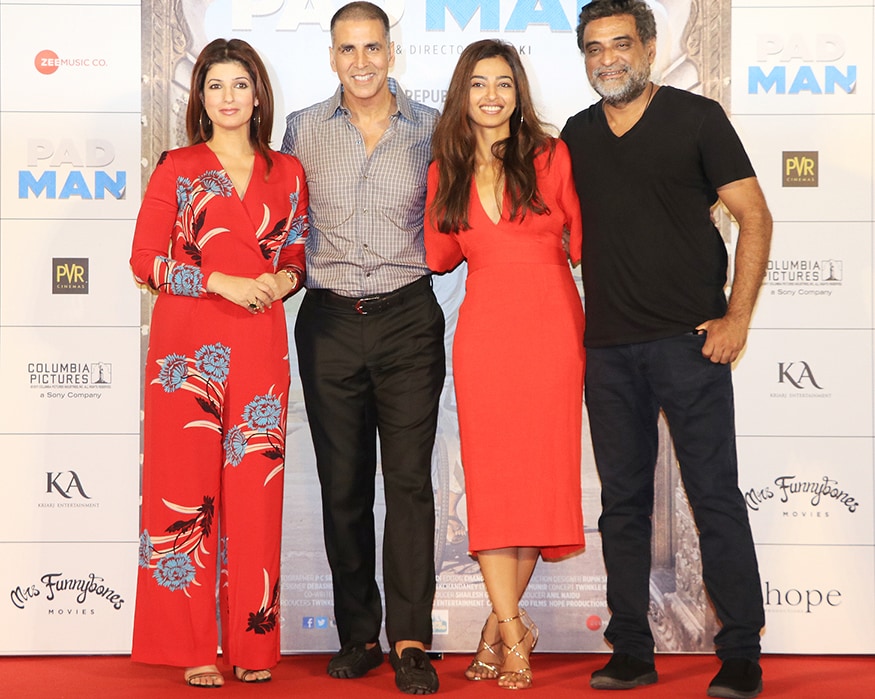 Q. At a time when the discussion on gender diversity has become a burning topic in the industry, do you think being a director it's your responsibility, too, to make sure that films get representation of women right?
Balki:
Yes, of course. I absolutely believe that films must get representation of women right. I actually don't feel anybody is doing it a lot these days because people don't like it. Directors always do what people like. But I have never differentiated. All my characters are actually equal characters. They are human beings. It's just one is in a kurta and one in a sari. They are two strong characters and I have never ever thought of the treatment differently. I don't understand what feminism is because it's a natural thing; it ought to be a feminist world. It's a very silly thing to say you discover a word and you say are you that? You ought to be born that way. If you aren't then you have a problem. We should give a word for people who are not feminist, not the people who are. Most normal people are.
Q. In a recent interview, Meghna Gulzar said that "if a man had directed 'Raazi', Alia Bhatt's character would have been reduced to a caricature." What's your take?
Balki:
Rubbish! I don't believe in that kind of nonsense. I don't think women should also categorise men as much as men should not categorise women. I think there are sensitive women and there are sensitive men.
Q. Like you said, 'It ought to be a feminist world', Kareena Kapoor Khan's recent remarks "I believe in equality, I won't say I am a feminist" invited major online backlash. Do you think the whole idea is somewhat misinterpreted?
Balki:
The definition of feminism is quite silly because you're saying, 'Do you treat women equally as men? Do you look at women equal as men?' 'How dare you ask that question?' Isn't the question itself insulting? I find the word very troublesome. Every time somebody says feminist, 'Hey! Don't use it.' It's a natural thing. 'Why aren't you a feminist?' Don't say that because you're insulting women by saying that. Why are you saying treat me as an equal when I have already put you above men? I don't think the word makes sense to me.