Raees Movie Review: SRK Serves up an Engaging, Vintage Gangster Film
Will the film also be able to create magic? Shomini Sen of News18.com is inside the theatre to find out.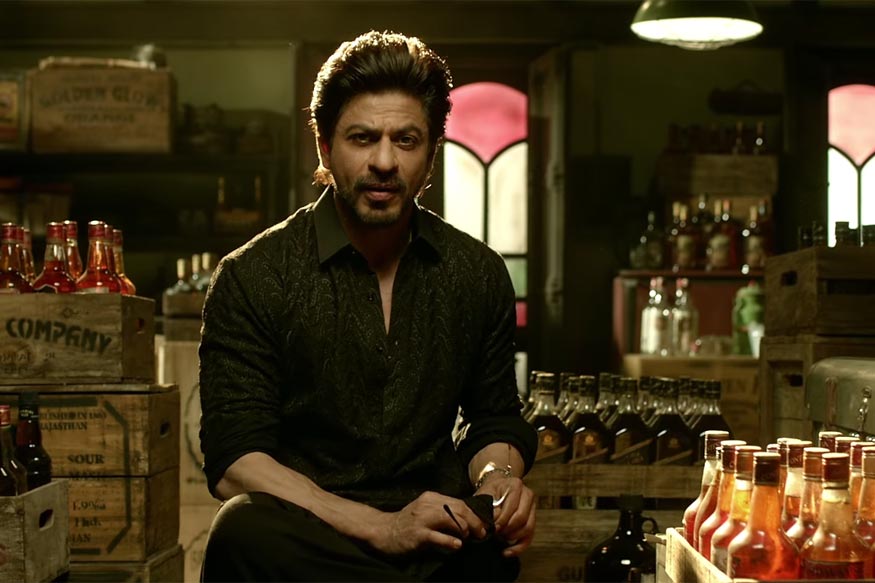 Image: Youtube/ A still from Raees.
If it is Shah Rukh Khan, it has to be big. His new film Raees has been in the making for a while and has created news much before the film's trailer came out. Having braved injuries on sets, protests, political interference - the film is finally up for release.
Directed by Rahul Dholakia, the story is based in Gujarat in the late 1970s and 1980s. SRK plays bootlegger - a character loosely based on real-life gangster Abdul Latif. Nawazuddin Siddiqui plays a cop whose sole mission is to arrest Raees. The film also marks the debut of Pakistani actress Mahira Khan.
Heavy of theatrics and catchy dialogues, with soulful music by Ram Sampath, the film's trailer has been generating a lot of hype. Will the film also be able to create magic? Shomini Sen of News18.com is inside the theatre to find out.
9:01 AM: It's #Raees day! And we are watching it first day, first show. Stay tuned for the tweet review
9:03 AM: .@iamsrk plays a bootlegger.@Nawazuddin_S plays a cop. And it marks the debut of @TheMahiraKhan - it doesn't get bigger than this. #Raees
9:28 AM: There was a certain swag in the 1970s. #Raees manages to capture that well.
9:35 AM: Atul Kulkarni, Zeeshan Ayub, Narendra Jha, Jaideep Ahlawat- #Raees supporting cast is super! Such an impressive line up of actors.
9:43 AM: .@Nawazuddin_S does a MJ step! Best! #Raees
9:49 AM: Gujarat ki hawa mein vyapaar hai, meri saans to rok loge, hawa ko kaise rokoge? #Raees
10:29 AM: Raees Aslam is Robin Hood of sorts. #Raees
10:31 AM: .@iamsrk and @Nawazuddin_S both are electrifying on the screen. Their scenes together are the best.
10:44 AM: Swag. Lot of swag this film has. #Raees
10:56 AM: Din aur raat logon ke hote honge sahib, sheron ka zamana hota hai. #Raees
10:57 AM: Dhanda karte samay hindu musalman socha tha, jo ab soch raha hai? Sab apne log hai yaha par. #Raees
11:19 AM: Main dhanda karta hoon. Main Dharam ka dhanda nahi karta hoon. #Raees
11:21 AM: #Raees works because of a very engaging script. It's a thriller, vintage style. #Raees
11:29 AM: There is a lot style in the way #Raees has been narrated. And yet it doesn't over paper the strong story or the performances
11:31 AM: If @iamsrk is the star of the film, @Nawazuddin_S matches up to his star power with a class act as the righteous cop. #Raees
11:34 AM: The scenes between SRK and #Nawaz are electrifying. Each matching the other with fine performance. Such a delight to watch them #Raees
11:34 AM: .@TheMahiraKhan gets limited screen time but manages to deliver a solid performance. #Raees
11:35 AM: But above all #Raees is @iamsrk film throughout. He owns his character Raees Aslam.
11:36 AM: .@iamsrk in #Raees gives us back the SRK we all grew up idiolizing. Welcome back King Khan :)
11:37 AM: It's an out an out commercial film. I would have liked it to be shorter but that's a minor flaw. #Raees
11:38 AM: #Raees will remind you of old 70s Bollywood pot boilers. It's SRK served, vintage style.
11:40 AM: Watch #Raees. For its actors, for its solid script and above all for @iamsrk
11:41 AM: Thanks for being with us throughout the tweet review of #Raees. Stay tuned for tweet review of #Kaabil.
Get the best of News18 delivered to your inbox - subscribe to News18 Daybreak. Follow News18.com on Twitter, Instagram, Facebook, Telegram, TikTok and on YouTube, and stay in the know with what's happening in the world around you – in real time.
| Edited by: Kriti Tulsiani
Read full article