Rajinikanth Leaves Door Open on Joining Politics, Says it's 'Left to God'
In an open interaction with his fans on Monday Rajinikanth said, "Right now God is using me as an actor, but I can't say anything about the future. If God decides that I join politics, then I will do so."
Chennai: Superstar Rajinikanth has left the door open for joining politics in the future adding he would not allow "wrong people" to join him if he takes the plunge.
In an open interaction with his fans on Monday, Rajinikanth said, "Right now God is using me as an actor, but I can't say anything about the future. If God decides that I join politics, then I will do so."
Despite frequent speculation - the latest being when Gangai Amaran, the BJP candidate in the RK Nagar bypoll, visited him - the 66-year actor has avoided making any commitment on entering politics.
"I committed a mistake by supporting a political alliance 21 years back, it was a political accident," he said.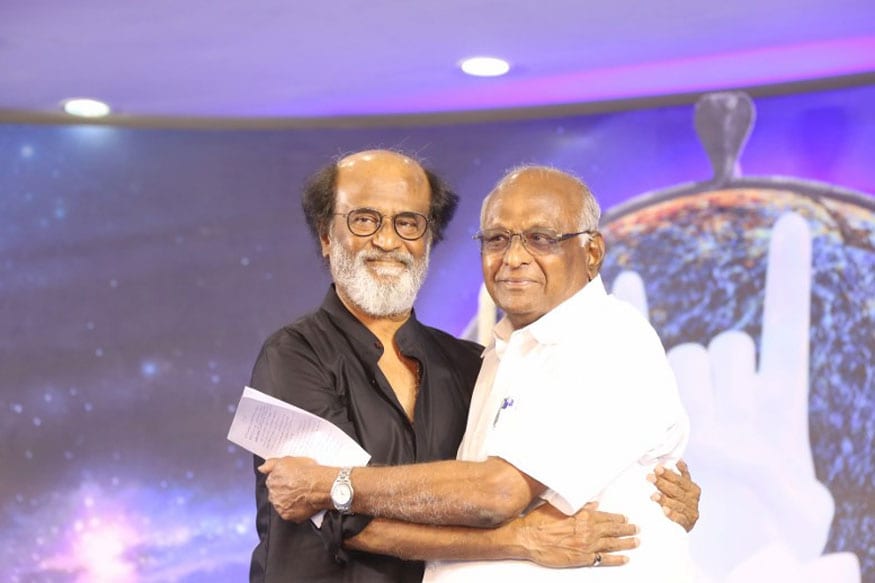 Rajinikanth met his fans at Raghavendra Mandapam in Chennai on Monday (Image courtesy: Rajinikanth's office)
During the PV Narasimha Rao government in the nineties, Rajini had begun to support the Indian National Congress (INC). However, he shifted allegiance to the Dravida Munnetra Kazhagam (DMK)-Tamil Maanila Congress (TMC) alliance after the Congress decided to align itself with the All India Anna Dravida Munnetra Kazhagam (AIADMK).
The actor indicated his preference was for value-based politics, saying, "If in case I decide to join politics, I won't allow wrong people to join me. I'll keep them away."
Rajinikanth has been keeping away from making political statements, leading at least some to believe he would never take the plunge unlike an MG Ramachandran or Jayalalithaa. Ahead of the 2014 Lok Sabha polls, Prime Minister Narendra Modi had met him in Chennai, but both later clarified the visit was just a courtesy call.
The Thalaivar or Chief as the superstar is popularly known caught up with his fans at Raghavendra Wedding Hall in Chennai after a gap of eight years and allowed them to get pictures clicked with him.
He also had words of advice, asking them to drink only in moderation. "I am not asking you to completely give up alcohol. I am not a yogi," he said.
Here is a timeline of Rajini's political stance:
March 2017: Rajini met music composer Gangai Amaran, who was the BJP candidate in the prestigious RK Nagar bypoll. However, the superstar later tweeted that he was not supporting anyone in the by-polls.
Feb 2017: Speculation was rife on social media that Rajinikanth intended to test political waters after saying he "liked power". However, he later clarified that he was talking about spiritual power and not material power.
2014: During the audio launch of his film 'Lingaa', Rajini told the media, "Everybody wants me to join politics. I'm aware of its depth and danger. I'm not afraid, but just a little hesitant. It's not in my hands. If God is willing, I will serve the people."
2008: Rajinikanth's statement "It would be foolish to think that one is successful in politics due to capability, experience and hardwork. It's all a question of time and circumstances. If the time is not right, nothing can help" was interpreted as a subtle hint about his political ambitions.
2004: The superstar pledged his vote for the BJP-AIADMK combine because of the BJP's stand on river interlinking, which he opined would solve the country's drinking water problems.
2002: Rajinikanth planned a "people's movement" on the Cauvery dispute with Karnataka. However, he denied that he had any political ambitions.
1996: Rajinikanth is alleged to have said "If Jayalalithaa is voted back to power even god cannot save Tamil Nadu". Jaya had been in power for the past five years, a period which saw allegations of misuse of power against her. The DMK swept to power and Rajinikanth's statement was perceived to have played a role in Jaya's defeat.​
| Edited by: Aditya Nair
Read full article
Countdown To
Elections Results
To Assembly Elections 2018 Results