Rampage Movie Review: Dwayne Johnson & Monsters Break In Blockbuster Season With Dumb, Fun Creature Feature
Planning to watch Rampage? Read our review first.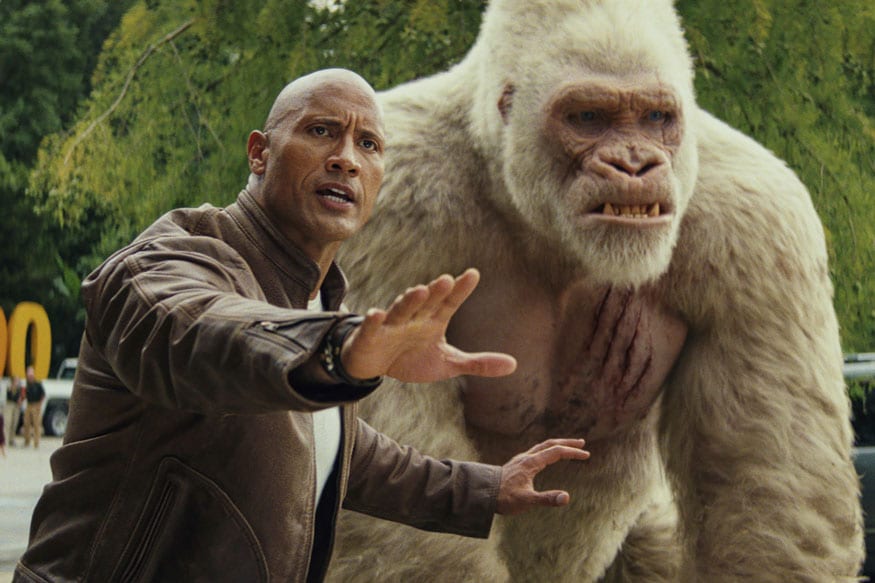 This image released by Warner Bros. shows Dwayne Johnson in a scene from "Rampage." (Image: AP)
Cast: Dwayne Johnson, Naomie Harris, Jeffrey Dean Morgan
Director: Brad Peyton
With 37 minutes worth of commercials and trailers squeezed in prior to and in between its 107 minute run-time, it's safe to say that Rampage officially marks the beginning of summer blockbuster season. The weather is heating up, the schools are closing, and your kids are annoying. What better way to get them to shut up for a couple of hours then, than take them to an air-conditioned, darkened cinema hall where they can watch genetically modified monster animals pulverize a city, while they in turn get pulverized by Dwayne 'The Rock' Johnson?
Rampage, loosely (very loosely) based on the cult '80s video game of the same name, ticks off all the requisite boxes for a generic summer hit. Absurd pseudo-science? Check. Genetically modified super-predators? Check. Laconic, slightly racist government agent with a Texan drawl and hidden heart of gold? Check. Huge explosions along with wanton death and destruction, lightened with bad jokes and unsubtle repartee? Check. Gruff, overworked army commander who says "Well, I'll be damned" in the end? Check. Dwayne Johnson simultaneously smoldering with intensity while also being charming and affable as only the people's champ can be? Double check.
Even if nothing else makes sense in the movie, it's only logical that The Rock would be cast as primatologist and ex-special forces operator, the contemporarily biracial Dr Davis Okoye, who shares a special bond as well as graphically gestured jokes with an albino silverback gorilla called George (of the jungle, get it?), whom Okoye has raised from infancy and trained in the skills of less than subtle sign language. Johnson is one of the few movie stars who can draw in crowds of movie audiences all over the world, on the strength of his name and one raised eyebrow alone. After delivering a massive hit to Sony with the Jumanji reboot, Johnson is the ideal man to cast in any summer creature feature/video game adaptation; he literally is the rock on which the film is built.
So Peter, sorry, Davis is a sensitive ape specialist, who prefers the company of animals to people and considers his troop of monkeys to be his real family, with George being his brother from another species. Alas then, George is exposed to a biological agent which "edits his genes" into becoming a gigantic, rage-filled version of himself. Two other animals, a wolf and a crocodile, are exposed to the same agent, after a shady corporation's science experiment (being conducted in a space station because apparently that makes it legally kosher) goes horribly wrong and crashes to earth, strewing molten metal, dead crew members and dangerous bio-weapons with abandon across the US of A.
George goes bananas, killing a grizzly bear even as he rapidly grows in size and rage levels, prompting Davis to try and calm him down, aided and abetted by a whistleblower (Naomie Harris) from the same shady corporation. It doesn't end well and after a surprisingly restrained trail of devastation, gorilla George, ape-lover Davis, and whistleblower Kate are hauled in by the authorities, as represented by Agent Russell (Jeffrey Dean Morgan), he of the Texan drawl and anonymous quasi-government agency.
To put it mildly, things continue to get out of hand with the emergence of super-wolf and super-croc, the escape of George, and the constant meddling of the corporation, who are determined to get a return on their investment. Bangs, booms, crashes, and predictability ensues.
As one would expect, the action sequences are elaborate and well-executed, though the same cannot be said of the actual monsters themselves. An albino gorilla is anomaly enough to look unrealistic at its normal size, never mind enlarged to several dozens of meters. The giant flying wolf with porcupine quills and the skyscraper straddling crocodile with warthog tusks don't exactly help with the suspension of belief either. Also, it's a ridiculous thing to quibble over, but what I found most off-putting was the three monsters' scale of size. If a wolf, crocodile and gorilla are exposed to a biological agent that turns them into gigantic, aggressive mutant versions of themselves, surely it follows – within that absurdist logic - that the gorilla would be the largest of the three? Instead, George is the veritable runt of the litter, far outsized by Ralph the wolf and Lizzie the croc, who sporadically pummel the simian shit out of him.
This is kind of a shame, because as far as the other effects go, director Brad Peyton manages to effectively capture the Transformers aesthetic of buildings and cities being destroyed even as sundry army and air-force units let off futile barrages of munitions and rockets, and The Rock wrestles monsters and credulity, with admitted success. Rampage is big, loud, dumb, and awesome. You're already booking tickets, aren't you?
Rating: 2.5/5
Get the best of News18 delivered to your inbox - subscribe to News18 Daybreak. Follow News18.com on Twitter, Instagram, Facebook, Telegram, TikTok and on YouTube, and stay in the know with what's happening in the world around you – in real time.
Read full article