Remembering Kishori Amonkar: Why the Singer Never Considered Classical Music Entertaining
Amonkar took such a painfully long time to warm up in her live concerts that one would have to have that kind of patience to sit through an entire concert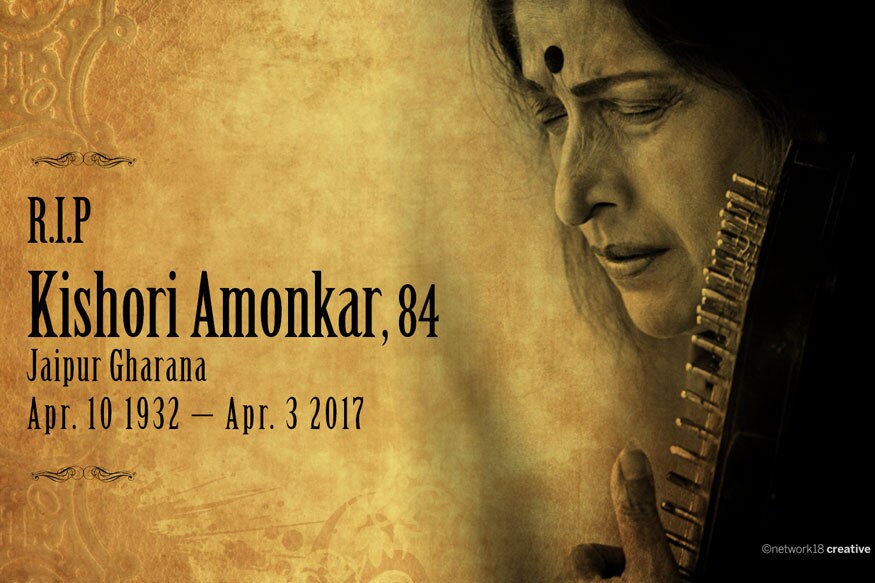 Amonkar took such a painfully long time to warm up in her live concerts that one would have to have that kind of patience to sit through an entire concert
Kishori Amonkar, the doyen of Hindustani classical music, passed away at her Mumbai home last week. As mainstream media doesn't give much space to classical art/music, one had to look up the internet for the reactions elicited in her passing. However, at CNN-News18, my channel, we ended the primetime bulletin with montage of Sahela re.
Dileep Padgaonkar, the venerable Times of India editor, was sorely missed. Padgaonkar, who pre-deceased Amonkar, would have done justice to the classical singer's class.
Amonkar took such a painfully long time to warm up in her live concerts that one would have to have that kind of patience to sit through an entire concert was part of the folklore as shared by a Calcutta friend of mine who had attended her live performances. I had left it there until one of my wife's friends kind of forced me to listen to her Sahela re based on Bhoop, a raga she is best known for singing. Sahela re runs into about 6.5 minutes and it's quite mesmerising. Ever since, I have been a big fan of her inimitable rendition.
After many failed attempts, I finally had a chance to see her perform live at Nehru Park in New Delhi's Chanakyapuri last October on a full moon night. Her programme was slated to start at 7 pm, I was running late and finally reached the venue around 8 pm thinking that I may miss better part of the concert.
I ran into the venue only to be told by a friend who was already present there that I should not have been worried at all. The delay was normal for any Amonkar programme. She took the stage around 8 pm and took her usual time to warm up, coughing several times in between. That she was infamously moody, temperamental, known to throw tantrums and prone to emotional outbursts if things didn't go her way, were all in display. The acoustics were not up to the mark while she was warming up, she called out the organiser and rebuked in her Marathi-accented English, "It's a total waste of my time." She calmed down after few rounds of apologies as the problem was being fixed. She went on to perform Bageshree, one of her favourites, and had the audience enthralled. The programme went on for a good two hours and no one was complaining.
She didn't like the light focussing on her while she performed, she remained locked in the green room for hours and came to stage only when she thought she was ready to sing, she abandoned concerts if the audience didn't behave, she was quite okay with the Gaan Saraswati title and didn't think much of Bharat Ratna, are stuff of the legend. But one can understand to achieve purity one probably has to be stubborn, there's no other way, something she learnt from her equally famous mother Mogubai Kurdikar of the Jaipur-Atrauli gharana.
Amonkar's lone Hindi film adventure Geet Gaya Pathron Ne in V Shantaram's eponymous film had understandably had many of the film industry counterparts worried. Much to their relief, she didn't sing again for mainstream Hindi films.
Eri Aaj bhailava....Sahela re (Raag Bhoop), Piya Jaag (Raag Deskar), her Bageshree, Maro Pranam are on my playlist. No to say her countless Meera bhajans, abhangs are any less. But before you tune in, please do keep this in mind what she thought of classical music. "Classical music is not entertainment, it is not enjoyment, it's sadhna of the God, as pure as the Vedas," the singer once said. Surrender to her music as she surrendered to the ragas. That's Kishori Amonkar for you. Take it or leave it.
Get the best of News18 delivered to your inbox - subscribe to News18 Daybreak. Follow News18.com on Twitter, Instagram, Facebook, TikTok and on YouTube, and stay in the know with what's happening in the world around you – in real time.
Subscribe to Moneycontrol Pro and gain access to curated markets data, trading recommendations, equity analysis, investment ideas, insights from market gurus and much more. Get Moneycontrol PRO for 1 year at price of 3 months. Use code FREEDOM.
| Edited by: Shomini Sen
Read full article