RIP Reema Lagoo: The Actress Who Upped The Ante of Sitcoms in the 90s
While movie-buffs loved her persona as a mother and her affectionate gaze, for the TV geeks and 90s kids Lagoo will always remain the face of original desi sitcoms.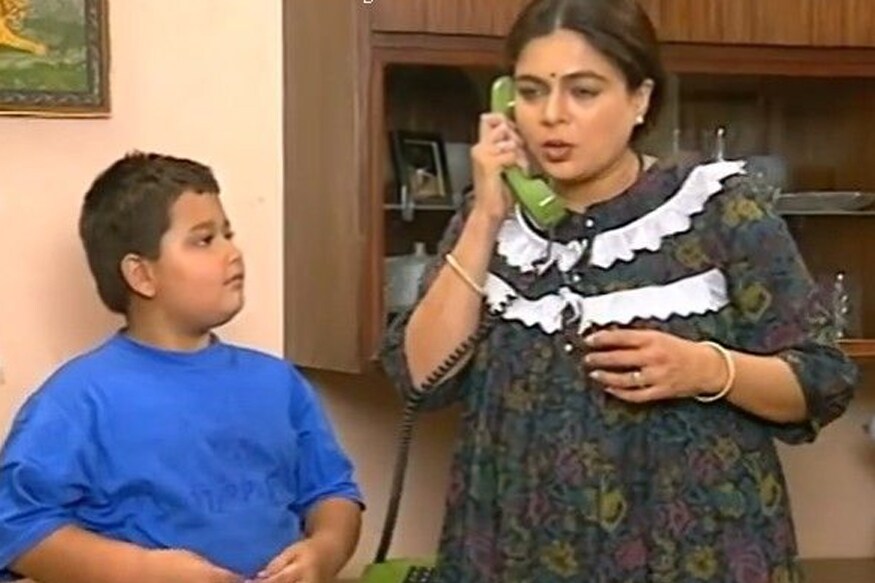 A still of Reema Lagoo from Shriman Shrimati.
Reema Lagoo, one of the most prominent face of Hindi and Marathi cinema, passed away on May 18. The actress is known for her roles in films like Maine Pyaar Kia, Vaastav and Hum Saath Saath Hain. Touted as one of the best onscreen mothers in Bollywood, Lagoo soon became the quintessential Bollywood mom.
Apart from donning an affectionate personality on big screen, Lagoo was also a versatile Marathi stage actress for decades. However, the early TV watchers will always remember her for her comic timing as much as for her films.
With the inception of cable networks in metropolitan cities and TVs in remote areas of India, the small screen industry in India got busy producing content-rich, relevant shows for the audience. Just when the globalisation hit India during early 90's and Doordarshan split itself into two, Lagoo starred in what became a cult comedy show in Indian television history.
Titled Shrimaan Shrimati, the show was the first in its league to bring the neighbour culture in middle-class urban society to our drawing rooms. A popular sitcom, the show was based on the concept of loving your neighbour's wife and making their problem your own. Lagoo played the role of Kokila Kulkarni, whose husband was caring but snarky. While her husband Keshav was attracted towards Premaji an actress and their next-door neighbor, Kokila found an admirer in Premaji's husband Dilruba. How the two men kept finding ways to flirt with each other's wife formed the crux of the show. Lagoo brought a certain freshness to the show, in contrast to the roles she played in films. Later in 2015, based on the similar concept, another successful show Bhabhiji Ghar Par Hain, found its niche.
Lagoo starred in another classic TV comedy show, which picked up little nuances of everyday life and with brilliant punches found appreciation from the audience and critics alike. Tu Tu Main Main was one of the earliest attempts by Indian television to portray the sweet and sour relationship between a mother and daughter-in-law. The light-hearted comedy show starred Lagoo as a mother and Supriya Pilgaoungar as her daughter-in-law. Breaking her big screen mold of a loving mother, Lagoo in Tu Tu Main Main was real and relatable. Full of her own flaws and bickering about her 'bahu', the actress as Devaki Verma was every mother-in-law in the 90s.
The love-hate relationship between the two female characters, their comic bickering and the fresh approach towards the saas-bahu bickering was the key point of the show. Before Ekta Kapoor turned every mother-in-law into an evil in disguise, Lagoo was the real face of Indian mothers even on small screen. In one of her early interviews, Lagoo talked about her encounter with veteran singer Asha Bhosle. Remembering the conversation, she said, "Once Asha tai (Asha Bhosle) met me and said she loved my show. But she added that I shouldn't be so nice to my bahu in the show. It was wonderful to get such feedback."
In the recent past, Lagoo starred in Mahesh Bhatt's TV show Naamkarann as Dayavanti Mehta as a mother who hates Muslim because of a personal tragedy and doesn't want her son to get married to his Muslim girlfriend. Donning a conniving and manipulative avatar, the role was different from what she had done in the past.
The actress also walked the digital path by starring in one of the videos by comedian Aditi Mittal. Titled Facebook Pe Mummy, Reema played the hipster mother who keeps a tab on her daughter's life through Facebook and is addicted to the social media platform. The hilarious video gave Lagoo a chance to be her comic self in front of the camera.
While movie-buffs loved her persona as a mother and her affectionate gaze, for the TV geeks and 90s kids Lagoo will always remain the face of original desi sitcoms during the golden age of TV.
Get the best of News18 delivered to your inbox - subscribe to News18 Daybreak. Follow News18.com on Twitter, Instagram, Facebook, Telegram, TikTok and on YouTube, and stay in the know with what's happening in the world around you – in real time.
| Edited by: Sameeksha
Read full article