Rolling Stone Magazine Up For Sale After 50 Years
The owners of Rolling Stone have put it up for sale mainly due to some costly strategic missteps.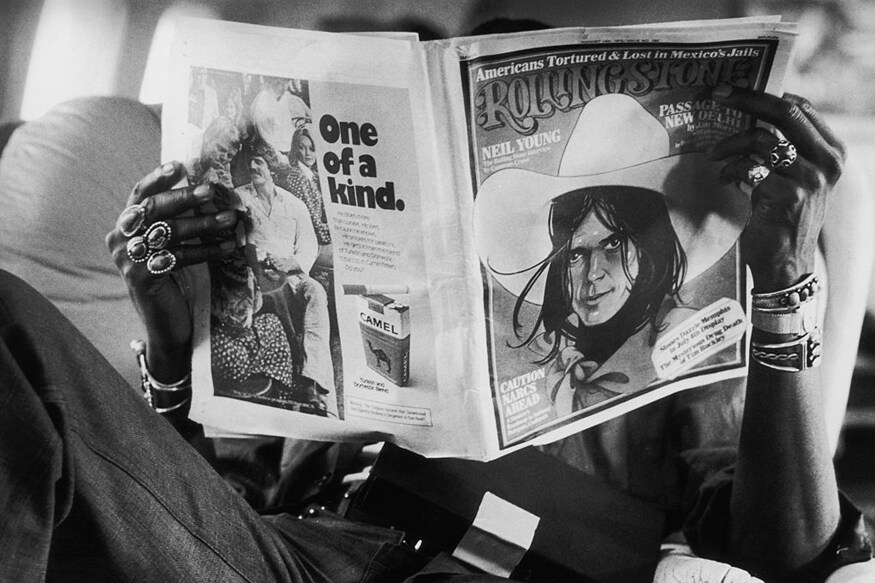 Percussionist Ollie Brown relaxes on the plane with a copy of Rolling Stone magazine during the Rolling Stones Tour of the Americas, 1975. (Photo by Christopher Simon Sykes/Hulton Archive/Getty Images)
New York: The owners of Rolling Stone, the 50-year-old music and culture magazine, have put it up for sale mainly due to some "costly strategic missteps" that have steadily taken a financial toll on the publication, the media reported.
Jann S. Wenner, then 21, started the magazine in San Francisco in 1967 and it went on to become the "counter-culture bible", reports The New York Times.
It defined cool, cultivated literary icons and produced star-making covers that were such coveted real estate that they inspired the song "The Cover of Rolling Stone" by American rock group Dr. Hook and the Medicine Show, according to experts.
"I love my job, I enjoy it, I've enjoyed it for a long time... But letting go was just the smart thing to do," Wenner, now 71, told The New York Times.
The sale plans were devised by Wenner's 27-year-old son, Gus, who has aggressively pared down the assets of Rolling Stone's parent company, Wenner Media, in response to the financial pressures.
The Winners have also sold the company's other two magazines, Us Weekly and Men's Journal. Last year, they sold a 49 percent stake in Rolling Stone to BandLab Technologies, a Singapore-based music technology company.
"There's a level of ambition that we can't achieve alone... So we are being proactive and want to get ahead of the curve.
"Publishing is a completely different industry than what it was. The trends go in one direction, and we are very aware of that," Gus Wenner, who is the Chief Operating Officer of Wenner Media, told The New York Times.
Music coverage in all of its forms -- news, interviews, reviews -- was the core of Rolling Stone, but its influence also stretched into pop culture, entertainment, and politics including interviews of former US Presidents Bill Clinton and Barack Obama.
Rolling Stone suffered a devastating blow to its reputation when it retracted a debunked 2014 article about a gang rape at the University of Virginia.
The article prompted three libel lawsuits against the magazine.
| Edited by: Kriti Tulsiani
Read full article
Countdown To
Elections Results
To Assembly Elections 2018 Results