'Romeo Juliet' review: A romanceless comedy that fails to impress
The film features Jayam Ravi, Hansika, VTV Ganesh, Poonam Bajwa, Vamsi Krishna in key roles.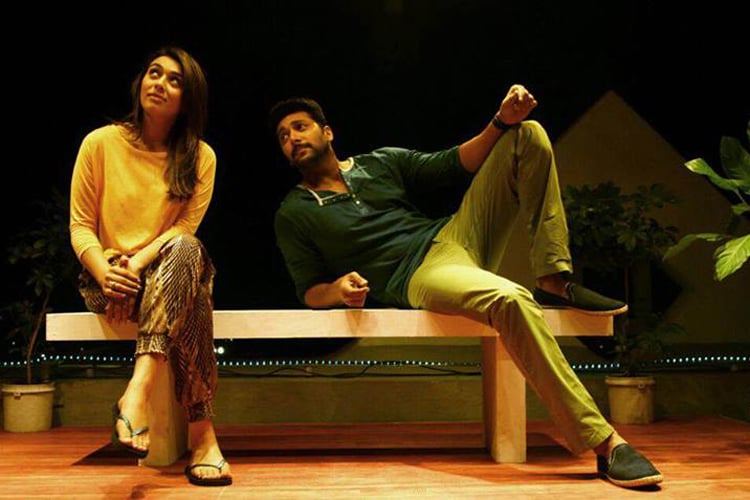 The film features Jayam Ravi, Hansika, VTV Ganesh, Poonam Bajwa, Vamsi Krishna in key roles.
Cast: Jayam Ravi, Hansika, VTV Ganesh, Poonam Bajwa, Vamsi Krishna
Director: Lakshman
Rating: 2.5 out of 5
Haven't we all learned that a negative multiplied by another negative is a positive? Romeo Juliet, categorically, has many negatives. Still the resultant factor remains a negative.
A Romeo in the form of Jayam Ravi who is for, a significant part of the film, morose; and a Juliet who's hiding behind the face of Hansika are the two vulnerable characters presented in this romantic comedy. Hansika is an airhostess; no, no, not just an airhostess. She's a middle-class airhostess. But for a middle-class airhostess she seems to have walked onto the set of a smaller budget version of 'The Devil Wears Prada'.
The first few minutes where Hansika and her dim-witted friends try to entice Ravi into falling in love with the heroine are agreeably hilarious. But, soon after, we know we are entering a hall of messy junctures as the middle-class airhostess finds out that the man she wants to marry is 'just' a gym trainer and nothing more than that. The catch is simple – Hansika wants her beau to be rich. When she dumps him after the realization, Ravi follows her endlessly to prove his point that richness is about happiness and not wealth.
Hansika and Ravi get on each other's nerves post-interval. Hey, wait. Opposites attract. So, the Tom and Jerry act doesn't last long. After all, the movie is named 'Rome Juliet'. If that doesn't make the couple – made for each other, what else will? Poonam Bajwa appears in a whistle-worthy moment. If Hansika is 'The Devil Wears Prada', Poonam is The Woman in a Shirt. Oh, most of the men in the movie hall didn't let the scene go unnoticed. Also sadly, that's the only mentionable detail about her presence. Her addition to the cast adds no value to the film.
Surprisingly, we rely on VTV Ganesh for relief. And the man is definitely funny here. Though I appreciate writer – director Lakshman's effort of not making Hansika's character a garnish of sorts, his writing doesn't take the film to a laudable end.
There are a handful of silver linings in 'Romeo Juliet'. Ravi's comedy outweighs his staid demeanor. Yet it is certainly difficult to sympathize with Hansika even when she's terribly crying. The filmmakers have to understand that there are pitfalls in the screenplay when the audience is not reacting to the happenings on the screen. This is why our patience is challenged by the time this film struts to the climax.
Get the best of News18 delivered to your inbox - subscribe to News18 Daybreak. Follow News18.com on Twitter, Instagram, Facebook, Telegram, TikTok and on YouTube, and stay in the know with what's happening in the world around you – in real time.
Read full article