Sacred Games Supporting Cast on Challenges They Faced While Working with Two Directors
In an interview with CNN-News18's Rajeev Masand, the supporting cast of Netflix's Sacred Games spoke about their experience while shooting with Anurag Kashyap and Vikramaditya Motwane, who belong to totally different genres of direction and much more.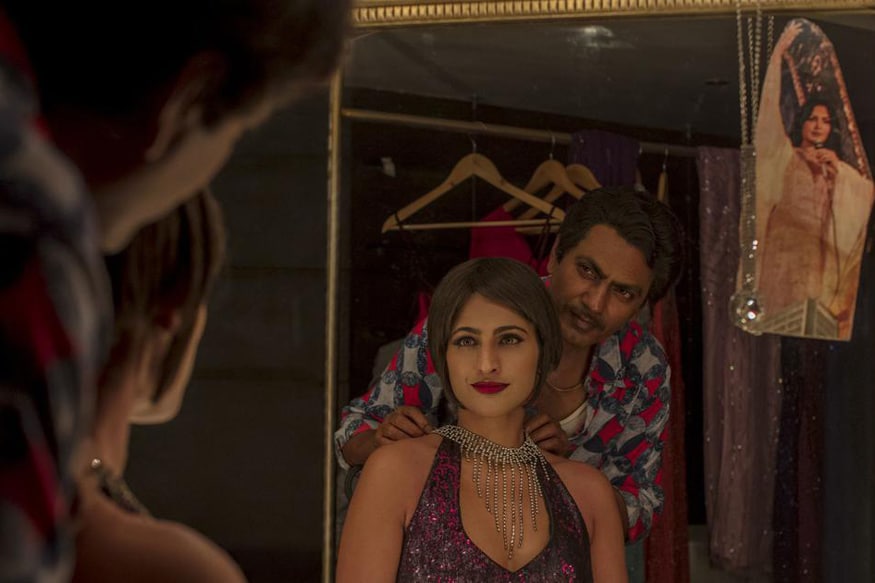 Kubbra Sait and Nawazuddin Siddiqui in a still from Sacred Games. (YouTube)
Netflix's first Indian original series
Sacred Games
, which released in the first week of July on the streaming platform, instantly became a hit among viewers for serving the right mix of drama, mystery coupled with an insight into the dark underbelly of Mumbai, where politics, crime and passion meet at a crossroads.
And now, almost after a month of its release, the supporting cast of the series sat down with CNN-News18's Rajeev Masand for a roundtable interview and spoke about the shooting process, the challenges they faced while working with two directors -- Anurag Kashyap and Vikramaditya Motwane -- who belong to totally different genres of direction and much more.
While expressing his views on working with the two directors, actor Jatin Sarna, who essays the role of Bunty in the series, said that while Anurag would keep the actors on the edge, Vikram would rarely react to anything.
He said, "Anurag sir keeps you on the edge, gives you hypothetical situations to react. It was very different with Vikram sir. A lot of times it becomes very difficult for an actor...ki sir kuch toh bolo (please, say something)." Sarna added that he would often turn to the assistant directors and ask them "yeh aadmi kuch kahega yah nahi ki acha kar raha hai yah bura (will Motwane ever speak if the performance is good or not?), because with Anurag sir, it was fun. So, it was both difficult and fun.
Pitching in, Neeraj Kabi (Parulkar) said, "There is a nice advantage to this kind of direction that I've found, is that when the director is not talking to you at all, there's another side to it where you can actually start exploring deeper and see where does he now interfere and tell me what have you done." He added that he would explore deeper into his character to see how far Motwane would allow him to go and also to get a reaction from the director.
Later, Sarna said that it was only after three or four days that Motwane finally walked up to him and held him by his arm. "That's when I knew that it was done."
Elaborating a little more on how reserved Motwane is, Jitendra Joshi, who plays the role of inspector Katekar, narrated an incident to Masand. He said, "One day I walked up to Motwane and asked him sir kaam acha ho raha hai (is everything going well?) to which the director responded 'haa ho raha hai nah' (yes it's happening). But in returned he asked me why did he pose such a question. So, I told him it's because you don't say anything. And he instantly replied, 'okay bolta hu nah (I say okay)'."
He added that Motwane asked him to improvise on Katekar's death scene. "But what should I do?" Joshi recalls asking Motwane. "It shouldn't seem like you are going to die. It should make for a crackling scene and the boys (in the scene) should look scared," he remembers Motwane telling him. After a few rehearsals, Joshi said that they found the version they would shoot but didn't get a 'very good' from Motwane despite that.
"On my last day, Motwane came over and hugged me for three minutes. I couldn't understand what had happened. And today, when I look at the kind of appreciation Katekar is getting, I know Motwane has created the character. The impact and the void that there is because of Katekar's death, that is Vikram Motwane ," Joshi said.
While speaking about the respective characters in the series to Masand at the roundtable session, all the actors hinted at season 2 of the already popular web series.
At the time of the premiere Mr Vikram Chandra came to me and he hugged me and said, "Yaar tu chala toh gaya par kuch tikdam lagaunga aur tujhe waapis leke aaunga, at least flashback mein leke aaunga (Even though your character has died in the first season, I will make sure you come back anyhow, at least in flashback," said Jitendra Joshi who plays inspector Katekar in the web series.
"I don't mind coming back", said Kubra Sait. "I'm okay with flashbacks too," she added.
| Edited by: Mugdha Kapoor Safaya
Read full article
Countdown To
Elections Results
To Assembly Elections 2018 Results