Salman Khan Brings Shah Rukh Khan on a Cart to Dus Ka Dum and His Gesture is Full of Warmth
Salman pushed Shah Rukh on a cart amid cheering and jeering from fans on the sets of 'Dus Ka Dum'. It was a sight to behold.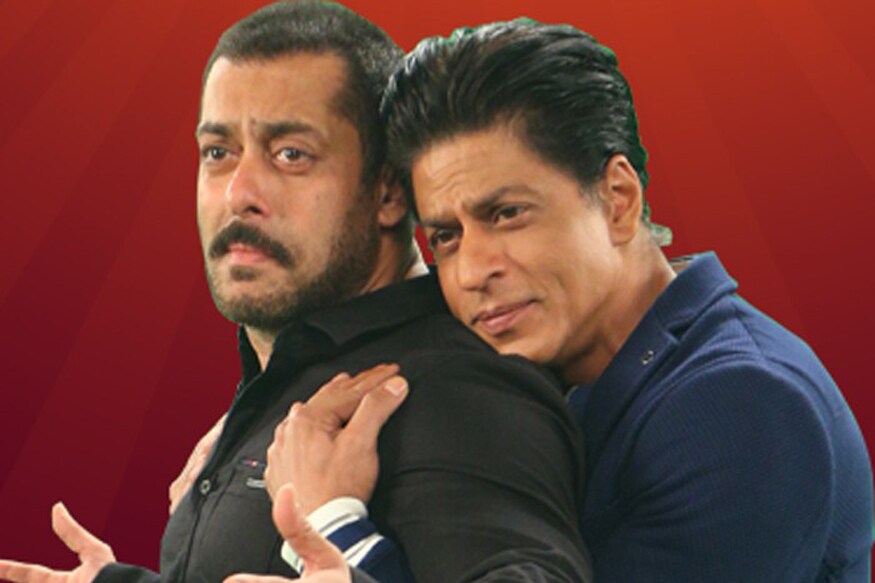 A file photo of Salman Khan and SRK.
Remember the times when Salman Khan and Shah Rukh Khan used to be really good friends? In fact, their camaraderie was the highlight of Karan Arjun (1995). Later, they parted ways but since a couple of years, they are back in the business as really thick friends. You want a proof of their ever growing friendship? See Shah Rukh's entry on Salman's game show, Dus Ka Dum.
SHAH RUKH KHAN Ki Entry 🔥🔥🔥#DusKaDum pic.twitter.com/OqiLWr5q66

— ɦɑʀʀy ❤️ (@DilwalaShadan) August 3, 2018
Salman pushed Shah Rukh on a cart amid cheering and jeering from fans. It was a sight to behold. Though they have been spotted together at certain events and film promotions lately, but the way Salman treated Shah Rukh was a clear indication of how fond they are of each other.
On the work front, Shah Rukh did a cameo in Salman's Tubelight. In return, Salman is likely to do the same in Zero. Earlier, they have worked together in films like Karan Arjun, Kuch Kuch Hota Hai and Hum Tumhare Hain Sanam.
Shah Rukh, on the other hand, is going to be seen in director Anand L Rai's Zero. He is playing a dwarf from Meerut in the film that also has Katrina Kaif and Anushka Sharma. They have previously worked together in Jab Tak Hai Jaan.
Zero will hit the screens on December 21, 2018.
Get the best of News18 delivered to your inbox - subscribe to News18 Daybreak. Follow News18.com on Twitter, Instagram, Facebook, Telegram, TikTok and on YouTube, and stay in the know with what's happening in the world around you – in real time.
Read full article