GET Stock

Quotes


'Sanam Re' tweet review: It fails to deliver; nothing more than a visual delight
'Sanam Re' is the second directorial venture of Divya Kumar Khosla after 'Yaariyan'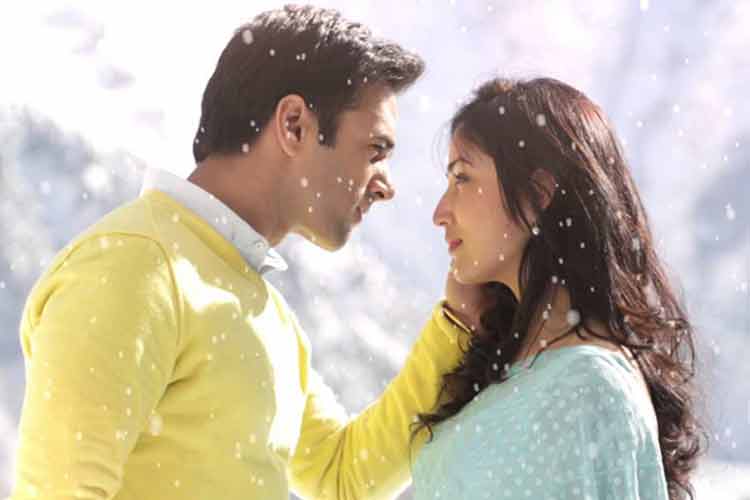 'Sanam Re' is the second directorial venture of Divya Kumar Khosla after 'Yaariyan'
Directed by Divya Kumar Khosla and produced by Bhushan Kumar, Krishan Kumar; 'Sanam Re' is all set to hit the theatres today. This breezy romantic story features Pulkit Samrat, Yami Gautam and Urvashi Rautela in pivotal roles and Rishi Kapoor in a significant supporting role.
The film has already created quite a stir with its melodious tracks topping the charts and Rishi Kapoor's unrecognizable look as an old grandfather. Another reason for the film creating a buzz are the recent rumours about the lead actors Pulkit Samrat, Yami Gautam's alleged affair.
'Sanam Re' is the second directorial venture of Divya Kumar Khosla after 'Yaariyan'. With this film releasing on Valentine's weekend, will it prove to be a good romantic tale for the viewers? Will Yami-Pulkit's chemistry be as sizzling as expected? Kriti Tulsiani from IBNLive.com is inside the theatres to find out.
12:33 PM - Will #DivyaKumarKhosla 's breezy romantic film #SanamRe prove to be a treat for the viewers? Stay tuned to find out.
12:40 PM - #SanamRe features @yamigautam, @PulkitSamrat and @URautelaForever in pivotal roles.
12:46 PM - #RishiKapoor's opening act is sure to get a wide smile on your face! #SanamRe
12:47 PM - #RishiKapoor's look for this film will definitely make your eyes pop out in disbelief. #SanamRe
12:54 PM - .@PulkitSamrat's brilliant timing and his perfectly chiseled body is definitely a plus for this film. #SanamRe
1:04 PM - It's simply heart warming to see such beautiful depiction of a grandfather-grandson's relation. #RishiKapoor #PulkitSamrat #SanamRe
1:09 PM - The child artist playing younger version of #PulkitSamrat's character Akash will keep you glued to the screen for a while. #SanamRe
1:17 PM - 'Mobile ke zamaane mein photo studio kaun aata hai?' Can anything ever replace the power of old photographs? #SanamRe
1:22 PM - Rekha, Kejriwal and James Bond: Too much effort has been put into comic scenes, but it just fails to strike a chord. #SanamRe
1:29 PM - One hour into the film and we've already seen 4 songs. Can't really tell if it's good or bad. #SanamRe
1:32 PM - While some scenes of #BhartiSingh will make you chuckle, others will make you wonder why is she even a part of this story. #SanamRe
1:40 PM - First half of the film follows a slow build up path which fails to grip you. #SanamRe
1:46 PM - No striking chemistry either between #Pulkit-#Urvashi or #Pulkit-#Yami yet. Yes, so far it's a failed love triangle in action. #SanamRe
1:55 PM - With such wonderful picturesque locales, you'll find yourself wandering to the places you've never even been to. #SanamRe
1:59 PM - If a scene starts to fetch your attention, a song follows to ruin it. #SanamRe
2:07 PM - #SanamRe stops making sense in the second half but it's hard to ignore the beauty of every shot. Every frame is beautifully shot.
2:15 PM - You'll start focusing on #YamiGautam's beauty, #UrvashiRautela's charm after a while as there's no substantial plot to speak of. #SanamRe
2:29 PM - 'Ek baar tum chale gaye the, ek baar mai chale jaaugi': #YamiGautam; if the film proceeds on such pace, everybody might leave. #SanamRe
2:45 PM - The climax scene of this film is a little too melodramatic, not that rest of the film is not. #SanamRe
2:49 PM - #SanamRe rides high on brilliant cinematography, melodious musical score, shoot locations and of course #RishiKapoor's fine performance!
2:54 PM - Overall the film fails on several levels; its mind wrenching plot to over-the-top stretchy sequences, nothing was as impressive. #SanamRe
2:57 PM - Go for this film if you're okay with films just being visual delights and nothing more. #SanamRe
Also Watch
Read full article