Sandeep Singh On His Attempt to Keep Soorma Real, His Bonding With Diljit Dosanjh And More
Shaad's Soorma will highlight Sandeep's comeback to international hockey in 2008 to winning Sultan Azlan Shah Cup in 2009 and single-handedly propelling India to London Olympics in 2012.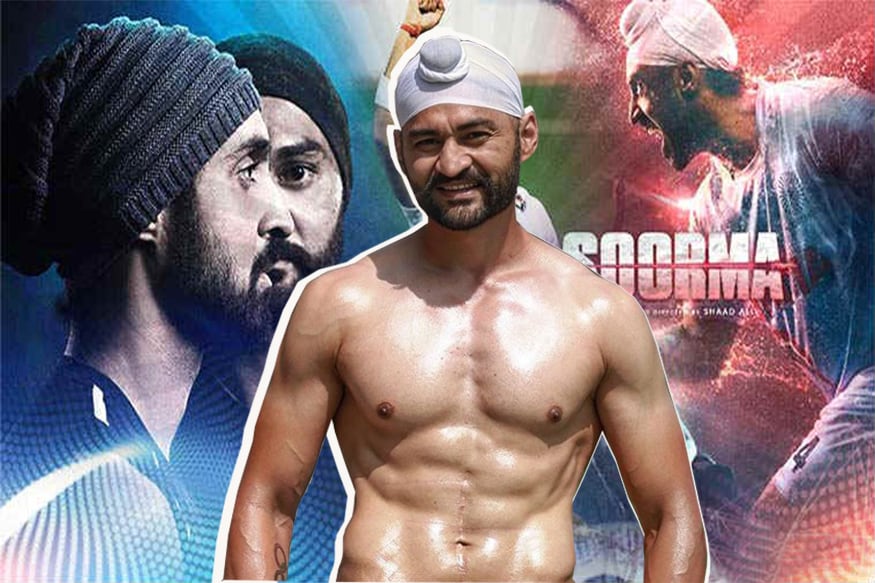 Image courtesy: Abhishek Bhardwaj
The trailer of Diljit Dosanjh and Taapsee Pannu starrer Soorma is out, and as expected, it has been trending on YouTube with over 6.5 million views. The film, directed by Shaad Ali, is based on international hockey player Sandeep Singh. A couple of years after his international debut, Sandeep was injured after he was accidentally shot in August 2006. He was paralysed and left wheelchair bound for a couple of years, but went on to lead Indian national team in 2009.
Shaad's Soorma will highlight Sandeep's comeback to international hockey in 2008 to winning Sultan Azlan Shah Cup in 2009 and single-handedly propelling India to London Olympics in 2012.
While speaking exclusively to News18.com, Sandeep shared that Chitrangada was shocked to know about his accident. "Chitrangada knew that I was captain of Indian Hockey team, but was unaware of my accident. She was unable to believe and was in complete shock when I narrated the incident to her. Since she couldn't believe it, I told her to Google it. And after she searched for it online, all she wanted was to put this story on screen. Ultimately in 2014, I shared my story and the team started working on it." Perhaps that's why Chitrangada (who turns producer with Soorma) and the film's team created #DontLetThisStoryPass.
As Sandeep says, when film's director and writer Shaad Ali started working on the script, he had just one concern – he wanted every detail to be real. "Even in biopics, director picks up a certain theme while showcasing one's life. Shaad wanted to focus on the fact that I never gave up. Each one of us wanted to give the message that when someone decides to achieve something, nothing is impossible."
Shaad and Sandeep started working on the script in 2015, and there were occasions when the two faced a clash of opinion. "However, the bottom line was that we both wanted the story and scenes to be real. Every scene that you'll see in the film has happened in real life and has a proof backing it. Every aspect - from number of goals that I made in different matches to the journey post that tragic accident and how I recovered – is real," says Sandeep, adding, "I don't want to sound as if I'm criticizing other biopics, but most of them that released recently had certain things that never occurred in real life of that individual. But in Soorma, everything will be authentic."
Sandeep informs that most of Soorma's team – Diljit, Taapsee, Angad, Chitrangada and Shaad – had some connection with sports. Arjuna award-winning hockey player says, "Diljit bhaji and Taapsee – both their fathers were national level hockey players. Angad Bedi's father Bishan Singh Bedi is a known former Indian cricketer. Then our director Shaadi Ali had been hockey player. Chitrangada also has a sports background. So it wasn't difficult for them to understand me. A sportsperson thinks differently; therefore they understood my concern to keep things as real as possible. After watching the film, no one can point out that any scene is unreal."
Besides Diljit and Taapsee, Soorma also stars Angad Bedi, Kulbhushan Kharbanda and Vijay Raaz in pivotal roles. Each one of them has wonderfully transformed into their characters. For Udta Punjab actor Diljit, he knew that portraying a hockey legend won't be an easy task. In one of his interviews to news agency IANS, he mentioned, "I told the producers to cast me in any film for free but don't cast me in a hockey-based film because it will require a lot of hard work and I think I will not be able to pull this off. I would have taken a wrong decision in my career if I had not done Soorma."
However, Sandeep is quite happy and thankful that Diljit agreed to do this film. "Diljit bhaji started working on Soorma around eight months before the shoot kicked off. Though he had a singing tour and some films to wind up, he took time out of his schedule to talk to me and know more about me. We both would take time out of our schedules to meet each other or were at least regularly in touch on the phone. The best part was that bhaji always behaved like a learner. He never showed any star tantrums. All he wanted was to learn as much he could."
Sharing another secret about his bonding with Diljit, Sandeep says, "During the time I spent at the rehab center, I would listen to songs from bhaji's music album Smile. I still remember on the album cover; he was wearing a white turban. I would only listen to his tracks when I was playing for the national team. I strongly wanted him to play my character as I felt that only a real Sardar would fit in the best."
Ace drag-flicker Sandeep didn't take much time in connecting with Diljit, Taapsee or Shaad. He says, "Punjab and sports connection played a huge role."
For all those who are thinking if Sandeep was abandoned by his love in real life as shown in the trailer, Sandeep is not in the mood to reveal much. When you ask him to tell more about Taapsee's role who plays athlete Harpreet Kaur and Diljit's love interest, Sandeep dodges the question. "Her role is a secret," he says.
Losing hockey and then his special someone, what made him bounce back with a ravishing comeback? "When the 9mm pistol hit me, it fractured my lowest rib, punctured my pancreas and a part of my spine was chipped. My liver and kidneys were slightly damaged. I was paralyzed on the spot and immediately taken to PGI, Chandigarh. I was unconscious for four weeks. I had lost more than 40 percent of my body weight. I still remember, four weeks after my accident, I was in the ICU and on a ventilator when a team of doctors sitting in front of me was telling me that I'm fortunate to have survived this tragic accident. They said they weren't sure if I'll ever be able to walk or play hockey. I told the doctors to leave the room as I had no room for negativity."
Later, Sandeep called his brother and told him to get a hockey stick for him – which he still loves unconditionally. "After few days, I told my brother that I wanted to stand. Every night he would help me stand up with the help of that hockey stick and without letting the doctor or my parents know about it. When I sat on the wheelchair, I immediately sensed it is not made for me. I was only meant for the hockey stick. For all the time that I was in the hospital, I would stay up for as many as 23 hours. Doctors had to do give me sleeping pills so that my mind gets relaxed. But I kept telling myself that I have to make a comeback and play hockey," recalls Sandeep.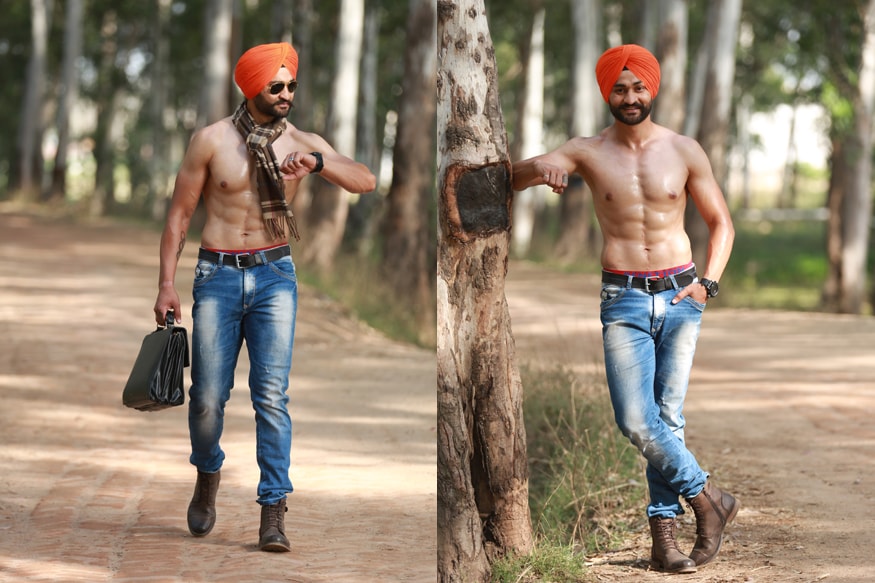 Did Sandeep wallow in self-pity and think why he had to go through a rather strained phase following his accident? "Gradually I realized that God has a plan for everything. There was a reason for all the pain I underwent. I never thought that a movie would be made on my journey or I'd be the first hockey player in the entire world to get a wax statue at the Jaipur Wax Museum at the Nahargarh Fort."
Dhyan Chand who is Sandeep's ideal will get his wax statue installed post-Sandeep's wax statue.
Sandeep who is also ACP Haryana is quite excited about Soorma's release on July 13. His further plans include taking Haryana sports to another level. "I'm thankful to Haryana police that they have always cooperated with me on times when I had to give complete attention to my sport. And I often say that national team's performance and the level will only improve if we bring change at the grass root level. Unless young and emerging sportsperson of India will not have skilled trainers, the national team will never improve. If they keep playing with same techniques, I don't think they can bring results."
| Edited by: ---
Read full article