Sanju Movie Review: An Out-And-Out Ranbir Kapoor Show
Hirani, brings the life of a star to the big screen and covers his rise, fall and rebirth, but doesn't absolve him of his flaws or justify his life.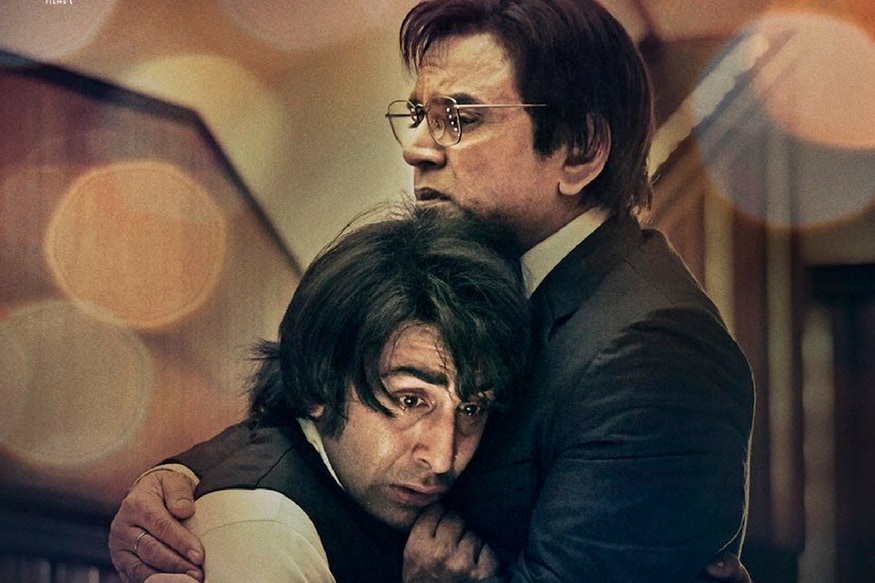 Hirani, brings the life of a star to the big screen and covers his rise, fall and rebirth, but doesn't absolve him of his flaws or justify his life.
Cast: Ranbir Kapoor, Anushka Sharma, Sonam Kapoor, Dia Mirza, Vicky Kaushal, Manisha Koirala, Paresh Rawal
Director: Rajkumar Hirani
When a biopic works, it leaves an indelible impact. This stands true for Rajkumar Hirani's directorial Sanju. The film not only charts 37 years of Sanjay Dutt's life, but also shows his growth as an individual. From being a brat in his youth, to getting addicted to drugs and alcohol, battling a legal case for over 2 decades, losing his mother Nargis to cancer, and his run-ins with controversies – Hirani makes sure he covers all pivotal events and relationships in his life. In Munnabhai MBBS, Hirani portrayed Sanjay Dutt as a tapori who'd break bones, extract money by using physical force, kidnap and threaten people. But he was still a man with a golden heart, and a conscience. It was through the loveable goon played by Sanjay that he could bring back Mahatma Gandhi's principles in a fun way. And in Sanju, Hirani brings the life of the star to the big screen and covers the rise, the fall and the rebirth of Dutt, but doesn't absolve him of his flaws or justify his life.
The film begins in Mumbai at Dutt's residence with Maanayata (Dia Mirza) making an earnest attempt to get the celebrated biography expert Vinnie Diaz (Anushka Sharma) to turn his life into a book. Unlike Tripathi (Piyush Mishra), whom Dutt had hired to write his autobiography, Diaz wouldn't draw analogy between Mahatma Gandhi and Dutt, and say bizarre things like "Bapu aur Baba ka life graph bahut milta hai. Ek ne lathi rakhi par kabhi nahi chalai, aur dusre ne AK 56 rakhi par kabhi nahi chalai. Ek ko chahiye thi desh ki azadi aur dusre ko sirf apni azadi." Don't be surprised if it reminds you of the film Lage Raho Munnabhai which added the new word 'Gandhigiri' to our vocabulary.
The film's first 15 minutes are sufficient to comprehend what the director wants the viewers to focus on – Kapoor's jaw-dropping resemblance with the star and Dutt's interpretation as a 'gadaar' and 'terrorist'. As he narrates his life, we are made familiar with Dutt – the pampered child of superstars Nargis and Sunil, his life that has been spiced with multiple affairs, deadly drug phase and the time spent at the rehabilitation centre. Even though the film deals with serious issues, it does cheer you up with its pure intentions and sense of humour. Comedy-laced dialogues especially in the sequence featuring Kapoor and Vickey Kushal are an added attraction.
The film's second half is used effortlessly to put forth Dutt's indisputable strained relationship with his father, his legal cases and time spent at the prison for possessing arms and weapons. But because it has been directed by Hirani who is known to do things differently, he ensures it is laced with emotions and humour.
Casting is a masterstroke. All actors jell well with the characters they play. Paresh Rawal plays Sunil Dutt flawlessly. Manisha Koirala is pleasant in her cameo as Nargis Dutt.
Kapoor is in top form – the quiet, brooding, serious man who loves his family, but continues to be the most misunderstood person of the film industry. Kapoor simply cakewalks through his role. Whether it his tremendous physical transformation or the perfection with which he imitates his trademark walk, the way he acts and uses typical tapori style, Kapoor has transferred all the nuance and care of Dutt's performance to the screen, along with his beautifully modulated voice. Don't be surprised if you get confused whether it is the real Dutt you are watching on screen or Ranbir acting as Dutt. If Kapoor stays ahead of his contemporaries, that's because of his ability to take risks. He is willing to venture out into the unknown which is what acting is about, right? Playing Dutt isn't easy, it is a role that would make many feel nervous. But that's what artists are expceted to do - operate at the edge of their comfort zone.
Kaushal, who floored us with his immaculate performance in Raazi and web series Love Per Square Foot and Lust Stories, excels as Dutt's real friend. Considering the projects he has done in the past and the manner in which he hold his own in both serious and fun sequences, he comes across as an actor who wants to establish a wide range of performances all to ensure he doesn't get pigeonholed into specific roles.
With each of his past films, Hirani has been successful in showing mirror to the society. But it is the finesse with which he weaves his story that it doesn't offend but entertain the viewers. Much like his
previous films, he doesn't sermonise his viewers, but puts across a life of a star. It is about a star who looks invariably afraid of his Gandhian father, of his losing his mother and of being trapped. Hirani doesn't take a stand on instances like Dutt's his drug-addiction or alcoholism or keeping an AK-56. He just tells in a impeccable way; as they happened.
Sanju isn't a family drama, Hirani offers wholesome entertainment to the viewers. He doesn't use songs, dialogues to excite the audience or draw them to cinema halls. Nothing appears out of nowhere, just flows with the film.
Get the best of News18 delivered to your inbox - subscribe to News18 Daybreak. Follow News18.com on Twitter, Instagram, Facebook, Telegram, TikTok and on YouTube, and stay in the know with what's happening in the world around you – in real time.
Read full article