Saudi Woman Helmer Rebels With a Radical 'Mary Shelley' at Dubai Film Fest
Haifaa Al Mansour makes an admirable foray into British period biopic about a woman who rebelled to "live in sin" with a married man, Percy Bysshe Shelly.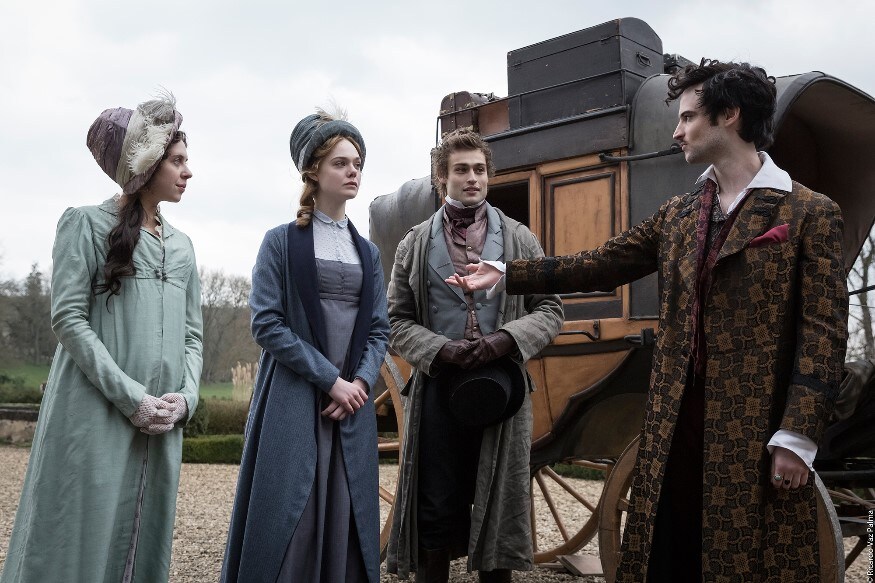 A still from 'Mary Shelley'
It was at the 2012 Venice Film Festival that I first met director Haifaa Al Mansour. With her first movie, Wadjda, an extremely remarkable feat for a woman from Saudi Arabia – indeed the first ever by a woman from that oppressively conservative country where women have very, very little freedom to even drive a car, let alone make a film – Mansour broke all social barriers.
She came to Venice with a movie that spoke about a 10-year-old girl, who wants to join a bicycle race and beat a boy. But she does not have a cycle in a country where girls or women are not allowed to ride one. It is considered un-Islamic, but the 10-year old with her mother's help manages to get what she wants to. The mother herself is a liberal, trying to stop her husband from taking a second wife in a culture where men are at liberty to do so.
I remember Mansour telling me at Venice how difficult it was to make the film, "I had sit inside a van and shout instructions to the men on the set, because they were loathe to take orders from a woman".
Obviously, the movie left much to be desired. Not very high on production values, but it made a point about how a veiled race of women was trying to peep out to experience the joys of freedom and a life outside confined spaces, minus the chains.
And I saw what such independence can do – especially when a woman has art in her mind. Mansour's second film, Mary Shelley – which screened the other day at the ongoing Dubai International Film Festival -- was miles ahead of Wadjda, in texture, in feel, in just about everything. Like a picture postcard, Mary Shelly captures the magic of 18th century England – which had a lot of commonality with today's Saudi Arabia, in terms of restrictions on women, for instance.
Mansour makes an admirable foray into British period biopic about a woman who rebelled to "live in sin" with a married man, Percy Bysshe Shelley. Mary (played by a stunningly beautiful Elle Fanning) was merely a teenager when she met one of the greatest British writers whose romantic poetry is still considered to be one of the gems of English literature. The man died early, barely 29, perishing in a boat tragedy, but in those brief years of his, he lived a life of Bohemian passion and remarkable literary genius And Mary, whom he married later, became a perfect companion to him.
Along with Shelley and her stepsister, Claire, on a vacation to Lord Byron's country's house in Geneva – and in the midst of notorious drinking bouts – Mary is sucked into a challenge thrown at those gathered on that rainy night to come up with a ghost story. Mary does with her celebrated character, Frankenstein, the seeds of her own misery at her abandonment and the way men had treated her forming the basis of the grotesque but sapient creature created by a young scientist.
Mary's father, a renowned writer himself, disowns his daughter when she chooses to go away with Shelly, married and the father of a child. Percy himself, despite an aristocratic background, is in perpetual debt, and the couple have to keep running away from debtors. Mary's own mother dies soon after giving birth to her. Her father's second wife hates Mary for her guts. And often Mary finds herself alone, and Frankenstein emerges out of her creative imagination as a radical monster.
Incredible as it may appear that for all the awe and inspiration and even social revulsion which Mary evoked in her own days and even later – often serving as an inspiration for women weighed down by male supremacy and rigidity – there has not been a biopic on her till now. And Mansour must be lauded for giving us the first ever here, as she was once commended for presenting the first ever movie by a Saudi woman. What was more, she shot it entirely in that country.
Much like little Wadjda, whose determination to buy a cycle and beat the neighborhood boy in a race which eggs her to even run errands and earn money at her school, Mary's life was also one of sheer grit and fortitude. Despite a tempestuous existence in which she loses three of her four children and Percy himself, Mary went on to become one of the most successful radical writers of early 19th century England.
Mansour gets most of Mary's life right in her film – although some reviewers have felt that the helmer has not quite explained what drove the young woman to chose the kind of life she did. But that can only be a minor distraction in a work which I found absolutely alluring – something like what James Ivory and Ismail Merchant used to give us many years ago.
(Author, commentator and movie critic Gautaman Bhaskaran is now covering the 14th Dubai International Film Festival)
Get the best of News18 delivered to your inbox - subscribe to News18 Daybreak. Follow News18.com on Twitter, Instagram, Facebook, TikTok and on YouTube, and stay in the know with what's happening in the world around you – in real time.
Subscribe to Moneycontrol Pro and gain access to curated markets data, trading recommendations, equity analysis, investment ideas, insights from market gurus and much more. Get Moneycontrol PRO for 1 year at price of 3 months. Use code FREEDOM.
Read full article