At a time when Hollywood is battling and accepting the many facets of Harvey Weinstein's sexual abuse row and when the social media feeds are flooding with women sharing their harrowing #MeToo posts, it's ironical that a Bollywood film like
Secret Superstar
unleashes the varied aspects of women empowerment and domestic violence through an inspiring tale of dreaming and achieving.
Set in the town of Vadodara, Gujarat, Advait Chandan's debut film,
Secret Superstar
, is the story of a 10th class student, Insiya Malik (Zaira Wasim), who dreams of becoming a professional singer in the big bad world of Bollywood.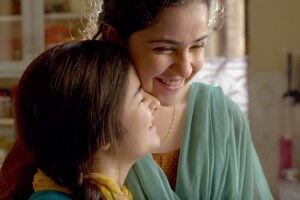 Image: Youtube/ A still from Secret Superstar song, Gudgudi
Her ever-smiling mother, Najma Malik (Meher Vij), is the kind who'll make plenty of sacrifices for her children, but wouldn't beat a drum over it. She might have run away when her in-laws wanted to abort her first born girl but refuses to break the failed marriage as long as it's providing basic amenities for her children. She knows her abusive husband will beat her up but still calmly asks her children to leave the room to make sure they don't witness such a sight. She's a fighter but is let down and silenced by the lumber of domestic violence in the face of an abusive husband and the societal pressure.
Insiya is all of 15 years old when she turns out to be her mother's biggest strength and is often seen penning down plans to free her mother. At such a tender age, she's seen both- the physical trauma of her father beating up Najma on issues as trivial as switching on a geezer, and the mental ordeal leading Najma to steal money from her father's wallet to fulfil wishes as basic as buying an ice-cream.
The film shines a spotlight on domestic violence, an issue that's often brushed under the carpet and simultaneously sheds light on how it takes a woman to be a woman's pillar of strength through the riveting mother-daughter bond.
Najma, fearing that her husband will find out about Insiya's singing secret, advices her to maintain a secret identity- a burkha-clad image. And it's probably the second time in 2017 that Bollywood has brought forth the burkha as a symbolism of veiled dreams.
While in
Secret Superstar
, it helps a girl from a middle-class household shine pan India, in Alankrita Srivastava's
Lipstick Under My Burkha
, the cloth veil becomes a wholesome representative of the boundaries set by family and society.
But in both- the burkha is more than just a veil. It's perhaps the string that binds together the life stories of women from different parts of the country. Like Insiya and Rihanna's (Plabita Borthakur) similar pursuit of achieving their dreams or Najma and Shireen's (Konkona Sen Sharma) troubled journeys to speaking up against the domestic abuse by their respective husbands.
Whether it's the mother-daughter duo confiding in each other and seeing each other's problems or four women simply smoking their troubles away- the interesting juxtaposition surfacing in both tales is also that women find solace and comfort in each other, subtly wounding the patriarchal bubble of the society.
The film's strength, however, also lies in the fact that it doesn't reduce all its men to mere abusers. For an abusive husband Farookh Malik, there's a considerate younger sibling Guddu, a caring friend Chintan and a partially flawed mentor, Shakti Kumar. And hence, there isn't just one, but many secret superstars in the aptly titled film.